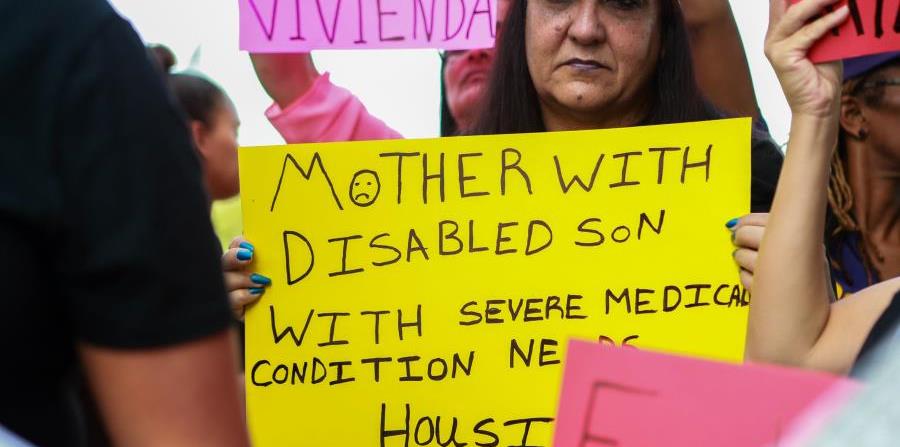 Washington - The pressure of civic groups in the United States achieved this weekend the extension -at least until Thursday- of the Transitional Shelter Assistance for about 1,700 Puerto Rican families who have been staying in hotels, mainly in the US, since their homes were damaged by Hurricane Maria.
Today, the federal district judge of Massachusetts, Leo Sorokin, will preside over a telephonic hearing -from 12:45 pm- to discuss the lawsuit filed on Saturday by lawyers of the civil rights group Latino Justice that allowed to stop the closure of the Transitional Shelter Assistance (TSA) Program of the Federal Emergency Management Agency (FEMA) for Puerto Rican families, which expired on June 30.
Yesterday, FEMA could not say how many people were going to be homeless after the expiration of the TSA Program.
At the beginning of last week, about 1,200 families were still temporarily residing in rooms of American hotels. Almost 600 were in Florida. Of the 1,700 in total, about 500 were staying on the island.
FEMA's coordinating officer for Puerto Rico, Michael Byrne, had announced in May that the extension of the TSA Program until June 30 for victims of Hurricane Maria was the last one.
But the Puerto Rican and American civic groups went to court, fearing that hundreds of families would be left homeless.
One of the claimants in the case submitted by Latino Justice – former Puerto Rican Legal Defense and Education Fund - is María Muñoz, who has said that the hurricane destroyed her home and she has nowhere to go.
Muñoz has been staying in a Massachusetts hotel since November.
"The roof was torn and everything was destroyed. I also have pulmonary emphysema and I have had three strokes. I cannot return to Puerto Rico because the conditions there are really bad," said Muñoz.
According to the spokesperson for the coalition Vamos por Puerto Rico (Vamos4Puerto Rico Action), Reverend José Rodríguez, "FEMA's decision to arbitrarily terminate TSA was not only immoral, it was also illegal and went against the agency's mission of providing temporary relief to those evacuated from one of the most catastrophic disasters of our lives."
From Orlando, Florida, where most of the refugees have been staying, Rodriguez said that FEMA's decision to end access to the TSA Program had already caused "the eviction of some families, further traumatizing children, mothers and elderly people that, for the first time in weeks, thought they could breathe relieved".
"The blame for this chaos also rests in (Governor Ricardo) Rosselló for failing to timely request the extension, as well as (Florida's) Governor Rick Scott, for doing nothing to find stable housing for hundreds of refugees that are now living in Florida," said the reverend.
Following Judge Sorokin's decision, FEMA decided to extend the TSA Program until Thursday, which prevents the eviction procedure from occurring during the 4th of July holiday.
FEMA also announced that it extended until August 30 the subsidy to return to the island, offered to those who have benefited from the TSA Program, which includes up to $ 100 in luggage costs.
On Thursday, congressional Democrats made a final appeal from the federal Capitol to have FEMA extend the TSA Program, fearing families would be left homeless this weekend.
Lawmakers sent letters and made new attempts to get Congress to pressure the federal Executive Branch. They did not succeed. Congress is in legislative recess until next week.
As demanded by Democratic federal lawmakers, attorney Natasha Lycia Ora Bannan, from Latino Justice, has questioned that FEMA also refuses to reach an interagency agreement with the federal Department of Housing and Urban Development to activate the Disaster Housing Assistance Program (DHAP).
Under that program -used after Hurricane Katrina in 2005- housing assistance can last up to 18 months.
FEMA, on the other hand, has stated that it has the Direct Lease program in force, which it considers is very similar and less bureaucratic.
💬See 0 comments