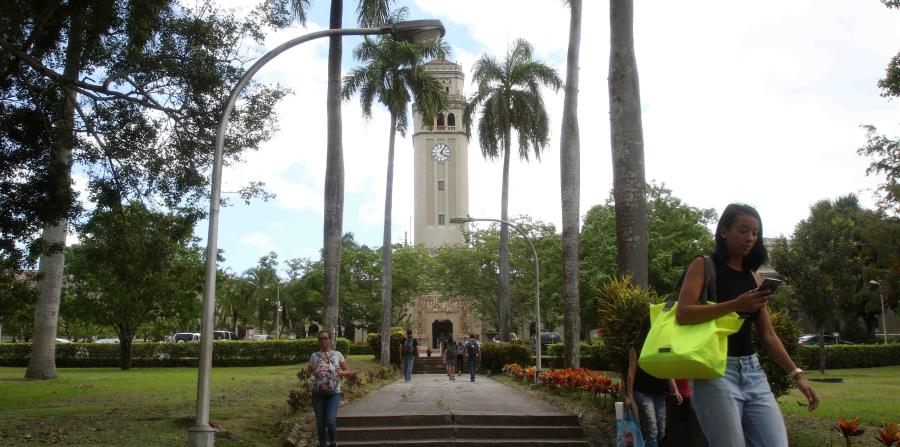 Due to the uncertainty about the magnitude of the cutbacks that the University of Puerto Rico (UPR) will face during the upcoming fiscal year, directives of the central administration of the university system gathered yesterday with the staff of the government's fiscal team and, at the end of the meeting, it transcended that the reduction of the allocations will be of $160 million.
The secretary of Public Affairs at La Fortaleza, Ramón Rosario Cortés, indicated that the budget submitted by the executive branch will be reduced by $202 million from the General Fund, but he assured that in the consolidated budget there were additional resources identified, which mitigate the cutback.
"The UPR will have more available resources than the recommended by the Oversight Board. Although the General Fund's subsidy to the UPR is reduced by $202 million, as was established by the Board, we have identified additional incomes in order to reduce that cutback to around $160 million with allocations from other items in their consolidated budget", he stated.
"This figure reduces drastically the adjustments that the UPR has to make in its operational expenses", he added.
Yesterday, it was impossible to obtain statements from the UPR directives. Norberto González, Central Administration Finances director; Leticia Fernández, interim director of Budget; and the licentiate Yvonne Huertas, executive director of the Office of the President atended of the meeting
Joseph Martínez, interim director of Press and Communications of the Office of the UPR President, confirmed that the meeting was requested by the university authorities as a result of discrepancies about the budget allocations presented by the executive branch and some figures that were disclosed during the legislative analysis of the budget. Nor the executive director of the Fiscal Agency and Financial Advisory Authority (FAFAA), Gerardo Portela Franco, neither the executive director of the Office of Management and Budget (OMB) José Marrero Rosado, attended to the meeting, but there were employees of both agencies present. Yennifer Álvarez, Press secretary at La Fortaleza, also confirmed the participation of the licentiates Walter Alomar and Zoraida Buxó, both of them nominated to the UPR governing board.
The secretary of Public Affairs at La Fortaleza pointed out that, as part of the additional funds consigned in the recommended budget, as from July 1st, the UPR will receive $15 million in "new special funds" to operational expenses, the same amount for permanent improvements and $10 million for training and technical assistance.
Rosario Cortés also said to this media that the UPR will receive $10 million extra to the included in the budget, coming from the resources that some students proposals will generate, like the idea of establishing commemorative boards and tags to increase the incomes, and the programme of voluntary exchange donation.
💬See 0 comments