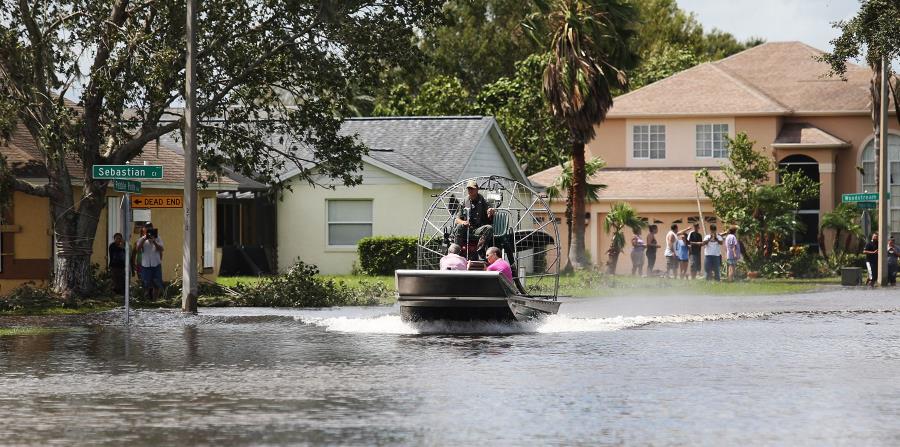 ORLANDO, Florida – Yesterday, state authorities began receiving early reports of the passage of Hurricane Irma, now downgraded to tropical depression, over this peninsula, which includes more than six million people without power, about 200,000 people took refuge in 585 shelters, at least 6 have died and the full economic extent of the damage is not yet known.
But the blow on the Florida power system is one of the hardest in history.
"This will probably be the largest utility restoration and rebuild project in the history of the United States," said Roseann Harrington, officer of the Orlando Utilities Commission.
Several private power generation companies serve 9,989,009 customers in Florida. Yesterday, 6,525,016 or 65.32% were without power and authorities indicated that, probable today they may have an estimate of ??how long the repairs could take to be completed. They are clear about the order in which services will be restored. Priority will be given to hospitals and offices of public safety agencies, Harrington said.
However, since before the hurricane struck, Florida Governor, Rick Scott, had warned residents to be prepared for one or two weeks without power.
It is too early to know the exact cost of this emergency, but some very preliminary estimates suggest that Hurricanes Irma, in Florida, and Harvey, in Texas, caused a combined damage that could exceed $ 290 billion.
More than seven million people throughout the state were ordered to evacuate their residences because they were in places vulnerable to flooding; airports, mainly Orlando, Miami and regional, cancelled more than 3,500 flights in a few days, and giants cruise companies canceled dozens of tours to the Caribbean or change the destination of their huge floating hotels.
Orlando International Airport, one of the most important ones as it is the point of arrival for those who come to the theme parks located in Central Florida, remained closed yesterday and it was not known when it would resume operations. As for the theme parks, they keep their operations closed until further notice, except those of Walt Disney World, which announced that it will resume operations today, Tuesday.
Scott also informed that seaports Key West, Miami, Everglades, Palm Beach, Manatee, Petersburg, Canaveral, Jacksonville, Fernandina, the port of Tampa and Panama City on the westernmost coast of the state remain closed.
Added to this, there has been a potential short-term shortage of fuel, particularly gas. The governor said they are identifying alternative routes to obtain supplies of the product as soon as possible. The official announced that he will even send highway patrols to escort fuel trucks to gas stations to accelerate their availability to customers.
When this puzzle begins to piece together and a precise monetary value considered, then there will be a clear extent of the impact of Irma. But, at the moment, the government of this state, led by Scott, focuses on assessing the damages and immediately activate the Declaration of Major Disaster granted yesterday by President Donald Trump. This allows the allocation of federal money and resources for immediate attention and even mitigation of damages.
Although Irma had all the destructive power when made landfall in Florida on Sunday morning as a category four hurricane, not all of the peninsula was hit with the same intensity. " The situation was not as bad as predicted," Scott said yesterday, summarizing the situation of the state, regarding areas like Orlando and other cities to the west.
Miami, Naples, the Keys and areas of the east, especially Brevard County, suffered an extreme blow with homes destroyed, hundreds of thousands in shelters and damage to the road infrastructure, still not specified.
Yesterday, areas of Osceola County, where many Puerto Ricans live, were still suffering consequences of flooding. In Kissimmee, for example, the Pebble Point community showed a surrealist picture. Along the streets of this community there were two boats, known as air boats, used in Florida wetlands and characterized by the huge surface propeller. Rescuers from Osceola County were on the boats, trying to rescue residents, mostly seniors, from their homes.
A la media hora, sus familiares venían a bordo del bote, con dos perros, Princess y Sparky, y una cotorra en su jaula.
Leeanne Calderon was outside, her arms folded and waiting for news from her mother and grandmother. "Between 2 and 5 in the morning, their house began to flood and I called the cell phone. In only seconds, the water reached their knees. But the call dropped and since then, I had no news of them, "said the American woman, who is married to a Dominican.
Within half an hour, her relatives came aboard the boat, with two dogs, Princess and Sparky, and a parrot in its cage.
💬See 0 comments