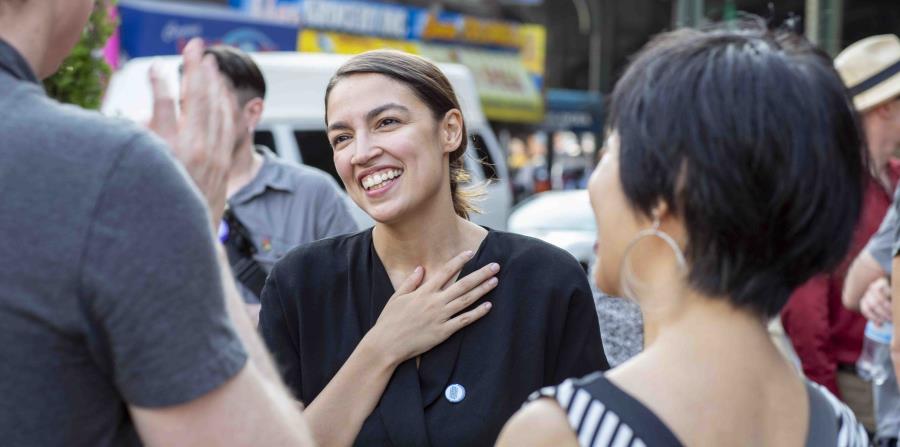 New York - Alexandria Ocasio Cortez walked so much during her campaign in New York's 14th congressional district that her shoes broke. She was wearing them when she knocked on doors in Bronx and Queens and she walked until water started coming in through their ruined soles. The image of those shoes - which she later shared with her over 646,000 Twitter followers - symbolizes part of the journey that, a little over a week ago, lead her to win the Democratic primary election.
She still finds it hard to believe. "Immediately, it was surreal. It's not just that we won, but the way we did it, with 57 percent of the votes. It was much more than what I had anticipated," she laughs.
Even before beating incumbent Democrat Joseph Crowley, 56, - and suddenly becoming a rising political star - the career of Ocasio called the attention for her tone and her emphasis on the working class. She also presented herself as a candidate who rejects money from lobbyists and super PACs: "That is why we can listen to people more clearly and talk about their needs honestly".
She won after running for Congress for the first time and it Crowley´s first challenge in 14 years. She will face Republican Anthony Pappas and if she defeats him, she will become the youngest elected congresswoman.
Born and raised in the Bronx, Ocasio is likely to become the next Puerto Rican descent congress member. "I was born in a Puerto Rican and New York family, and that is a political existence," says the daughter of a businessman and a housekeeper.
Now that her fame begins to settle down, she says that a feels a deep sense of responsibility. Her victory shows that the establishment is no longer (so) invincible and that this Hispanic and diverse district has acquired a voice in favor of a just life with better possibilities.
Her triumph may also show the need for representation of this diverse electorate and what Donald Trump´s inflammatory rhetoric means. Bernie Sanders´ support is also part of her victory, as she was a volunteer in the South Bronx for the Senator´s presidential campaign.
"Those are factors, but our community had not come together and organized for a long time. When there is an ignored community, there is an opportunity to be able to represent ourselves," she adds.
Medicare for all, affordable housing, abolishing the Immigration and Customs Enforcement (ICE) and support for Puerto Rico are part of the ideas outlined in her proposal. Regarding Puerto Rico, she condemns PROMESA, asks for a revision of the Jones Act and a Marshall Plan for the island as well as the cancellation of the debt.
Part of her illusion, she says, is to continue organizing people for social change. The island where she spent summers with her family -and still has a family between Arecibo and Utuado-, is part of that. "I want to make a town hall in Puerto Rico and hold listening sessions. I think that is a way to return to the spirit of our democracy," she says.
Ocasio joined politics as a part of her own life, she says. She recalls her family discussing politics since she was a child.
"Since I was a child, I was aware that aware that we have a government with responsibility regarding our lives. In college I started reading not only about politics, but about justice, about Martin Luther King, about Howard Thurman, and that's why I developed a moral conscience," says this Boston University graduate with degrees in Economics and International Relations.
After her triumph, her progressive ideas and her identification as a "socialist Democrat" have been widely discussed. She recently tweeted that she is not running for Congress "from the left", but "from below" in the name of the working class.
For Ocasio those who insist on labelling her as "very left-wing," represent an attempt to" diminish the importance of the election".
She bets on her community
"What we did in Bronx and Queens was to organize people. That is the most important thing," she says, considering that her victory was the product of that work. "I listened and advocated for my community. If people want to put a label, that's their business".
We were talking in a restaurant where one of the waiters congratulated her. "We are happy that you won," he said. She, who worked as a waitress and bartender after her father died in 2008, thanked him with a wide smile.
A few weeks before the June 26 primary election, El Nuevo Día interviewed Ocasio and when asked her about how she felt on the final stretch, she commented: "I feel good about my odds, but regardless of the result, during this campaign we have awaken our community and there is no turning back".
Now, she forges her political image on the power that beats in the community. "I want to be a voice of the people and I want to be an advocate of economic, social and racial justice. That is my goal".
💬See 0 comments