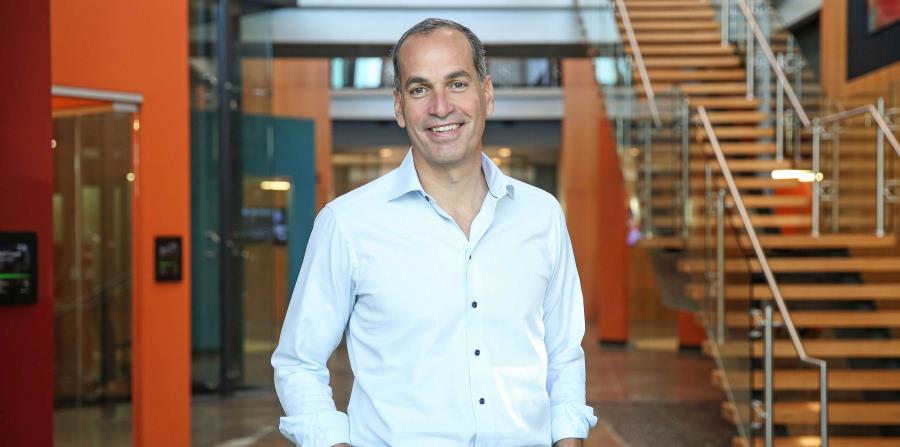 Forward787, the social enterprise funded by Puerto Rican Ric Elías with several investors, revealed the creation of a $ 100 million fund aimed at helping revitalize the Puerto Rican economy and that, starting this month, will be looking to recruit dozens of Puerto Ricans to be part of the initiative.
Elias, founder of the multinational North Carolina-based company Red Ventures, explained in an exclusive interview with El Nuevo Día that the Forward787 fund seeks to promote a massive effort with two objectives. The first: to retain Puerto Rican talent on the island and develop human capital with high-tech skills. The second: to launch new businesses and modernize existing companies with people trained by Red Ventures in their technological and business intelligence platforms.
In its initial phase, Forward787 will recruit about 40 Puerto Ricans in the areas of business development and engineering, who may come from the island or from the diaspora, to train them at Red Ventures headquarters in North Carolina for a period of 18 months. ; this with the idea that they receive intensive training at Red Ventures. Once that phase is completed, candidates who graduate from the program will return to Puerto Rico as part of the Forward787 team with the objective to lead high potential companies - acquired, founded or current lines of business in the Red Ventures portfolio to settle here.
Founded in the year 2000, Red Ventures is a multi-billion dollar private company focused on technology and marketing, and the owner of brands such as bankarte.com, creditcards.com and The Points Guy. Its business portfolio includes telecommunications, financial services, health and energy.
Elías said that since he concluded his studies at Boston College and then at Harvard, he had always longed to return to Puerto Rico to contribute to his homeland.
"I have not lived in Puerto Rico since I left for university, but I always had the desire to find a more permanent connection with the island, to contribute and share the luck life gave me with the island", Said Elias, whose luck also includes having been one of the survivors of flight 1549 in 2009, known as the Miracle on the Hudson.
That reconnection that Elías was looking for occurred last year, but through the painful path caused Hurricane Maria. According to two sources close to the businessman in a previous interview with El Nuevo Día, the Red Ventures CEO traveled constantly to Puerto Rico after the hurricane, bringing supplies on chartered planes. Then, he founded the initiative Rebuild Puerto Rico, through which they have already provided about 40 homes to people who became homeless after the hurricane.
"We identified developers who had (housing) projects in Loíza and Naguabo that were half-way done and we came together to help them finish. We have already delivered some 38 houses," said Elias, who explained that each house, has an estimated value of $ 100,000.
Rebuild Puerto Rico has enabled the delivery of these homes through a contribution of 70 percent the property value, since the vision is to offer help "to people who work, who have credit and people who want to progress", said Elías. The businessman explained that there are two mortgages. If the house is $ 100,000, the family pays the first $ 30,000 mortgage, while Rebuild Puerto Rico pays for the second mortgage, covering the remaining $ 70,000.
After the storm
But, in addition to helping to rebuild places, Elias was eager to plant a seed of sustainability and economic development in Puerto Rico, he confessed. And there comes Forward787. "Beyond that (reconstruction of houses) we started with bigger questions about how to make a difference, how to achieve an effort that is sustainable. If you look at countries like Singapore, which have overcome their difficulties, everything has to do with the ability they have had to develop their economic engine," he said.
Elías, Harvard graduate, said that although Red Ventures has not publicly told its story, one of the main assets of the company is the broad portfolio of technologies with which they have experienced an accelerated growth. Technologies "that are at the same level as Google and Facebook" and that can help revitalize stagnant businesses and promote economic development.
"I saw that I can help Puerto Rico with my platform, but first we have to train people. We come to the conclusion that we have to bring data, technology, science and analytics. Train people and give them these tools," said Elías after explaining plans to start recruiting candidates starting this month to take them to North Carolina, next October.
"But we have to give them something once we train them," added the creator of Forward787, explaining the next phase, which would be the return of graduate personnel to Puerto Rican soil to begin to revitalize the business ecosystem.
Who can apply?
The Forward787 calls include two programs. One is the Technology Leadership Rotational, a program that young aspirants seeking to become professionals in tech fields to engineers with extensive experience and highly trained in technical areas can apply for. The other program is the Business Leadership Rotational, which accepts applications from people who are starting their business career to professional veterans with expertise in functional areas.
Forward787 specifies that candidates must have strong work ethic and a great passion to revitalize the economy of Puerto Rico.
The people to be trained during those 18 months will be relocated with paid expenses and will have a competitive compensation package according to each one's experience, including health insurance and use of their on-campus gym, among other benefits. Although they will receive training in Red Ventures, these candidates will be part of the Forward787 payroll. Those who graduate from the program will return to Puerto Rico to work directly in the companies to be developed as part of the initiative.
Interested professionals can request information at forward787.com.
"We will be recruiting people at all levels. From CEOs, COOs, vice-presidents, analysts, managers. This is the first class and every six months we hope to bring another, so that we begin to build critical mass. In the long run, this human capital training is where everything begins. The opportunities are there, the difficult thing is to get the kind of person necessary to achieve the changes. People with the mentality and the desire," he said.
Elías said that he will come to Puerto Rico in two weeks with the objective to hold several meetings to recruit candidates. At the end of June they expect to have the candidates with the profile they are looking for to begin immersion.
The use of funds
"The $ 100 million fund is aimed at launching companies and also buying companies that have not been able to modernize. These people (those who train through the Forward787 program at Red Ventures headquarters) will be able to make that transformation. That was the logic behind the plan. Using technology, training talented people and people who can and want to make a difference," said Elias.
Once you trained the people, what kind of companies are you looking for to invest in Puerto Rico?
"There are two aspects. There are many companies that have never modernized. They have outdated platforms and do not have avant-garde 'data analytics'. Many of these companies can be purchased at reasonable prices. We are going to be very aggressive with investment bankers to look for this type of company on the island with the objective to modernize them and that they can export services from Puerto Rico," said Elías.
The second aspect, explained Elías, would be to bring to Puerto Rico some of the digital assets that are already part of Red Ventures in the areas of finance, health and energy, just to name a few.
How are they going to raise $ 100 million?
"We already have them. I already have the funds 'committed', I am the main investor," Elias noted, after explaining that he has other investors participating with the amount of money almost completed and ready to inject it.
He explained that unlike Rebuild Puerto Rico, Forward787 was not incorporated as a non-profit entity for tax reasons and the very nature of theconcept was incorporated with a for-profit company.
For Elias, the core of this initiative is to select "people who have the spirit of wanting to fix things, to make them better".
"We are looking for people willing to work hard. Regardless of their age, they have to come with the mentality that they are returning to school, wanting to relearn, with humility, hunger and willingness. It is an opportunity both for those in Puerto Rico and for Puerto Ricans abroad. I want the people who participate in the training course to see this as an opportunity to return to Puerto Rico in a big way, as authors of their own future, "Elías concluded.
💬See 0 comments