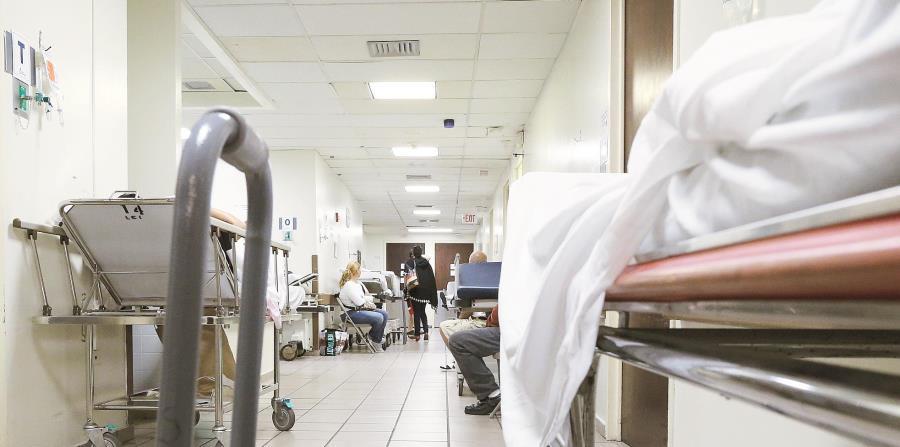 68 percent of the people who died between September and December of 2017, during the emergency caused by hurricanes Irma and María, were over 70 years old.
Data revealed by the Demographic Registry also establish that almost half of the deaths recorded in this period occurred among people who were hospitalized in Puerto Rico.
In addition, risk of death was higher for men. 54 percent of the deceased were male, this group represents 48 percent of the population of Puerto Rico.
Similarly, deaths attributed to diseases such as Alzheimer's, diabetes, septicemia, pneumonia and chronic heart or respiratory conditions showed significant increases in the period that followed the storm.
"This gives us a more specific idea of the health risk that the hurricane brought. That was the only significant factor to cause that increase seen in the data, "said demographer Judith Rodríguez when analyzing the information obtained by El Nuevo Día.
Pneumonia and influenza cases moved from the tenth cause of death in August to the sixth in December. On the other hand, cases of septicemia doubled between August and September. This disease, according to Rodriguez, is often associated with infections in hospitals.
"The highest number of deaths is in hospital patients, however there were high-risk factors among people who were in care homes for the elderly) or who, in the middle of an emergency, were taken to an ER," remarked Rodríguez. According to calculations based on data from the Demographic Registry, it is in these two scenarios that monthly increases varied between 25 and 40 percent.
During the first months after Hurricane Maria, health care institutions in Puerto Rico suffered a series of insufficiencies that directly affected the health of a large part of the population. Some even left the island on humanitarian flights to continue their medical treatments.
In addition to the damage in several centers due the winds and rains associated with the hurricane, the main problem was to keep hospitals with electricity consistently, before the collapse of the Electric Power Authority system.
Diesel supply to keep emergency generators operating, failures in backup systems and telecommunications systems down for weeks, which prevented a prompt solution to the problems, were among the most common difficulties, agreed several experts consulted by El Nuevo Día.
The problems continued for a long time, to the point that by the end of December at least two hospital were operating with electric generators: Castañer General Hospital -where services had to be limited- and San Juan de Capestrano Hospital .
"It is always a risk (death) when there are patients in ventilators (artificial) and there is an outage," said Domingo Cruz, Senior Vice President of Operations at San Jorge Children's Hospital.
Cruz admitted that this hospital faced some problems with its generators during the first days following María, but fortunately there were no deaths reported during the first 90 days after the hurricane. Children were less affected by the hurricane. In fact, between September and December, only 103 deaths were recorded, a figure that represents less than 1 percent of the deaths during this period after María.
Meanwhile, after Hurricane Maria, the Good Samaritan Hospital, in Aguadilla, received "very complicated" patients, mostly adults and with multiple diseases.
The Good Samaritan Hospital administrator, Marilyn Morales, explained that, due to their condition, many patients were transferred to the USNS Comfort hospital ship, as well as to the Medical Centers of Mayagüez and Río Piedras. The USNS Comfort is the largest US Navy floating hospital. This ship and a series of field hospitals were set up in Puerto Rico during the first months that followed Hurricane Maria.
"We understand that deaths (at the Good Samaritan Hospital) were minimal," she said.
For Ada Soto, spokeswoman for the Pavia Health System, not all deaths in hospitals after María were related to the cyclone.
"They were not necessarily due to the hurricane or operational, but they were about to happen or patients conditions complicated," she said.
Statistics from the Demographic Registry state that, between September and December 2017, there were 1,397 more deaths reported than for the same period in 2016. This figure represents 12 percent of deaths after María.
Lessons learned from María
As a result of the hurricane experience, Cruz said that at San Jorge Children's Hospital they increased their electricity storage capacity and installed fans in the area where the generator is located so that it does not get hot. They also identified areas that should be protected in case of a similar emergency, such as elevators fans, where water leaked in with the hurricane.
Morales said that at the Good Samaritan Hospital they have two generators, one of two megawatts that can keep the entire hospital energized and another 500 kilowatts plant to support critical areas and corridors. In addition, they have a 324,000 gallon cistern and they are in the process of installing the equipment to a water well that is already prepared.
Meanwhile, Soto commented that in the Metro Pavia hospitals they have reinforced their contingency plans, including the supply of stored medicines and their power and communication systems. This way, they would be better prepared to deal with the problems that arise in an emergency.
But hospitals were not the only ones with problems. By early October, there was difficulty to access medicines in pharmacies joining failures in communications, including lack of internet connectivity.
For example, some pharmacies did not have access to the system they use to process prescriptions and they were only dispensing medicines if a patient paid the full price of the drug.
The Health Department had informed that, "in the case of not having electronic systems for dispensing medications, the pharmacy must provide the medication to the patient and, then, it will have up to 60 days to process it."
Many health professionals with private practices had to overcome many obstacles to offer services to their patients, mainly due to the lack of power, the impossibility of using some equipment only with a generator and of billing for medical services.
"There are some conditions whose deterioration could be accelerated by issues associated with the emergency left by the hurricane. Chronic and degenerative diseases were the most affected in this process. These diseases skyrocketed and many people might have died months later because of issues associated with the hurricane, "Rodriguez said.
💬See 0 comments