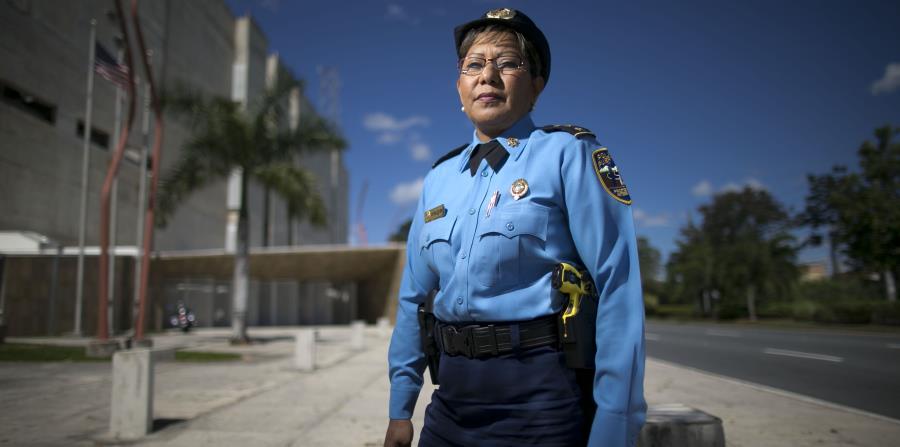 With the threat of sanctions and even receivership, today the Police enter a new phase in its reform process, and its leadership trusts that they will be able to comply with the demands of the US Department of Justice.
The Police Reform began on July 17, 2013 when the government of Puerto Rico and the US Department of Justice reached an agreement that ended a lawsuit against the Police, after finding a pattern of violations to citizens civil rights.
Since then, there was a period for the creation of public policies, action plans and training. That preparation phase ended on Friday. Today, as federal judge Gustavo Gelpí rules, compliance phase begins
"I trust that we will achieve it," said firmly Reform Unit Director Colonel Clementina Vega.
"(As of today), we will conduct periodic reviews to assess whether the police are complying with the provisions of the agreement," she added.
The officer explained that Arnaldo Claudio, the federal monitor appointed by Gelpí, will evaluate whether the Police has incorporated what has been required in the agreement signed.
She noted that the monitor will also observe whether officers have been trained in each of the provisions contained in those policies, and if they are properly implemented.
"There are many ways for Claudio to do evaluations, such as visiting work areas, requesting documentation, compliance statistics and visiting the (Police) Academy (in Gurabo)," added Vega.
"He can also request Police members records to see if they have taken and participated in the required training and if those training they took are in line with the current policies," she said.
She also acknowledged that this process may involve the detection of trends or patterns that need corrective measures, through a methodology designed by Claudio, and that was already approved by Judge Gelpí, after it was reviewed by the Police and the US Department of Justice.
"He already submitted it to the office. Now, during this week (which starts today), we begin orientation cycles for Police officers so that they know how the monitor will measure compliance," she said.
No more extensions
Judge Gelpí warned that he would not approve additional extensions to the 33 activities of the action plans to which he already granted additional time.
Vega said that these 33 extensions represent only 6 percent of the 568 activities included in the Reform. And she stressed that, of that amount, 23 are related to delays caused by hurricane Maria, as they are associated to technological systems and infrastructure affected by the hurricane.
"They are done in phases, and they are delayed due to María. In some cases, we are at the beginning or in the middle of the process. They have to do with policies that need some external collaboration ... It does not have to do with a failure of the agency. But it will be completed because we believe it is necessary," said Vega.
During a hearing in August, Gelpí warned about the implications of noncompliance with the agreement.
"I do not want to sound drastic, but noncompliance could lead to economic or non-economic penalties, contempt or receivership," said Gelpí then.
Five years after the Reform, Vega insists that the police "did their part" and are ready to comply.
However, she acknowledged that the great challenge will be to address all the new demands, at times when the Police need more agents to serve the population.
"In general terms, we are concerned about (compliance with) the training," she said. "Yes, they are happening, but there are some that were held once every two years and now they will be every year, like the 'the use of force' ".
"We have to comply with the fact that they attend trainings, that they work preventing crime and that they have time for their rights to employees leaves," she added.
💬See 0 comments