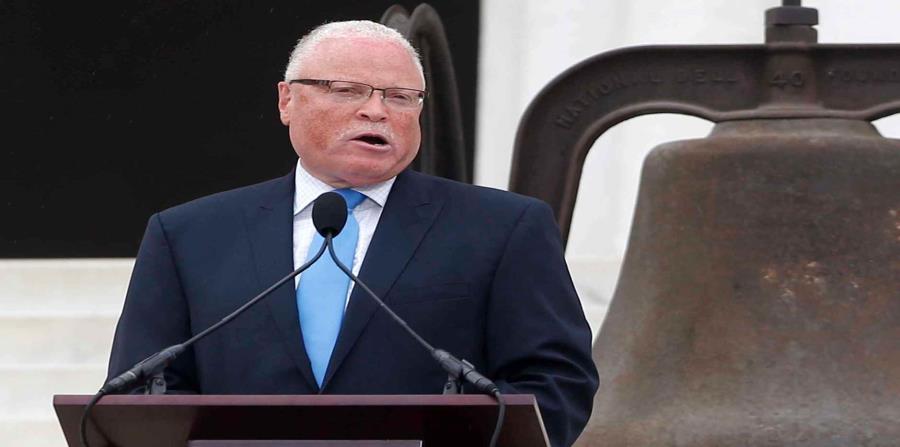 WASHINGTON – Following a meeting last week with the governor the president of US trade union AFCSME, Lee Saunders, demanded from Ricardo Rosselló to include unions in the negotiations regarding the measures required to address the serious fiscal crisis of Puerto Rico.
In an interview this week with El Nuevo Día, Saunders recalled that during the 1990s he worked with the father of the current tenant of La Fortaleza, former governor Pedro Rosselló, in favor of unionizing public employees.
But, now he sees his son –amidst a fiscal crisis he admits as being very hard– placing such a heavy burden on workers, including public employees.
AFCSME –the American Federation of State, County, and Municipal Employees– represents 1.6 million workers, which makes it the largest trade union with more public employees in the United States.
In Puerto Rico, AFCSME represents 13,000 members, of the United Public Servants (SPU, by its Spanish acronym).
Together with the leadership of the Service Employees International Union (SEIU) and the International Union, United Automobile, Aerospace and Agricultural Implement Workers of America (UAW), AFCSME has pressured Congress in favor of improving access by the Island to federal health programs and also demanded an all-encompassing audit of Puerto Rico's public debt.
Saunders talked with El Nuevo Día one week after his meeting with the governor and before yesterday's decision by the Oversight Board to begin restructuring Puerto Rico's public debt through the court system.
What is your general position on the situation of Puerto Rico?
—It's a pretty bad situation. Some of the proposals coming from the Governor's Office, (from) the creditors, are not a way to strengthen the Island and, definitely, don't help our members, our workers. They strip our members and the working families of Puerto Rico of the possibility to make a living for themselves. (The proposals as submitted) reduce pensions, threaten with dismissals and, clearly, we are against that. We think that the way to come out of the problem is to make the economy of Puerto Rico grow, and not give too much money to the creditors, who want to flee the Island and not leave their money in the Island to overcome the problem. To place the burden on the backs of workers is wrong.
The governor says that the legislation that eliminates workers' benefits is meant to avoid dismissing 45,000 public employees. What is your opinion?
—We met with the governor and his people to demand a change in the legislation and avoid affecting health benefits. It's a complicated problem, but we think we must have a seat at the table. Our members must have a say in the discussions, specially the discussions dealing with (their) retirement benefits. That has not happened. We could have ideas that must be heard. We are not strangers to these problems. Although in the case of Puerto Rico its an enormous problem, we were involved in the bankruptcy of Detroit and acted as responsible partners, but with a seat at the table. Some of our ideas were accepted; the union proved to be a responsible partner.
What did the governor tell you?
—I think he's open to that. At least, he told us he want's to sit down and talk with the unions, with our members, and see what sort of programs and suggestions we have, admitting that the situation is bad. I believe he's committed to it. We'll see.
Who called for the meeting?
—We hadn't been able to get together. He's been in town, but I've been away. I can't remember who asked for what, but I had told him or his people that, if he came to town (Washington) D.C. or if I travelled to Puerto Rico, we should meet.
What can your union do? AFCSME, as SEIU, has been very active demanding Congress to provide greater assistance for Puerto Rico.
—We have worked diligently in the (federal) Capitol to support Puerto Rico. I believe we were instrumental in talking to our people in the Capitol in support of the close to $300 million in Medicaid funds (included in the omnibus bill). We'll keep active, because we know that has an impact on our union members and on the working families of the Island.
Does the Donald Trump administration listen to your demands?
—Not as much as Democrats. We have worked closely with Democrats, those we know.
What did AFCSME do during Detroit's fiscal and debt crisis?
—When the control board went after our pensions, which were on average $19,000 per year, there wasn't much money, cutting them by 40%, we forced it to hear us. We demanded a seat in the negotiation table, through various actions –suits in court, protests in the city, including retirees,– and people listened. We also work closely with those who could have had an interest in investing in Detroit, such as JP Morgan, who developed a project there after talking to us.
The board in Detroit asked for a cut of 40% in pensions. How much was the final cut in pensions?
—(Of) 4.5%. We not only put our ideas (on the table), but were actually seen as a responsible party, and the courts heard what we had to say.
Will AFCSME become a party to the suits in Puerto Rico?
—We will do all we can to represent the interests of our workers and the working families of the Island.
AFCSME had a close relationship with the father of the current governor when the then governor Pedro Rosselló promoted unionizing public employees. Now, his son takes away the benefits gained by that sector. Did you speak to thegovernor abut it?
-He is aware of our relation with his father. I asked him for his father and sent him my regards, because I worked with his father in designing that legislation. His father understood the importance of workers' participation, and I hope his son understands that too.
💬See 0 comments