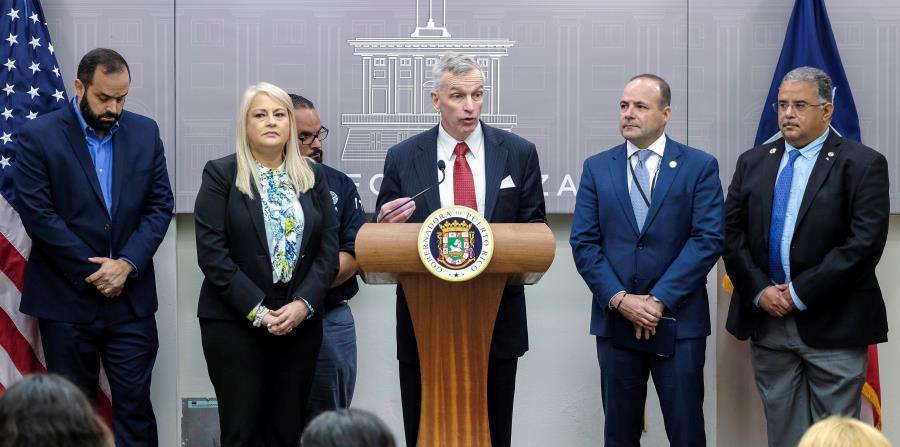 Washington – Federal Reconstruction Coordinator, Rear Admiral Peter J. Brown, is leading a Donald Trump administration delegation arriving on the island tomorrow to learn first hand about, Puerto Rico's preparedness efforts for hurricane season, the state of the power grid and the pharmaceutical industry, among others.
Peter Brown, President Trump's representative for Puerto Rico´s recovery process after Hurricane María devastated the island in 2017, will come along with Environmental Protection Agency (EPA) Regional Administrator Peter López, and with Robert Couch, Federal Financial Monitor of the U.S. Housing Department (HUD) for CDBG-DR program funds.
White House science and technology policy advisors and the Department of Energy staff will also be part of the delegation.
Brown, a Coast Guard Rear Admiral who was formerly a White House Homeland Security adviser, said that this will be his first visit to the island since late February because of the coronavirus emergency.
The delegation will meet with Governor Wanda Vázquez Garced, senior Federal Emergency Management Agency (FEMA) officials on the island, and the directors of the National Emergency Management and Disaster Administration (NMEAD) and the Puerto Rico Electric Power Authority (PREPA).
Washington Resident Commissioner Jenniffer González will also join the meetings.
"This is an opportunity to learn," Brown said in a telephone interview with El Nuevo Día, but it´s also an opportunity for the governor and her team to sit and talk with senior federal officials about hurricane preparedness efforts.
Brown stressed that "Puerto Rico has suffered a series of incredible events" in dealing with the coronavirus emergency amid efforts to recover from the catastrophe caused by Hurricane María in September 2017 and last January´s earthquakes.
The U.S. delegation´s agenda also includes visits to Palo Seco, Costa Sur, EcoElectrica, AES, and the wind farm in Santa Isabel.
Amid the coronavirus pandemic, there will also hold meetings with the Hospital Association and representatives of the health industry. As for the impact of the earthquakes, they will meet with the mayors of Ponce, María "Mayita" Meléndez, and Guayanilla, Nelson Torres Yordán.
As for the island´s vulnerable power grid, Brown said that "the Department of Energy is working very hard to develop a plan to have the power grid ready for this [hurricane] season, with enough capacity and several forms of generation."
In the long term, the plan is for power generation to be less centered on the south and closer to the San Juan area, which concentrates most of the consumers. "There have been some challenges in implementing these projects as fast as we would have liked, but the Department of Energy hopes we will be on track to a more sustainable, more economically and environmentally efficient system to attract new business in a couple of years," he added.
As part of the federal delegation visit, there will be a roundtable discussion with pharmaceutical industry representatives, amid U.S. efforts to bring pharmaceutical and medical equipment manufacturing to American soil.
Last week, Brown joined a meeting between Commissioner González and White House trade adviser Peter Navarro, where the island's congressional delegate could discuss her plan to promote manufacturing investment in economically distressed jurisdictions, such as Puerto Rico, through new tax credits.
Brown said the commissioner's bill is one of several proposals that have been introduced in Congress that can help reduce U.S. dependence on foreign-manufactured drugs and medical equipment. He said Puerto Rico's historical ability to foster the manufacturing sector, and having "a skilled and capable workforce," can play a key role in this process.
Brown said they also know about the measure by the U.S. Virgin Islands delegate, Democrat Stacey Plaskett, seeking to eliminate the new intellectual property tax established by the 2017 federal tax reform on Foreign Control Corporations (FCC) for companies based in the territories.
However, Brown added it is still too early for the White House to talk about any specific legislation.
Statehood Yes or No Referendum
On the other hand, Brown said it is up to the U.S. Department of Justice to determine whether the November "yes or no" statehood referendum meets the federal government's constitutional, legal, and public policy standards. If the federal Justice, Department approves the proposal, then the island's government would receive $2.5 million to help finance the referendum.
"Right now, (it is a matter) between the government of Puerto Rico and the Department of Justice. Any referendum, to be meaningful, must be constitutionally and legally sound. This is another element in which Congress has a significant role and it is very early in the process for the White House to have a specific position, especially when one of our departments, Justice, has to make some administrative decisions," Brown said.
💬See 0 comments