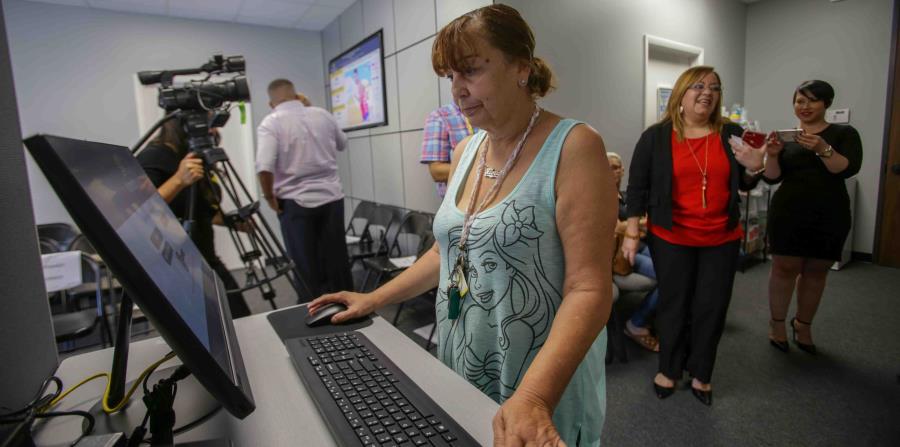 Orlando, Florida - Three weeks ago Gloria E. Cancel, a Puerto Rican from Urtado living in Maitland, Florida, requested her birth certificate by mail, and at this point she does not know what happened to that vital document that contains a summary of the story about the place and day she was born and who her parents were.
"I paid $ 16 and, until now, I know nothing and I need it urgently, because Housing (Department) is asking for it," said the woman, who lives half an hour away from Orlando.
"I almost have to take a plane to get it, but do you know what it means to pay for a ticket (to Puerto Rico) to look for a certificate?," asked Cancel.
But yesterday, for $ 5, and in five minutes, she obtained the document in the Integrated Services Center (CSI, Spanish Acronym), which was inaugurated at the facilities of the Puerto Rico Federal Affairs Administration (PRFAA) in Orlando.
This is the first center that the government of Puerto Rico opens outside of Puerto Rico, and it will not be the last one, since steps are being taken to inaugurate another one in New York, Carlos Mercader, executive director of PRFAA, said yesterday. The plans are to open CSI in cities in the US where Puerto Rican communities are concentrated, he said. Processing these documents by mail to the island can take between 30 and 40 days, he said.
In this center, it is possible to achieve what almost takes a miracle in Puerto Rico: people can buy internal revenue stamps, process their ID, and receive it in hand in a relatively short time.
On the island, the story is different. People have to go to a collector office to pay the stamp and then, they are given a piece of paper to process the certificate in another office. Hopefully, it will the take the whole day to complete the process, unless they go to one of the seven CSIs opened on the island. The goal is to open 26 integrated centers in Puerto Rico.
The CSI is located in PRFAA headquarters at 6925 Lake Ellenor Drive, Suite 100, in Orlando. When arriving, citizens must go to a computer and select the document they need. Then, the computer assigns a number, printed on a small ticket which indicates how many people are already waiting, allowing citizens to estimate how long the process takes. Also, the status can also be monitored through turnospr.com, explained Ilia Torres, PRFAA's regional director in Orlando.
The Center will be open Monday through Friday from 11:30 a.m. to 3:30 p.m. Services will be expanded to the extent that they make agreements with other Puerto Rican agencies that would have employees in Orlando to support CSIs, Mercader explained.
This collaborative measure will have no impact on the costs or the operational budget of the PRFAA, he said. In the meantime, Camelia Santiago, administrative assistant; and Martín Arroyo, community relations officer –both at PRFFA- will provide services.
Copies of birth certificates will be $5. Additional copies are $10, as well as marriage and death certificates -that require an internal revenue stamp- Child Support Administration (ASUME, Spanish acronym) documents are issued free of charge. Payments must be made with credit cards. Cash will not be accepted, explained Torres.
Florida officials such as Rep. Darren Soto- of Puerto Rican descent- Rep. Stephanie Murphy, who has supported the Puerto Rican community; Republican Puerto Rican state representative Bob Cortés; State Representative and Democrat Carlos Guillermo Smith, Orange County Mayor-elect Jerry Demings, -still Sheriff of that county Police.
"No longer will Puerto Rican-born residents of the Sunshine State have to travel back to Puerto Rico or to ask a family member to process their documents," said Rep. Murphy describing the nightmare that Puerto Ricans in the US had to face every time they needed to obtain these documents, necessary to process their driver's license for the first time or get an official state identification and that are also required to enroll children in the public education system.
In addition to highlight the historic opening of this first CSI outside of Puerto Rico, Mercader took the opportunity to urge Puerto Ricans who have registered as voters to go out to vote in the midterm elections on November 6.
"Puerto Ricans in Florida, since they can vote in the US, are the voice of those of us who do not have a voice," the official said.
💬See 0 comments