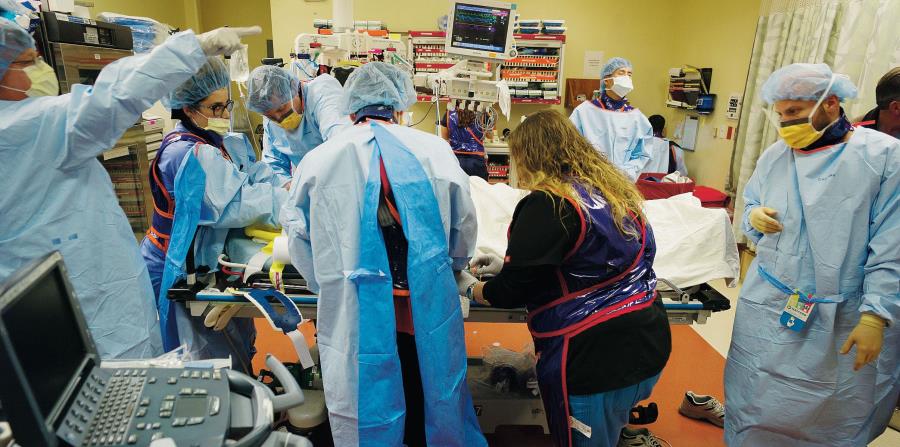 Orlando, Florida - A clueless driver runs over a passer-by and leaves him unconscious and severely injured due to multiple fractures. A neighbor who witnesses the scene calls 911 and reports the accident. A few minutes, the ambulance is there.
Inside the vehicle, paramedics quickly stabilize the person. They place him on a stretcher, put on a brace and auscultate him to assess his situation. As soon as they have a general idea, they call the most appropriate hospital, which is not necessarily the closest one.
Due to the victim´s injuries, it is a trauma center. The call made by the paramedic from the accident site triggers a protocol in the hospital that, in a hurry, activates a team of at least 10 doctors, including a surgeon, a traumatologist, a radiologist, an orthopedist, a pharmacist and therapists, joined by nurses and other specialists such as neurologists and thoracic surgeons, depending on the severity.
They are all prepared, waiting for the patient.
By telling this hypothetical case, Dr. Matt Ryan -chief of Emergency Services at the Trauma Center of Health Shands Hospital at the University of Florida, Gainesville- was trying to illustrate what usually happens with a patient from the moment of an accident until he arrives to the trauma center of that public institution, which is level 1.
"It may take between two minutes and 45 minutes to arrive, depending on the distance," the doctor said.
A level 1 trauma center holds the highest category granted by the American College of Surgeons (ACS). These facilities provide the highest level of surgical care to patients with trauma, which means an increase in the chances of survival for someone seriously injured. In addition to a diverse team of specialists, it also provides care to pediatric patients.
The transfer time is still similar even when the patient goes on one of the five hospital's helicopters, all located outside the facility, but in different regions of central Florida, in order to be able to deploy the one closest to the patient, he explained.
"Once they arrive, we immediately begin to take care of the patient, since we were already waiting for him. And if it happens that we don´t have a room available immediately –which may happen occasionally - we still provide medical attention. The patient is never unattended," said Ed Jiménez, executive director of that hospital.
In Puerto Rico, it can take up to six hours for a patient to be transferred to the Trauma Hospital of the Medical Center in Río Piedras and, depending on the severity, he may have to wait for the same time, in the worst case, days, to be treated by a doctor, acknowledged Pablo Rodríguez, medical director of this institution.
"The situation is different if it is an event with many injured, something massive," Ryan acknowledged. "In addition, it may happen there may be many patients, not only because of a massive event, and you never have the same number of doctors as that of patients. That is when triage is implemented, which evaluating patients to determine their condition and establish the order of treatment when there are many (patients)," he explained.
"But the goal is not to have patients waiting," Ryan said.
The Trauma Center of the Health Shands Hospital operates 24 hours, with an average of 3,100 patients a year and always has at least 10 acute care surgeons for adults and four pediatric surgeons, in addition to nurses, technicians, radiologists, pharmacists, and even social workers to handle special cases.
The Trauma Hospital of the Río Piedras Medical Center treats an average of 3,000 patients a year, has five full-time surgeons, two of whom are close to retirement age. There are also two other part-time surgeons.
The devastation caused by María and the serious situation of lack of resources and equipment -which is neither a secret nor a new problem- have put on the table Puerto Rico's vulnerability in services for patients in critical condition due to traumatic situations, such as those that occur after a natural phenomenon as a hurricane or an earthquake.
It was not possible to obtain data on the budgets of trauma centers operations in Florida.
According to data from the Florida Department of Health, in 2015, there were 31 trauma centers operating in that state, including nine level 1.
Puerto Rican doctors in Florida
Samuel Guzmán has been working as an emergency room doctor in Florida for more than a decade. He graduated from the University of Puerto Rico and with almost all his family living on the island, he returned to his homeland even though he would receive half of what he earned in the US. "I was there for two and a half years, but it hit me hard wall when I saw so many limitations in the trauma area, and I had to go back to Florida," the doctor said.
"At the Trauma Hospital of Río Piedras, I saw patients lying in the corridors due to the lack of stretchers. And, when I worked in Humacao and had to call Trauma to receive a patient, two and three hours passed and they did not even answer the phone. They cannot cope. They assist the one in worse condition. It's sad. It's frustrating," he said.
Guzman confirmed what the directors of the Gainesville hospital said: "Here, I just have to call a trauma hospital like Orlando Regional Medical Center, I talk to the surgeon on duty and they accept the patient immediately if it is a trauma case. We are saying that, in less than an hour, he is already in the hospital. The difference with Puerto Rico is like from heaven to earth," he said.
"My family lives in Puerto Rico. If something happens to my mom or someone in my family, I am worried about they not being treated. It is worrisome that, on the island, they can't even answer the phone. I feel a lot of personal and professional anger. If something bad happens in that hospital, even with its limitations, it is judged with the same rules as a hospital in the US -which is fully equipped-," he added.
More expensive Services
The difference in the cost of medical services is also significant. In the US, getting sick is very expensive, even more for trauma patient. "In Puerto Rico, the deductible can be $ 300, but here it can be between $ 5,000 and up to $ 8,000 if you have a CT scan (computed tomography). Imagine, once my wife was two and a half days hospitalized for appendicitis, which was not trauma, and it cost $ 34,000. The plan covered $ 31,000. Definitely Puerto Rico is less expensive," he said.
Arnaldo Vélez is a Puerto Rican neurologist who works at the Orlando Regional Medical Center and, occasionally, treats trauma patients. He knows first-hand the experience of treating patients both in Puerto Rico and in Florida.
"In Florida, there is always a trauma operation room available and, at night, there is a second one opened. As soon as the trauma alert is activated -because they already warn that a patient is coming-, everyone gets ready to wait for the patient. In less than five minutes, he has a doctor with him, and 10 minutes later the whole team is coming," said the doctor.
Vélez highlighted the work of the ambulances. In Florida, this vehicle is the first care the patient receives. An ambulance has a paramedic trained for emergency situations prepared to make an initial general evaluation, which is very important for the hospital where the patient will be taken later.
In Florida, counties manage most of the ambulances, he said.
Of Italian descent, emergency doctor Giuliano De Portu lived for many years in Puerto Rico, where he combined his medical studies with photojournalism. He still related to the world of images, but as a specialist in ultrasound.
"The success of trauma patient care begins with the pre-hospital care provided by the paramedic who is in an ambulance, there in the field, attending an emergency. It's them who communicate the patient's condition, and that notice comes to us in a text message to the phone that every doctor carries here. That trauma alert helps us prepare," said the doctor from the University of Florida, Gainesville.
"What makes our work serious is not the building. It's the people, and the doctors in Puerto Rico who work at the Medical Center in the Trauma Hospital are fabulous. They have been giving their 100 percent to patients for many years and their professional quality is excellent. What happens is that they have limitations and a doctor often has to perform many tasks," said De Portu, who has been living in this state for eight years, but studied and took part of his residency in Puerto Rico.
On the island, he said that he sometimes had to run to look for blood for a transfusion, he had to take notes for a patient's record, push the stretcher and even take a patient to get a CT Scan. "It's not that we cannot do those things because we're doctors, it's that it's time you could have spent saving a life or treating someone. Here in Florida, the team is bigger and you can have a nurse who only takes notes, there is someone who looks for blood, there is better coordination," he said.
💬See 0 comments