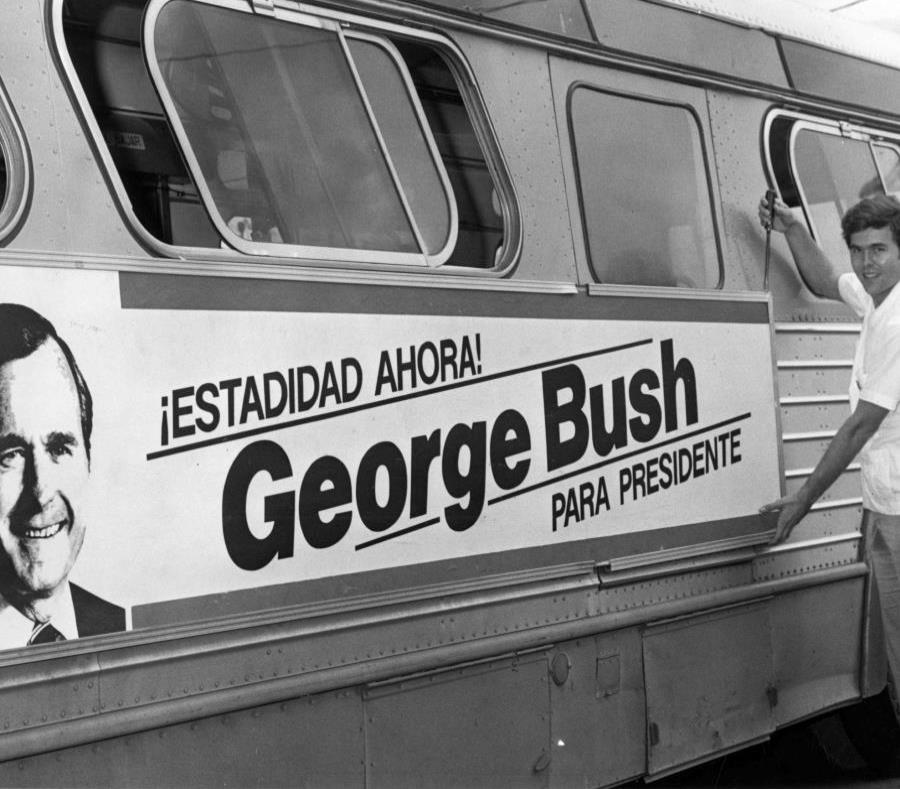 Washington - 41st president of the United States, George H.W. Bush, who died Friday at age 94, supported statehood for Puerto Rico, even in a State of the Union address and had a historical connection with the island's pro-statehood movement.
Since he first campaigned for the Republican nomination in 1980, Bush had a direct relationship with the island's Republicans, particularly with former governor -founder of the New Progressive Party (PNP)- and Republican leader, Luis A. Ferré; with activist and then senator Miriam Ramírez de Ferrer, and with alternate delegate to the UN, Julita Rivera de Vincenty.
"Bush treated and respected them as friends," said former mayor of San Juan Hernán Padilla.
In 1980, for his first presidential campaign -which in Puerto Rico had the motto "Statehood now"- Bush sent his youngest son, Jeb -27 years old back then and fluent in Spanish- to the island. Jeb Bush -governor of Florida between 1999 and 2007- was on the island for two months.
Bush won the Puerto Rican primary in February 1980, with 60 percent of the votes and after defeating Senator Howard Baker (37 percent). But, he lost the Republican presidential candidacy to Ronald Regan, who then chose him as a candidate for vice president.
He was elected president of the United States in 1988. For Kenneth McClintock, former Secretary of State, George Bush was the president with the strongest natural attachment to Puerto Rico.
George Bush was the first president – and the only one so far – to promote a referendum on status alternatives for Puerto Rico and he did so in his State of the Union address on February 9, 1989.
Jeffrey Farrow, who was co-chairman of Bill Clinton White House Task Force on Puerto Rico and was then director of the House sub-committee on Insular Affairs, recalled that Bush´s deputy Chief of Staff, Andy Card, told him that the president had asked his advisors to include his personal support for statehood, and his claim to Congress for a referendum, in his State of the Union address.
As they did not follow his instructions, Bush himself included it in his own handwriting. "I've long believed that the people of Puerto Rico should have the right to determine their own political future. Personally, I strongly favor statehood. But I urge the Congress to take the necessary steps to allow the people to decide in a referendum," he said.
A month earlier -and after meetings with Card and members of Congress- then governor Rafael Hernández Colón said in his January 2, 1989 inauguration speech, that he would initiate talks with the United States government and with Puerto Rican leaders that represent other status formulas, regarding the best way to consult about the political future of the island.
The initiative generated the most comprehensive debate on the political future of Puerto Rico in the last three decades and was the first serious attempt of Congress to offer the island a referendum on status alternatives.
Although on October 10, 1990, the US House of Representatives approved a bill proposing a status referendum in Puerto Rico, the process died in February 1991 in the Senate. Before leaving office, Bush signed a memorandum ordering government agencies to treat Puerto Rico as if it were a state.
"I had the opportunity to meet him early in my public service life and I still remember the impact he caused me," said Resident Commissioner in Washington Jenniffer González, who chairs the Republican Party in Puerto Rico.
According to historian Ángel Collado Schwarz, Bush visited Puerto Rico in June 1985, when he was Vice President of the United States.
Governor Ricardo Rosselló joined President Donald Trump´s decision and ordered flags to be flown at half-staff for 30 days to honor Bush.
💬See 0 comments