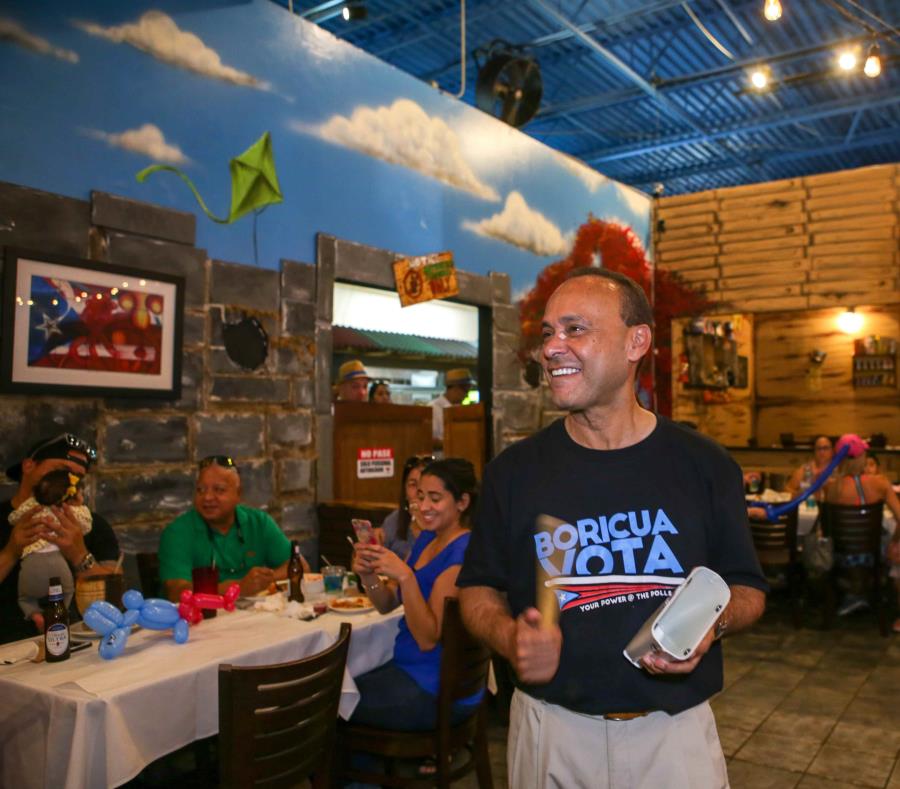 Kissimmee, Florida – Yesterday, Puerto Rican congressman Luis Gutiérrez led a party at a renowned restaurant here -where he arrived with pleneros and leaders of community organizations- to encourage those present to register as voters.
This effort to move Puerto Ricans and Hispanics to express themselves through voting will be part of the work that Gutiérrez will carry out once he retires -after 26 years in Congress- on January 3.
Leading a group of pleneros, Gutiérrez tried to set the pace with a cowbell and went into Pal 'Campo, a Puerto Rican restaurant, surprising the people who crowded the place.
Betsy Franceschini, director of the Hispanic Federation; former Florida state legislator Tony Suarez; and Jimmy Torres, spokesman for "Boricua Vota", the organization that coordinated the effort, were also with Gutiérrez.
"If you keep saying that you are not going to vote, then do not complain about the results," the pleneros were singing.
Torres, who was singing and at the same time directed the musicians, launched a brief message: "We come to tell you that we have until Tuesday (October 9) to register," and it all ended singing " What a beautiful flag".
Gutiérrez explained that this is the goal of these surprise efforts that community organizations have been doing. "They are not long speeches. Only music to attract attention and remind them of the motherland. Then, we tell them to register and to do it now," said the congressman.
In Florida - where 1.2 million Puerto Ricans live -, there are about 500,000 Puerto Ricans registered as voters, however it is estimated that there are another 300,000 who can vote, but are not registered.
Some community organizations focus on the awareness phase facing the elections, without speaking in favor or against any candidate due to the limitations imposed by their registration in the Federal Internal Revenue Service. But Gutiérrez, who does not have that limitation, stated that his campaign clearly aims to prevent Trump from being re-elected.
"If we do not fight Trump´s presidency, Puerto Rico´s reconstruction will take much longer," he said, noting that he is not interested in getting involved in the island's active politics once he moves back there.
In the United States there are more than 5 million Puerto Ricans. "Since we are so many, it is easy to elect a president who is respectful and facilitates Puerto Rico to live under 21st century standards. Instead, we currently have one who has shown a lot of cruelty," he said.
Gutiérrez arrived in Orlando from Miami, where he was met with pro-immigrant organizations and Puerto Rican communities and he also campaigned for Andrew Gillum, Democratic candidate for governor of Florida who, if successful, will become the first African-American governor of this state.
His daughter is campaigning for assemblywoman in Chicago, once that campaign ends, Gutiérrez and his wife, Zoraida, will move to a house in Dorado.
"I want to have my base of operation in Puerto Rico because I can easily travel to Orlando and Pennsylvania from there, which are two important cities in terms of elections, something important when deciding who will win the United States presidency, and to move the Puerto Rican vote there to avoid (Donald) Trump being re-elected," told Gutiérrez to El Nuevo Día.
The congressman has not lived in Puerto Rico since 1977.
"I want to return and experience first hand what it means not to have continuous electricity service, I want to experience what the residents of the island live on a daily basis, and I want to be there when the Oversight Board, not elected by Puerto Ricans, makes decisions", he said.
The dates
In Florida, registered citizens can vote in person at polling stations on November 6 or they can request for the ballot to be mailed to them.
October 31 is the deadline to request the ballot by mail. It must be sent by mail the day before the elections, that is, on November 5.
In these mid-term elections, governor, Congress members, state legislators, sheriffs, judges, and school board members will be elected in Florida.
💬See 0 comments