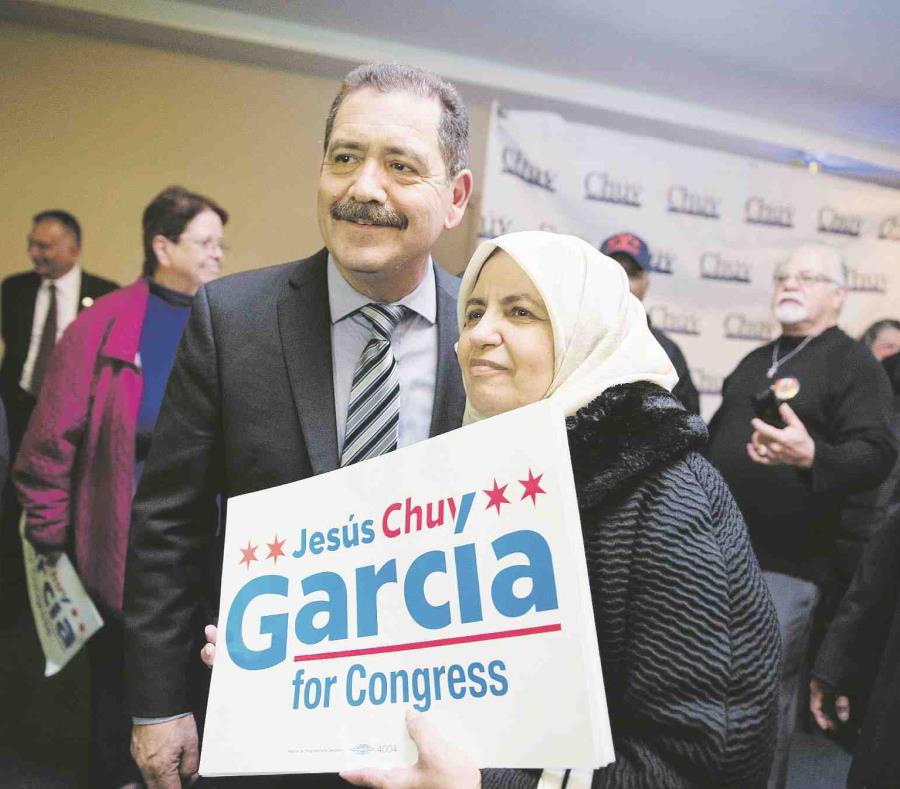 Chicago - So far, Jesus "Chuy" Garcia seeks to fill the seat that Puerto Rican Congressman Luis Gutierrez will vacate at the end of the year.
Garcia, born in Mexico and who holds the lead in the race to succeed Luis Gutierrez to represent Illinois' 4th Congressional District, says he wants to bring to Washington his work in favor of social justice.
After winning the Democratic nomination in June, with two-thirds of the vote -despite having two opponents- Garcia must navigate the November election, running against Republican Mark Wayne Loch, without problems.
However, all this introduction requires a "caveat".
Garcia is endorsed, even by Gutierrez, so that once he secures a seat in the House, he runs for Chicago mayor- to be decided on Municipal General Elections on February 26, 2019 or on the runoff on April 2, 2019 -, after Rahm Emanuel decided not to run for re-election.
Garcia, 62, did not said if he will run for mayor of Chicago. But, if he runs, he will likely announce it after the November elections. If he decides to do so, Garcia will immediately become a strong candidate.
In 2015, he forced Mayor Emanuel to go to a runoff. He got 43.8 percent of the votes.
In an interview with El Nuevo Día, Garcia focused on what he has ahead: his candidacy for Congress representing a district that increasingly resembles him. Created by Court order, searching for Hispanic representation, it has a strange territorial design, which sought to unite the city´s Puerto Rican and Mexican communities.
The district - already 71 percent Hispanic - had only one representative: Gutierrez.
For many Mexicans, the district has been the gateway to the United States. Garcia's father was one of them. He migrated to the USA under the bracero program, in the late 1940s. He worked in Texas, California, Kansas and Illinois, first with work permits and then as undocumented.
"My mom was the one who raised us until we came to the United States, because my father only visited us when he had vacations, especially for Christmas ... It's part of the reality of being an immigrant," said Garcia, born in Durango, Mexico.
Garcia has lived in Chicago since he was 10. He has been a resident in La Villita neighborhood since 1969.
He has represented his community in the City Council, then in the state Senate (where he was the first Mexican American) and recently as Cook County Commissioner.
He is close the Puerto Rican community since he was a student. That relationship deepened later. His wife is Puerto Rican.
Why are you running for Congress?
— I was the first on in my family to go to university. Since I was a teenager, I was greatly moved by the concept of social justice, inspired by Martin Luther King and César Chávez. I lived in Chicago in periods of massive social upheaval, including the assassination of King, John F. Kennedy, the Black Panther movement, the Vietnam conflict and others, like that of César Chávez, the fight for justice for agricultural workers, and in favor of studying the history of Latinos and Mexicans in the United States.
Why didn´t you think about running for mayor first?
— A main motivation is the urgency to create a counterweight against reactionary forces in Congress. The challenge that Donald Trump represents and all public policies and attacks against Latinos and other minorities. Achieving justice for immigrants is currently the greatest priority in the country, because that means 12 million people directly and many more families in the United States. Luis (Gutierrez) became the main national spokesperson for this cause. As an immigrant, I want to take that flag.
What did that election show?
— I wanted the community to stop being just a spectator and become an actor. We are already 30 percent of Chicago´s population. But, we do not have the proportional influence that we should have.
Was your relationship with Gutierrez damaged when he supported Rahm Emanuel in 2015?
— The relationship became cold, a bit. I would not say that it was damaged, because we have known each other for a lot of time. There was never an antagonistic conversation. I called him when I was going to announce my candidacy, he told me he had already made a commitment.
Do you rule out the mayor´s office? (When this question was asked, Emanuel had not announced his decision not to seek re-election, today it is clear that Garcia will make the decision in November).
— I do not rule it out. But, I am very clear that main goals, such as immigration reform, advancing on an economic agenda for working people, creating new sources of employment, facilitating access and cost to university education, universal health insurance, are goals that require federal initiatives. We are about to become 50 percent of the student population in Chicago public schools. We are a growing young community and will determine the future of the city, the region, the state and nationally.
How will your work differ from Gutierrez?
— I focused more on being opposition in Chicago. He had certain achievements, but we never had differences regarding the common good.
In Washington Gutierrez can be seen as someone who confronts the party.
— That has been my path. But, I feel we are changing the Democratic Party. The recent change to curtail the Superdelegates role in the election of the presidential candidate is important. I was Bernie Sanders' delegate in 2016, and we fought for that change in the party.
Gutierrez thinks that Puerto Rico should be a sovereign country. He does not believe that statehood is possible. Do you agree?
— The decision on the Puerto Rican political status must be made by the Puerto Rican people. I had relations with the different political forces of the country, including pro-independence ones, who in Chicago have played an important role in the social and political life of Puerto Ricans. When I was a student, I supported freeing the five nationalist leaders, also Oscar López Rivera, and I participated in the process to build the statue of Pedro Albizu Campos. But, I have friends in the Puerto Rican community who are in favor of the Commonwealth, and I have collaborated with others that prefer statehood. As a positive mark, statehood seeks to end the colonial status. The problem is to what extent Congress is going to approve two senators and four Congress members with vote for the island, that is more representation than many states have.
Are you aware of the debate on the 2017 plebiscite, the victory of statehood and the low turnout? Commissioner Jenniffer Gonzalez wants that plebiscite to be used to direct a statehood proposal.
— (Based on) that plebiscite it would be difficult to support a proposal of that nature. Probably, there will be more.
How do you analyze the response of the Trump administration to the emergency caused by Hurricane Maria?
— Awful, outrageous, criminal.
In your county, a Puerto Rican woman was harassed for wearing a shirt with the Puerto Rican flag.
— That incident shows the kind of racism and social backwardness that Trump causes. With his –almost daily- tweets he encourages hatred, bigotry, racism and xenophobia.
You are close to Sanders. If the senator decides to run again for President, will you support him?
— I have been an admirer of Senator Sanders since he was a congressman. If he runs again, I am very inclined to favor him.
Do you consider yourself a Democratic socialist like Sanders?
— I'm an activist for social justice. I have no reservations about the government playing a very important role in ensuring that people live better. For me, labels are not that important.
💬See 0 comments