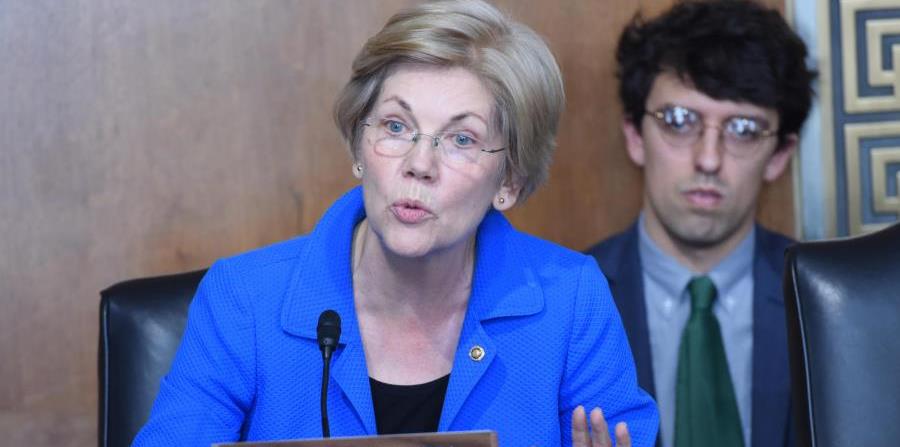 Washington - Democratic Sen. Elizabeth Warren (Massachusetts) said the legislation she presented to terminate Puerto Rico's non-pension debt obligations and mitigate the consequences to certain creditors underlines that "nothing will go to Wall Street vultures."
"The presumption is that all debt will be eliminated unless a creditor can prove that the interest is insured," Warren said in an interview with El Nuevo Día.
Creditors would have six months once the legislation was passed, for example, to prove in the Federal Court in San Juan that their debt is secured by lien, and should not be eliminated.
The legislation that Senator Warren has been preparing for months – co-sponsored by Bernie Sanders (Vermont), Kirsten Gillibrand (New York), Kamala Harris (California) and Ed Markey (Massachusetts) – was officially introduced on Wednesday in the US Senate.
Nydia Velázquez (New York), Puerto Rican Democratic congresswoman, plans to introduce a similar legislation in the House of Representatives in September.
"After Maria, Puerto Rico needs every tool possible to recover physically and economically. This legislation provides another path for the Island to get back on its feet and begin the journey toward a brighter future," said Velázquez.
Through Warren´s proposal, Puerto Rico and other territories would qualify to cancel a large part of their debt if they meet at least two of three criteria: have a population decline of 5 percent over 10 years, be the recipient of major federal disaster assistance, or have per-capita debt exceeding $15,000. These three apply to Puerto Rico.
Through the legislation, the Puerto Rico Supreme Court presiding judge would appoint a "special master" to allocate $ 15 billion among unsecure creditors with debt to be cancelled. On one hand, $7,5 billion would be allocated to creditors residing in Puerto Rico and the same amount for creditors in the US.
In november 2017, Sanders and Warren, in the Senate, and Velázquez, in the House, introduced comprehensive legislation that proposed to allocate nearly $ 100 billion in federal assistance to mitigate the disaster caused by Hurricane Maria in Puerto Rico.
Although it is a minority´s project - which makes its approval unlikely - both Warren and Sanders could aspire to the presidential candidacy.
Both Gillibrand and Velázquez voted in favor of PROMESA, which created an Oversight Board that oversees the financial decisions of the government of Puerto Rico.
In addition, through PROMESA, the restructuring of about two thirds of the over
$ 70 billion debt is under the consideration of a territorial bankruptcy court challenging the RECONSTRUCTION.
Warren said that the island cannot be rebuilt, after the devastation caused by Hurricane Maria, if a significant part of the public debt is not canceled.
The Democratic senator said that her legislation would make the restructuring of debt under PROMESA Title III unnecessary. Although she did not say so, the bill could change the function of the Oversight Board to academic.
"My legislation is going to help our fellow American citizens recover from Hurricane Maria and build a future," said Warren, former bankruptcy professor at Harvard Law School.
Warren said she was analyzing to introduce this type of legislation before Hurricane Maria. Representatives of her office visited Puerto Rico in 2015 - during the debate over PROMESA - with the purpose of examining the island´s financial situation.
Warren, who is in the Senate minority - where Republicans dominate 51-49 - hopes the debate over the future of public debt does not become "a political issue between Republicans and Democrats."
For the Senator, eliminating a large part of the debt is mandatory, "because PROMESA was enacted before the hurricanes , so it was not designed to account for the recent devastation".
Senator Sanders, independent caucusing with Democrats, who can aspire to the presidency again, added: "Greedy Wall Street vulture funds must not be allowed to reap huge profits off the suffering and misery of the Puerto Rican people for a second longer. It is time to end Wall Street's stranglehold on Puerto Rico's future, return control of the island to the people of Puerto Rico and give the territory the debt relief it so desperately needs to rebuild with dignity."
Senator Gillibrand said "it's time to give Puerto Rico new control over what happens on the island and I am proud to support this important legislation to forgive Puerto Rico's debt and protect Puerto Rico from predatory hedge funds."
Backing the legislation
The new legislation is endorsed by AFL-CIO, AFSCME, American Federation of Teachers, the Hispanic Federation, LatinoJustice, Amor Para Puerto Rico, National Low Income Housing Coalition, Alliance for Puerto Rico-Massachusetts, Latinos for Healthcare Equity, among others.
Seven law professors from different US universities signed a letter expressing support for the legislation they consider constitutional.
"In my opinion, the U.S. Territorial Relief Act is constitutionally sound. I hope that the bill is taken seriously by Congress and that debate can focus on its merits as public policy rather than being diverted by made-up constitutional objections," wrote Laurence Tribe, Professor of Constitutional Law at Harvard, in a separate letter about supporting the bill.
💬See 0 comments