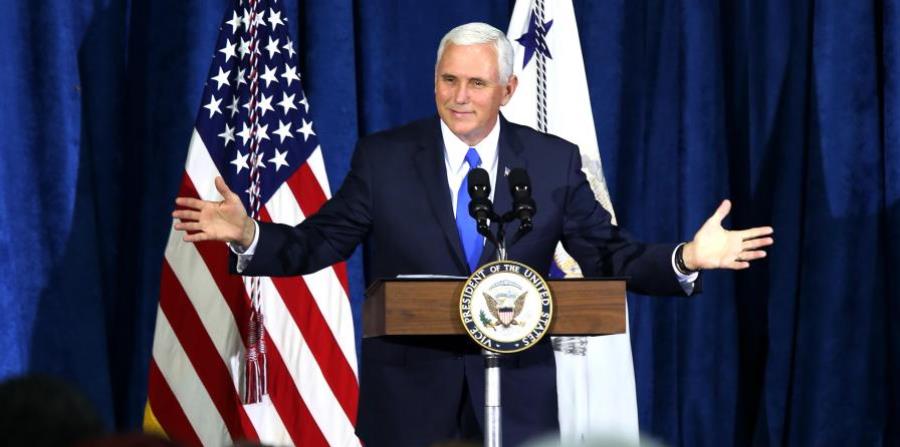 WASHINGTON - Following the controversy left by Donald Trump's visit, US Vice President Michael Pence arrives this afternoon in San Juan to survey first hand the magnitude of the damage caused by Hurricane Maria and the efforts for the recovery of the Island.
Pence began his trip in Orlando, where he received a report on the situation in Puerto Rico and the US Virgin Islands, and met with Puerto Ricans who have moved to central Florida after the cyclone.
"We are here to help. We are going to rebuild Puerto Rico," Pence said in Orlando, speaking to Everlinda Burgos, a Puerto Rican who arrived in Florida yesterday. Burgos assured she knew that President Trump was in Puerto Rico, but urged Pence to visit the center of Puerto Rico. "That's where the disaster is," she told him.
Pence guaranteed her that she was going to be fine in Florida and "then you will be able to go back home... there's no place like home."
In San Juan, Vice President Pence, 58, will meet with the governor, FEMA officials and victims.
Resident Commissioner Jenniffer Gonzalez, Senators Marco Rubio and Bill Nelson, and Virgin Islands Delegate Stacey Plaskett traveled with Pence to Orlando. Gonzalez will also go with him to Puerto Rico.
"I hope Pence can continue to give directions for what needs to be done in Puerto Rico and the federal help that is needed, which is a lot. The fact that the vice president is going must redouble the efforts," said yesterday in Washington former governor Luis Fortuño, delegate of Puerto Rico before the Republican Party of the United States.
On Tuesday, Trump was just over four hours in San Juan and Guaynabo, along with Secretary of Energy Rick Perry, Acting Homeland Security Secretary Elaine Duke, Budget Director Mick Mulvaney, FEMA Administrator Brock Long, and Homeland Security advisor Tom Bossert.
In addition to continually praising himself on the work of the federal government in response to the catastrophe -despite criticism from mayors who claim that the distribution of supplies has been slow- Trump caused controversy when he said that the disaster in Puerto Rico "thrown our budget out of whack'", and minimized the magnitude of the catastrophe because of the relatively low death toll compared to Hurricane Katrina (2005) and then, in one of his events on the Island threw paper towel rolls at people.
Before leaving the Island, he also said that the public debt of Puerto Rico should be wiped out, and then was contradicted by senior officials of his government.
"Trump's 'media show' is over and now adults have to be diligent in saving lives and rebuilding Puerto Rico. That is why I frankly hope that the vice president moves out of San Juan and can see firsthand the devastation that Puerto Rico is experiencing. For him to know people who are running low or have no access to medicine, water and food; those who have lost their homes and all their belongings," expressed the Puerto Rican Democrat strategist Federico de Jesus Febles.
For De Jesus Febles, Vice President Pence has the opportunity to realize that the federal response "has been too slow and FEMA and Congress have to be much more aggressive in getting the resources that are needed to address this humanitarian crisis."
In the White House, Pence is the experienced politician. He has repeatedly telephoned Governor Ricardo Rosselló and recently met with Resident Commissioner Jennifer Gonzalez and Republican Senator Marco Rubio to discuss the crisis in Puerto Rico.
Pence –who is very conservative and religious- was governor of Indiana (2013-2017) and congressman.
Meanwhile, in Congress, eight Democrats -including Puerto Ricans Darren Soto, Jose Serrano, Nydia Velazquez and Luis Gutiérrez- questioned yesterday whether the federal government is doing enough to care for the sick, the elderly and the most vulnerable amid the emergency in Puerto Rico.
"Devastation and damage are real and people need our help," pointed out Soto, the first congressman of Puerto Rican heritage from Florida.
💬See 0 comments