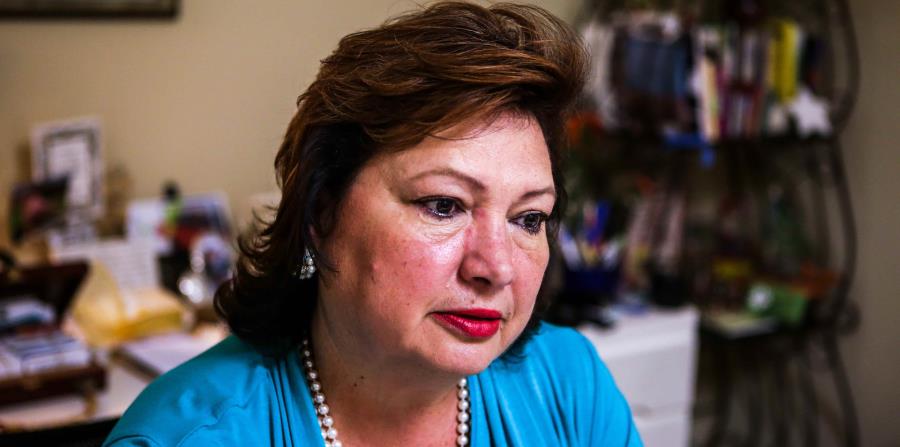 Orlando, Florida - She still remembers that day when her mother asked her to take off her shoes so that she could walk barefoot on the sidewalk in front of her house in Royal Gardens, Bayamón.
Marytza Sanz was at the peak of her modeling career, the path that led her to become Miss Bayamón in 1976, and she became the first finalist of Miss Puerto Rico 1976, when Elizabeth Zayas was crowned.
"Do you know why I asked you to take your shoes off Because you were forgetting where you came from, and I wanted you to touch the earth so you could go back to it," said her mother. Marytza recalls this and can not avoid her tears. Somehow, glamour distorted the memories of those days, when as a child she ran through that wooden house her grandparents had in Barrio Obrero, and slept in a bed that, at night, was covered by a mosquito net.
Her grandparents and mother, called Titi Pat by the neighbors, instilled in her to help others. And when runways and crowns were left in memories, it was natural for Marytza to follow the philanthropy path. So, when, by the end of the 1980s, she decided to move to Florida seeking better educational possibilites for her elder daughter, who suffers attention deficit, she realized that the area needed a humanitarian map to guide everyone who decided to settle here. The Casa Las Américas organization was born in this context and later it transformed into Latino Leadership.
How was Latino Leadership created?
- After 1996 elections, when Anthony Suárez –born to Puerto Rican parents- became the first Hispanic from Central Florida state legislator, the Puerto Rican community disbanded, and wondered what he was going to do now. So, we created Latino Leadership with the mission of registering Hispanics to vote in future elections. But, when you arrive here and you do not have a job or housing, or you don´t know the language, thinking about voting is the last thing that crosses your mind. So, while we maintained that political awareness, we focused on helping Latinos in those other areas. Then, we started looking for a place for the organization, and to ask for help to pay for the electricity and water bills and employees. But, people told us that we had no future because no Hispanic organization here lasted.
Why Hispanic organizations could not survive here?
- Because you need to have purpose, a mission. You have to take off your shoes and live what people in need live. If you do not achieve that, you will not have a future.
How did "Santiago and Friends" (Santiago y sus amigos, in Spanish) therapy center come up?
- My daughter Marytza gave birth to Santiago, in February 2010, and later he was diagnosed with autism. We visited places looking for therapies and services, but did not have the quality and the attention we wanted. We even noticed that the treatment to Hispanics was not adequate, as if they did not show interest. Then, we created the center.
Are you telling me that due to the lack of an adequate therapy center you created it?
- Yes. And we named it "Santiago and friends", because it's my grandson's name, and "his friends" because when you have an autistic child you have to integrate their environment, their friends, their family. That is how we Hispanics are, we are "us and our bunch". At the beginning, and to avoid misinterpretations or favoritism, Santiago did not come to the center. But one day, a woman asked me why I was doing that. That day, we changed it. By having our grandchild in the center, we provide confidence to the rest of the parents.
What was your life like before you devoted to philanthropy?
- I am what my mother taught me. I remember when, in the 1960s and 1970s, Cuban families began arriving in Puerto Rico, and my mom started collecting petticoats and purses for women who arrived. My mom´s way, always giving to others, that was very important. In those years, mom opened a day care center in her own home, back in Royal Gardens, in Bayamón, so that women who work had a place to leave their children. I wanted to follow that legacy of love. I was in beauty contests. I won Miss Bayamón in 1976 and was the first finalist in Miss Puerto Rico that year.
Who won that year?
- Elizabeth Zayas de Salinas was crowned Miss Puerto Rico. It was a very controversial contest. Back then, they would hide your shoes or ruin your hairstyIe! I remember that the big final question they asked me was: "What would you do to help the world?" I answered that I wanted to end hunger. That was a platform that allowed me to participate in other activities to do community work and I became involved in this mission that later became what my life is.
I have seen your whole family participating in Latino Leadership.
- My daughter Marucci has an executive position in Latino Leadership. My husband has his own company, but he advises us, and my daughter Marytza, Santiago´s mother, is engaged in pet grooming. But since she takes care of her child, she is with me. So she helps as a volunteer. We have always been together in everything. We have taken great care of that part. For that reason, I have never wanted to aspire to a political position to avoid hurting my family with those attacks that sometimes arise because of identifying with a political party. I am really cautious about partisan politics. I will never sell my community to a political party. I work for everybody, Democrats, Republicans and unaffiliated.
And then, Hurricane Maria changed everything again, right?
- Yes, María made us refocus our mission. I remember one day, after the hurricane, I arrived at the office and there were too many people outside, waiting. When Iasked them, they told me that they had come from Puerto Rico, because on the island they announced that in Florida, they were offering help to Puerto Rican families. Maria changed this office dynamics completely. It was filled with boxes, volunteers arrived and we worked seven days a week. It was necessary, because our Puerto Rican brothers were in the middle of an emergency. If we did not do this, who would? And today, we continue to help and we will continue further because another wave of Puerto Rican inmigration to Florida is expected during the summer.
You are always hugging people, known and strangers, Hispanics and Americans, who do not usually hug or allow themselves to be touched?
- It's something very natural for me. My mother always told me that a hug can save a life.
What do you think will happen to the hundreds of Puerto Rican families who arrived in Florida?
- There are families that made this state their home. There are others who have been frustrated by the language or because their dreams were not fulfilled and they will go back. And there are others who did not get used to it, but they have seen that their children did and do well in school. We have to help them with their emotional part. We are going to start some mental health services to support them.
And the future of Latino Leadership?
- My dream is to have our own headquarters where we can offer all our services. About Santiago, now eight years old, he has touched hundreds of people and hundreds of children have received services they would not have had otherwise. I will be 60, and there is still Marytza for a while. There is a lot to do and many hugs to give.
💬See 0 comments