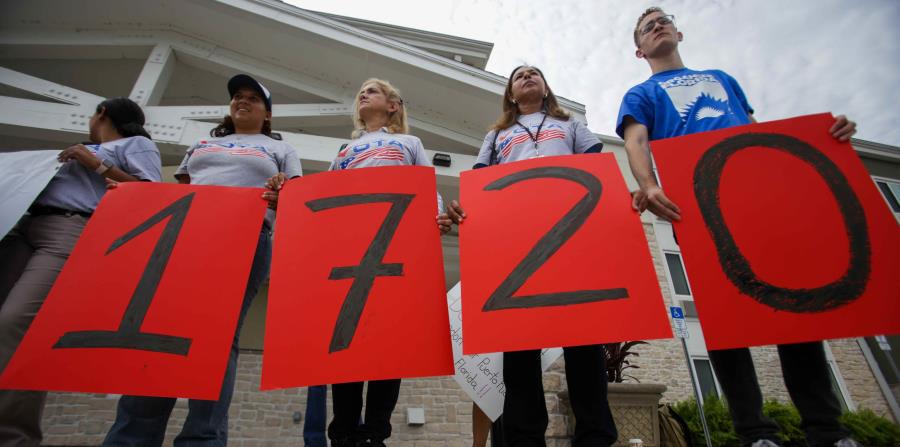 Orlando/Kissimmee - Next week, Ariana Colón (20), her son Sebastián (1) and her partner will place their belongings in a couple of suitcases and several plastic bags, like those used for garbage, and they will leave the hotel room at the Holiday Inn in Kissimmee where they have lived since December, when they arrived from Puerto Rico, displaced by Hurricane Maria.
She makes $ 400 a month working in a fast food restaurant and her boyfriend barely makes something as a barber, still that is not enough for them to rent an apartment when the Federal Emergency Management Agency (FEMA) Transitional Shelter Assistance Program (TSA) finally ends on Saturday.
In fact, almost everything she earns is to pay the daycare center where she takes her son Sebastian every day so she can go to work. "They ask you three months in advance to rent here. Besides, you have to earn a salary that amounts three times the monthly rent in order to be approved," said Colón, who is from Bayamón and she is pregnant.
"I would have to earn about $ 3,000 to be able to rent a two-bedroom apartment, because they do not want to rent me a single room one because I have the child," she added.
Jorge Irizarry arrived in Kissimmee in November, and he depends on Social Security to live. "I cannot rent with what I receive and at my age and considering my condition, it is very difficult to find a job," said the man, who lost his home in Puerto Rico due to Hurricane Maria.
Colón and Irizarry are part of the 1,720 people who live in small hotels in 23 counties in Florida, according to FEMA data until June 14.
This number may have changed somewhat, but the reality is that, although some families have managed to find jobs with salaries that allow them to move to an apartment, others do not have many options because they are elderly people, with health problems, some physical impediment or single mothers, said Kira Moreno-Craft, spokesperson of the Vamos4PR organization.
"We are not asking for anything different from what the federal government granted to other citizens after a hurricane," she added, referring to the disaster that Hurricane Katrina caused in New Orleans and the one caused by Irma in South Florida.
García Padilla visited Florida
Yesterday, in Kissimmee, Democratic Senator Bill Nelson called a meeting at the Super 8 motel, which houses the largest number of Puerto Ricans in the central area. His plan was to meet with families that were displaced after Maria and that have lived there since then.
But Nelson also summoned the former Governor of Puerto Rico Alejandro García Padilla, who endorsed him for a second term as the only Democratic legislator of Florida.
So, while several Puerto Rican families were sitting in a room, at the other end García Padilla was declaring to the media that his support for Nelson was the most eloquent way to help those who will be left on the street as of June 30, unless the administration of President Donald Trump decides to activate other federal FEMA programs that could provide temporary housing.
"This situation faced by hundreds of Puerto Rican families is another reason to endorse Nelson, who has discovered mechanisms to help them, but the Trump administration has not acted. I want to know if, at the time of activating soldiers for a war, they first activate those from Louisiana and then those from Puerto Rico. That is not the case, right? They activate everyone. Well, when sending help it should be the same," said the former Governor, who announced that he will call, send emails and knock on the door of those contacts he made as governor to try to find a timely solution.
Temporary housing proposed
For his part, Nelson said he will continue addressing the issue and pushing for Congress to consider and approve a measure he submitted to activate the FEMA Disaster Housing Assistance program. If the President and FEMA decide to activate this program, it could provide temporary housing for families until February 2019. "But my party does not have the majority to approve it," admitted the senator.
Immediately, Nelson and García Padilla moved to the next room. There, half a dozen Puerto Ricans –who live there- were sitting at tables like in a large dining room. García Padilla exhorted them not to vote for Republican candidates because, according to him, it is an "anti-Latino party, and a vote for a Republican is a vote against Hispanics."
"We have to fight for ourselves and vote for the candidates who fight for us, those who help us. Let not a single Puerto Rican vote a Republican! Here, in Florida, it is the other way around: here reds are not good; here you have to be blue, even if it hurts," said García Padilla, provoking the laughter of those present, except the Americans.
David Olmeda was among those Puerto Rican families. He is a native of Cayey and arrived in Kissimmee in November. The hurricane destroyed the apartment he rented on the island, and the economic crisis aggravated by the cyclone left him without his job as a truck driver. Here, he got a job at Home Depot, and his wife got one in a nonprofit organization. Their combined salary allowed them to qualify for a two-bedroom, two-bathroom apartment, which is supposed to be ready tomorrow.
"I made it because I found some programs that help you with the first month of rent, the deposit and electricity and water bills," said the man, who had his one-year-old baby in a cart. "I will stay here. If I return to the island it will be just to visit. Here, there are Puerto Ricans everywhere and it feels familiar, even Americans helped me. I did not know any English, and I have already learned something. It is not perfect, but I am doing pretty well," he said.
Rick Scott reacts
Florida Governor Rick Scott –Nelson´s Republican challenger- said that decisions on the TSA are in the hands of FEMA and the government of Puerto Rico, not in his.
However, he pointed out that he keeps working to identify the necessary aid for displaced families in Florida.
Meanwhile, Alexandra Ojeda, member of Scott's campaign team said that the TSA is a federal program, and "Bill Nelson has been a part of the federal government for decades. What has he done to solve the situation?"
Other Programs
In the midst of these warning voices, FEMA released a written statement in which it emphasized that Puerto Rican TSA participants who plan to stay in the United States and need long-term housing, should seek help from the Immediate Disaster Case Management, calling 1-855-742-5993, from 7:00 a.m. to 7:00 p.m.
FEMA reiterated that those who want to return to Puerto Rico could benefit from a transportation assistance plan through which the agency covers the cost of the ticket. This program expires on July 1 and must be coordinated by calling 1-800-372-1705. This program covers the transportation of family pets.
Meanwhile, the Heart of Florida United Way organization launched a program to help families. It is called Hurricane Maria Housing Assistance Program, and it provides assistance to people who have a job by covering the rent for the first and last month and the initial water and electricity service deposits.
"For many victims who have managed to find a secure job, paying the monthly rent is not the immediate challenge to find a permanent home. It is initial deposits," said Jeff Hayward, President and Chief Executive of Heart of Florida United Way.
"If the initial deposit is the only thing that prevents a family from settling down and starting a productive life in Central Florida, then we want to help them overcome this barrier," he added.
In order to qualify, participants must have a job and the family must have identified a home in the counties of Orange, Seminole or Osceola and prove it. For more information, visit https://www.hfuw.org/gethelp/.
💬See 0 comments