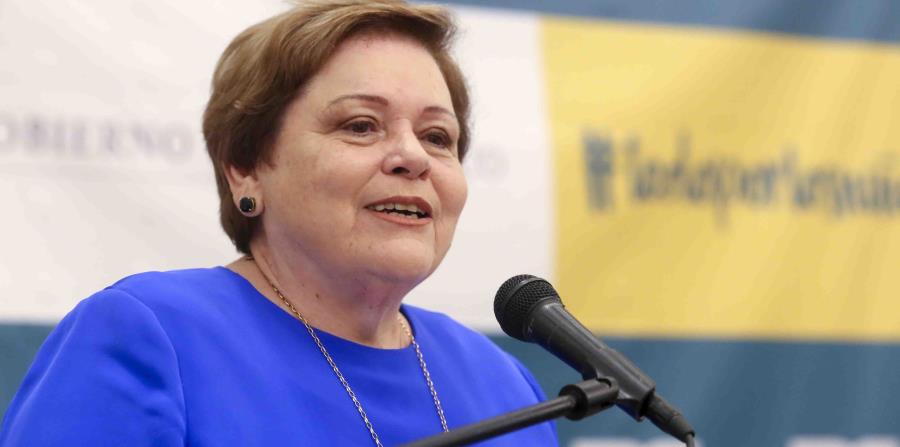 Yesterday, the Puerto Rico Teachers Association did not rule out the possibility of a strike if the Legislature passes Ricardo Rosselló´s education reform bill, which allows for the creation of charter schools on the island.
For the Teachers Association the privatization of school management of the Education Department would be detrimental for the island´s education system.
"If the bill is approved ... Teachers should know that they would have lost everything. So it is better to loose one or two months salary, than their whole life, "said Aida Díaz, president of the Teachers Association, in a press conference.
However, the Association hopes not to get to that point, so yesterday they announced their action plan to prevent the bill from being approved in the Legislature.
They will start holding meetings with teachers in every educational region to provide information about the implications of the project, and after that, they will organize teachers to visit district legislators. Meanwhile, this Friday they will hold a forum with US experts on charter schools, followed by a march to La Fortaleza.
"We want to tell the governor and the secretary that the teachers will reach the ultimate consequences to stop this project, which is not acceptable," said Díaz.
She added that "teachers will not be accomplices in handing over Puerto Rican public education to merchants from the temple. Endorsing this bill as it is would mean handing Puerto Rican public education to others who, in many cases, do not know our culture or our idiosyncrasy".
Changes to the public education system were announced by the governor last week and are in Senate Bill 825.
Díaz said the bill is based on references to performance and retention in public schools.
However, she highlighted that the DE published a report in which the school dropout rate was calculated at .73 percent for 2015-2016.
Díaz said that this figure is lower than the United States average.
"In Puerto Rico, dropout rate is at .73 percent, while in the United States it is 5.4 percent. On the other hand, the graduation rate is 74.4 percent, that is much higher than most states, "said Diaz.
"They told us for years that it was 40 percent and that our students dropped out of school because it was not good. False. They were lying to us", she added.
Díaz said that, in addition to affecting teachers rights and labor benefits, who will become private employees, charter schools will disrupt education in the public system with practices that have not worked in the United States.
As an example, she highlighted that in the last META-PR tests, Puerto Rico students scored "58 percent in science while in the United States the result was 37 percent".
She also stressed that, "it was even worse in math, the competence of our students was 44 percent in fourth form and 46 percent in fifth. In Maryland it was 37 percent, Rhode Island, 36 percent, Georgia, 35 percent, Illinois 35 percent, West Virginia, 31 percent... If we keep on analyzing, we see that more than half of the states are below the achievement level of our students. "
"They should stop lying and say what is really there behind this bill and with whom they committed to hand over the money of the people by selling their most sacred thing, which is their education", she exclaimed.
"There are reports from the Federal Education Department that indicate that corruption, theft, discrimination, harassment and abuse are the constant in these businesses", she said. "There are even cases in which funds are spent before the end of the year, so they close the school and leave, while leaving employees and children in the street", she said.
💬See 0 comments