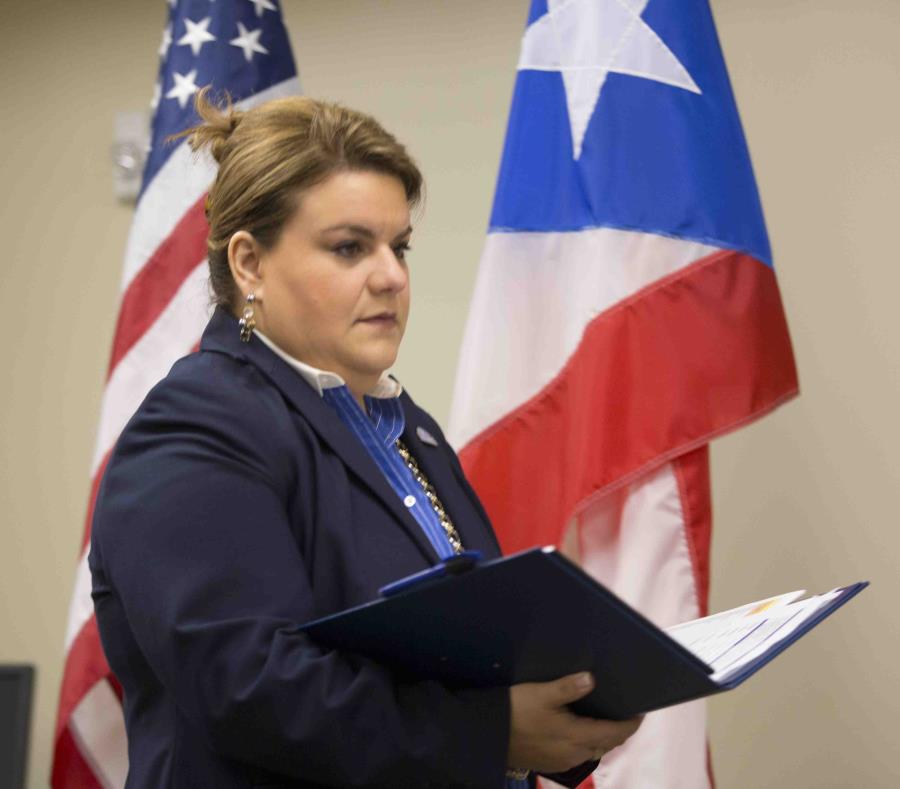 Washington – Jenniffer González, who a month ago said she would change "almost" everyone in Ricardo Rosselló Nevares' cabinet, still expects more changes in the Wanda Vázquez Garced administration, including "functions and staff" of the Puerto Rico Federal Affairs Administration (PRFAA).
"The governor is making decisions based on what she sees, and I am pleased with that," said González about Vázquez Garced's first month at La Fortaleza.
The governor, members of her cabinet and legislative leaders arrived in Washington yesterday to have meetings with Trump's administration officials and in Congress.
A month ago, González was ready to assume the governorship if Vázquez Garced decided not to step in as governor. She arrived to the position by constitutional provision and after Puerto Rico Supreme Court concluded that the swearing in as governor by Pedro Pierluisi, named secretary of state in recess, was unconstitutional.
At a press conference at the Puerto Rico Capitol on August 8, New Progressive Party (PNP) elected officials asked Vázquez Garced to appoint González as Secretary of State and to step aside so that the Commissioner could assume as governor.
"We are the elected government of Puerto Rico, we represent the elected majority. We have the moral authority to make claims as members of the NPP," Senate President Thomas Rivera Schatz said that day, next to González, House Speaker Carlos "Johnny" Méndez and other elected officials.
Vázquez Garced replied that it would be an honor for her to have González as Secretary of State, but that she would finish the term as governor.
González now says that she doesn't rule out running for governor, but that, right now, she is running for reelection as Resident Commissioner, a position for which she continues to raise funds.
Regarding her interest in becoming Secretary of State to assume the governorship if Vázquez Garced resigned, González said she agreed to "be available" to a request by legislative presidents and mayors.
"One thing is that situation and another thing is that we have a governor who stays," she said.
Pleased with the governor
The Resident Commissioner is pleased with Vázquez Garced's work. "I feel really comfortable with the working relationship we have," said González, who, contrary to what happened when Rosselló Nevares was governor, will go with Vázquez Garced to several of this week's meetings in Washington.
Except for Dennise Longo Quiñones' appointment as Secretary of Justice, since Vázquez Garced position became vacant when she took office as governor, Puerto Rico´s cabinet is the same that Rosselló Nevares left.
Vázquez Garced also decided the government representative before the Oversight Board and appointed Elí Díaz Atienza, president of the Puerto Rico Aqueduct and Sewer Authority (PRASA).
Chief of Staff Zoé Laboy indicated that Vázquez Garced is heading anew administration. González prefers to say that there is a "new vision." In that sense, the Commissioner said she would like to see more changes in the government.
Rosselló Nevares appointed Jennifer Storipan as PRFAA's Executive Director less than 24 hours before his resignation became effective. González said he has not met Storipan but that she knows her from Congress when Storipan was PRFAA Government Affairs director.
González stressed that it´s the governor who decides who will run PRFAA, but that the function of that agency "must be re-evaluated as well as its staff."
In her opinion, this week's meetings between Vázquez Garced and members of her cabinet with government and congressional officials are "crucial" to restore credibility in the U.S. government.
In the short term, the government of Puerto Rico faces significant challenges, such as the slow release of disaster relief funds – particularly through the Community Development Block Grant for Disaster Recovery Program (CDBG-DR) – and the imposition of a federal monitor to manage CDBG-DR funds; a potential fiscal cliff in the island´s health care system once Medicaid funds run out by April 2020, and the fact that the U.S. Department of Education ordered to hire a fiduciary agent to administer much of the federal funds granted to the Puerto Rico Department of Education.
Political future
About the possibility of Pierluisi running for governor, González said that "the PNP has many leaders" and that "parties have until December to file their candidacies."
Currently, Thomas Rivera Schatz is the PNP interim president, however, instead of thinking of the Senate president as "the leader" of the PNP, González considers that the PNP has a collegial leadership which includes her and Puerto Rico´s House President Carlos "Johnny" Méndez.
Governor Vázquez Garced has made it clear, on the other hand, that promoting a debate on statehood is not her priority.
But, despite the fact that last February the PNP approved a "yes or no statehood" referendum – regulated in Puerto Rico and validated by the U.S. Department of Justice –, González said she will introduce a new bill in the U.S. House seeking to turn Puerto Rico into an incorporated territory as a step towards statehood.
"For me, statehood is a priority and also for the people who voted in the last election," she added.
As part of the efforts in favor of statehood, González plans to have lunch today with Gigi Fernández, who represented the United States and Puerto Rico in international tennis tournaments.
Fernández wants to join lobbying efforts in favor of Puerto Rico becoming the U.S. 51st state.
💬See 0 comments