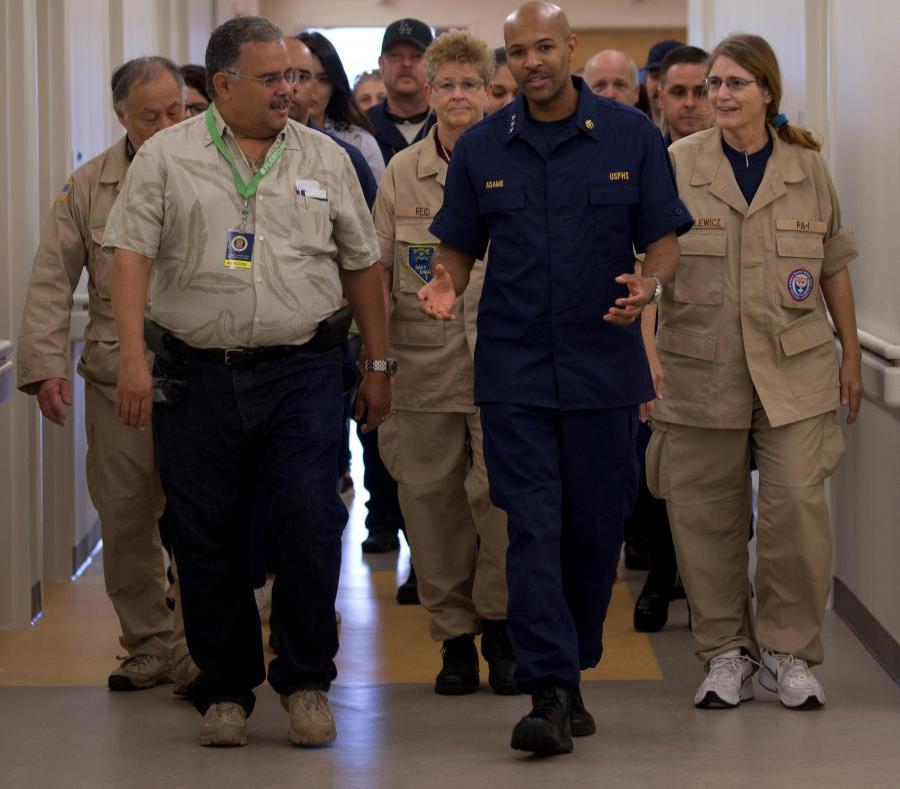 One day before the visit of President Donald J. Trump, US Surgeon General Jerome M. Adams came to the Island to learn firsthand about the work done by a thousand doctors and other personnel the Department of Health and Human Services (HHS) deployed to assist with the emergency caused by Hurricane Maria.
After concluding his fact finding mission, interrupted by a plane crash at Isla Grande airport, Adams took with him multiple assignments from the Medical Center: from sending a unit for the care of pediatric patients to supplying medications for the control of diabetes and hypertension, both conditions of high prevalence in the country.
"We know there are communication and travel challenges, but we work day by day to overcome them," told Adams to El Nuevo Día, who visit was planned for days and happened yesterday.
His visit had two purposes: verifying the logistics articulated by HHS to ensure the care that patients receive after the crisis caused by Maria, and taking proactive measures in order to avoid creating a major public health situation.
"I want the people of Puerto Rico to know that we have not forgotten them, that we work 24 hours a day, seven days a week on the mainland and here in order to bring the help they need," pointed out the doctor.
In action from day 1
According to Adams, on the day that Hurricane Maria hit Puerto Rico, there were already 92 HHS officers on the Island, and as soon as the atmospheric event ended, those personnel "raised from scratch" an operation to provide assistance in the Medical Center, as well as in other areas of the Island.
Since then, about 800 officers, mostly physicians who are part of the National Disaster Medical System (NDMS), have arrived to provide care to patients. Another 100 were to arrive yesterday.
At present, HHS has established operations to provide health care in Utuado, Caguas and other municipalities. The goal, stressed Adams, is to continue to bring resources to the Island.
To ensure patient service, HHS had to make an almost exact X-ray of how to bring supplies to Puerto Rico, which has meant understanding shipping logistics from the state of Florida to the port of San Juan so, once there, work on how to distribute such resources in the Medical Center and the rest of the Island.
During the first days after the strike of Maria, the focus of the federal agency was to supply fuel for hospitals to operate their generators. Now, they try to identify which medicine or equipments are crucial to serve the population. The National Guard assists in transporting the supplies.
"I feel like we've made progress, though it will never be fast enough for us or for them. But we are here to see how we can provide ever faster assistance so that Puerto Rico can recover and rise again," indicated Adams.
Lack of medications
The first few minutes of Adams' tour confirmed the multiple reports published by El Nuevo Día.
Health professionals Lesa Ansell and Vicki Thibodeaux, among other officials, gave a diagnosis of the situation. A care unit for pediatric patients is urgent and equipment like suction devices to prevent infants conditions from becoming pneumonia.
Some drugs, like Diovan, Benicar, Losartan and insulin, among others are needed and it is urgent to define in what dose they should be supplied to the Island, because, according to experts, its use is different in patients at the continental level.
Yesterday, El Nuevo Día revealed that a voluntary operation in the United States, through the Children´s Hospital Foundation, has made it possible for this institution attached to the Department of Health to access much of the medicines needed for that facility.
Students from the Medical Sciences Campus
Ansell, who described himself as a person consistently using data, praised the dedication of the staff working at the Medical Center and noted that medical students have served as interpreters between HHS staff and patients, what facilitates better care.
However, officials stressed that the government does not provide them with reports about the cases, which would allow proactive measures to be taken to prevent epidemics or outbreaks.
Likewise, Adams was interested in obtaining information about services to HIV patients, something that they had not received until yesterday.
"From a health perspective, this is an unprecedented case," assured Adams.
According to the doctor, in other disasters such as Hurricane Katrina, which destroyed the state of Louisiana 12 years ago, a response could be articulated in order to move patients by bus to other places for medical assistance.
"We cannot do that here, we have to build a shelter from scratch so people can come to it," Adams said.
"It's going to be a long way, but we are pleased with the alliances we are making, but not until we can go faster," added the surgeon general.
However, once in Puerto Rico, Adams has realized that it has been very difficult to reach the center of the Island to offer assistance.
To questions of El Nuevo Día about the failures that Puerto Rico had to respond to the emergency, Adams pointed out that lack of preparation to face emergency situations is not exclusive of the Island.
"One of the challenges we have in public health is that nobody cares until we have it before us. We talk all the time about preparing, but unfortunately, whether it is with Katrina, with an earthquake or on September 11, people do not think about being prepared until something bad happens," Adams said.
During the visit to the University Hospital, El Nuevo Día found out that the Departmentof Health has not met the needs arising after the cyclone, such as providing food and allowing breaks to staff who had worked in that institution in shifts of up to 12 hours, without water and electricity.
Yesterday, Health Secreatary Rafael Rodríguez offered Adams a better picture of the situation and indicated that out of a total of 20 operating rooms, about 12 are working. However, on Sunday, however, El Nuevo Día learned that only six were in operation and that pending orthopedic surgeries exceeded 60.
Restrictions to press
Although Adams's visit was coordinated by HHS and the Washington Post and El Nuevo Día were invited, Health Department staff indicated that, on instructions from the Secretary, no photos could be taken and going to the University Hospital floors was prohibited. In view of this situation, the Washington Post left the tour.
Consistently, El Nuevo Día has requested information from Rodríguez which is not provided to this newspaper
The same happened at the Comprehensive Cancer Center (CCC), where, at the insistence of El Nuevo Dia, this newspaper was allowed access to the facilities.
There, Adams talked to about thirty NDMS doctors and El Nuevo Dia was able to witness the brief dialogue between Adams and the director of the Center, the renowned oncologist Robert Hunter Mellado.
Following the visit to the CCC, Adams and the HHS staff moved to the Isla Grande airport for a fact finding mission and reached Utuado and other points in the western area.
However, the mission was aborted when a small plane crashed and the two helicopters with supplies and transporting Adams and HHS officials had to take the wounded to the Med
💬See 0 comments