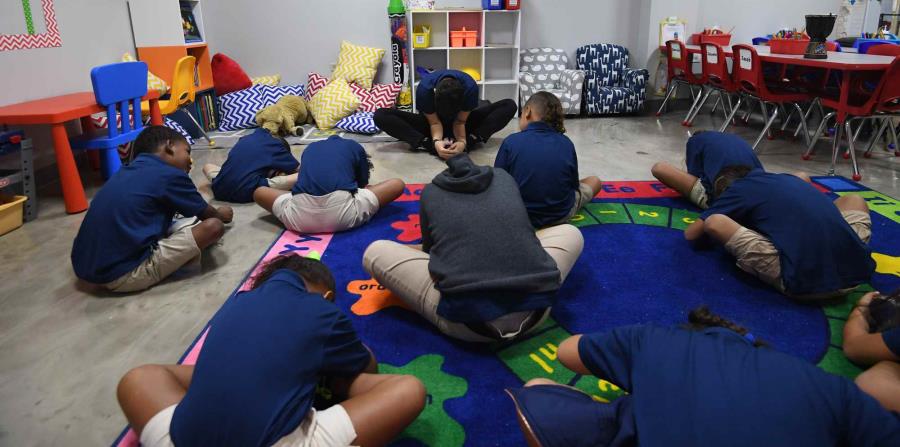 The USA public charter school system has been steadily growing for the last 25 years, and although its results have been inconsistent throughout the jurisdictions in which these schools operate, the Puerto Rican government hopes that this school model will help transform the Puerto Rico education system.
Tomorrow classes will formally begin at the first charter school to be established on the island, after the Department of Education gave its approval to the school that will be part of the Vimenti project of the non-profit organization Boys and Girls Club of Puerto Rico .
After years of attempts, the legal structure that enables charter schools on the island was created. It would be possible through the creation of new educational centers, or the transformation of existing schools to operate under this administrative model. The Education Reform (Law 85) was, partly, challenged in court for giving way to these types of schools, but on August 9, the Supreme Court decided that they can operate on the island.
Charter schools - named as Alianza Schools in Law 85 - are public schools operated by private entities. The local legislation specifies that these can only be managed by non-profit organizations, municipalities, universities, education institutions, teachers groups or cooperatives.
A total of 44 US states and jurisdictions - including Washington D.C., Guam, and Puerto Rico – allow charter schools. Most of these have laws that allow both the creation of new schools under this administrative model and the transformation of existing public schools into charters.
Due to the strict provisions of the newly released evaluation process of the Education Department, only one charter school was authorized for this school year, which would not have been possible if Boys and Girls Club had not prepared for the process beforehand, as acknowledged by Boys and Girls Club CEO, Eduardo Carrera.
The Boys and Girls Club´s original plan was to create a private elementary school that was free for their students' families, Correa explained last week.
"It was all thanks to our previous preparation... If we had not been working on this for two years, we would not have been able to have our charter school proposal approved," said Carrera, during a meeting with the press , two days after it was announced that the first Alianza School would be operated by this nonprofit organization.
But, there are more on the way. Last Sunday, Governor Ricardo Rosselló and Secretary of Education, Julia Keleher, announced that the second charter school will be established in Guaynabo, and will be operated by Caras de las Américas. This non-profit organization requested an additional year to refine its plan to transform the Rosalina C. Martínez public school; a process that will be carried out with communityparticipation, said Caras executive director Michael Fernández.
Educational impact
Studies conducted in the United States on the results produced by charter schools depend on the entities that carry them out.
There is some controversy, since some sectors consider that charter schools provide new opportunities and are an alternative for families that, otherwise, could only opt for schools that do not promote satisfactory learning in children. Meanwhile, its detractors say that they threaten public education, reduce funds available for traditional schools and favor entities or individuals to profit students welfare.
The Stanford University Center for Research on Education Outcomes (CREDO), has studied the results of charter schools for more than a decade. Although for years it concluded that charter schools -as an education sector- did not present better or worse results than traditional public schools, in a report released last year, they stated that students in charter schools operated by Charters Management Organizations (CMO) achieve better results in reading and math skills, which are equivalent to 17 more days of learning.
However, controversies are not far behind.
Two weeks ago, the Supreme Court of Ohio ruled that The Electronic Classroom of Tomorrow (ECOT), a virtual charter school that closed down in January 2018, has to return $ 60 million to the state government because the school could not prove that 40 percent of their students had attended classes. According to the court´s decision, the state of Ohio may demand to calculate funding based on the number of students in class and not only using the number of children enrolled.
In 2016, the Texas Education Agency concluded that KIPP charter schools -in Houston - violated laws by charging families fees that were not allowed, and that ranged from $ 170 to $ 325 a year, according to an investigation of The Houston Chronicle.
In addition, the Office of the Inspector General of the U.S. Department of Education published a report, in 2016, which established that the lack of controls over organizations that run charter schools represented a latent risk and could lead to fraud and misuse of public funds. However, it did not point to any specific case.
Legal controls
The impact of charter schools on the island is yet to be seen. Like the rest of public schools, the ones that operate under this model will have to measure students performance through standardized tests. In addition, they must submit constant reports to the Department of Education, particularly on financial information, as stated by the Regulations of the Public Alianza Schools approved in June.
The National Alliance for Public Charter Schools has created a tool to classify US jurisdictions that, according to their standards, provide the most favorable environments for the development of these schools.
According to its classification system, the first five states with the best laws in favor of charter schools in 2018 are Indiana, Colorado, Washington, Minnesota and Alabama.
Caps in the number of charter schools that can be created in a jurisdiction, to allow different types of charter schools, more than one entity that can authorize these schools, adequate financing for schools and the creation of comprehensive monitoring and data collection systems.
In Puerto Rico, Law 85 establishes that only 10 percent of public schools can be charter schools, which is a negative point, according to the Alliance. However, through the Education Reform, different kinds of charter schools are allowed to be established on the island, whether they are face-to-face or online, newly created ones or traditional schools transformed into charter schools.
Although the figure the first charter school would receive has not been specified, according to the estimates of Education, charter schools may receive $ 6,400 per student.
The last Alliance report was released in January, months before Law 85 was approved, so Puerto Rico is not part of its current classification.
The opening of the Valenti program school tomorrow will be the first step of an experiment where results will be constantly measured, said the Chief Executive Officer of the Boys and Girls Club.
"The lessons of this project are going to be evaluated, shared with the media for promotion and with public officials to influence public policy," said Carrera.
💬See 0 comments