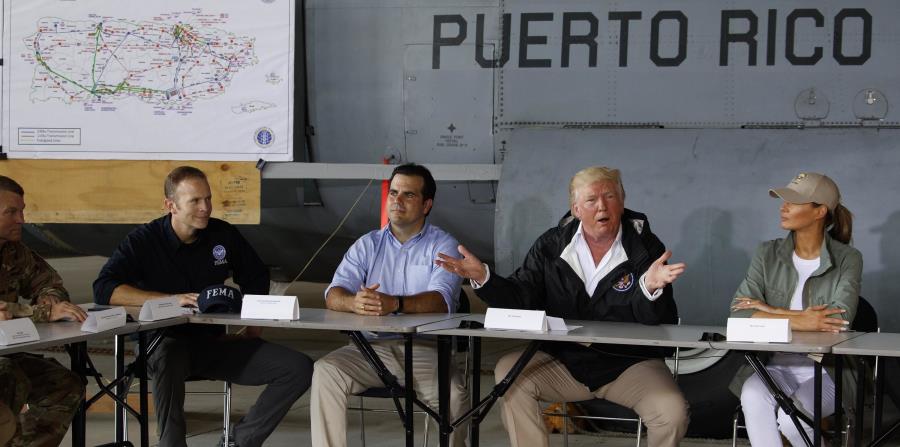 President Donald Trump flew to Puerto Rico Tuesday afternoon for a five-hour visit that marked the first time a sitting president has visited the U.S. territory during a state of emergency.
The island, which was ravaged by hurricane María on Sept. 20, is still undergoing significant challenges in its recovery efforts, with almost the whole island having no power and several towns in Puerto Rico's rural areas having no ready access for the delivery of much needed food and water.
However, the tone of the public briefing held by the president after the arrival of Air Force One at the Muñiz Air Force base in Carolina was more self-congratulatory than urgent, with Trump praising the work of first responders and federal officials who have been on hand in Puerto Rico since before hurricane Maria hit.
At one point in the briefing, Trump downplayed the severity of the Puerto Rico emergency by comparing its death toll to that of New Orleans, Louisiana, when hurricane Katrina hit in 2005.
"Every death is a horror, but if you look at a real catastrophe like Katrina, and you look at the hundreds and hundreds of people that died, and you look at what happened here with a storm that's just totally overpowering," said Trump. He then turned to Puerto Rico Gov. Ricardo Rosselló, who was sitting next to him at the briefing table.
"What is your death count at this moment?" Trump asked. "Sixteen, certified," Rosselló answered. "Sixteen people certified, versus in the thousands," said Trump, addressing the room and patting Rosselló's arm. "You can be very proud of all of your people, all of our people working together."
At another point, right after introducing the director of the Office of Management and Budget, Mick Mulvaney, who was present at the briefing, Trump remarked, "Mick oversees a thing called 'budget.' Now I hate to tell you, Puerto Rico, but you've thrown our budget a little out of whack. We've spent a lot of money on Puerto Rico and that's fine, we've saved a lot of lives."
Trump's visit took place amid widespread criticism stateside about his administration's response to the emergency in Puerto Rico, drawing comparisons to that of then U.S. president George W. Bush's response to the Katrina emergency in 2005, and with officials from the Federal Emergency Management Agency (FEMA) being particularly singled out for their allegedly subpar effort. This has led the U.S. military to take a more primary role in Puerto Rico's recovery efforts during recent days, with three-star Lt. Gen. Jeffrey Buchanan leading the charge.
The president also praised Rosselló during the briefing, noting that the island governor "did not play politics. He didn't play it at all. He was saying it like it was, and he was giving us the highest grades."
The remarks were pointedly in contrast to those that Trump had thrown against San Juan Mayor Carmen Yulín Cruz via Twitter earlier this week, after Cruz criticized the response that some federal officials were giving to the island's post-hurricane emergency, which many have catalogued as a humanitarian crisis. Cruz was present at the briefing, as was Secretary of Energy Rick Perry and Small Business Administrator director Linda McMahon.
After the briefing, the president and First Lady Melania Trump visited Cavalry Chapel, a church in Guaynabo, where Trump delivered supplies to the people present. The event also proved controversial, after videos surfaced of the president throwing paper towels into the crowd with an almost cavalier attitude that critics called disrespectful to island residents.
Later in the afternoon, Trump held a briefing with Kenneth Mapp, governor of the U.S. Virgin Islands, about the devastating damages that hurricane María also inflicted on the U.S. territories. The president then took off on Air Force One at 4:05 p.m. en route back to Washington D.C., an hour earlier than scheduled.
💬See 0 comments