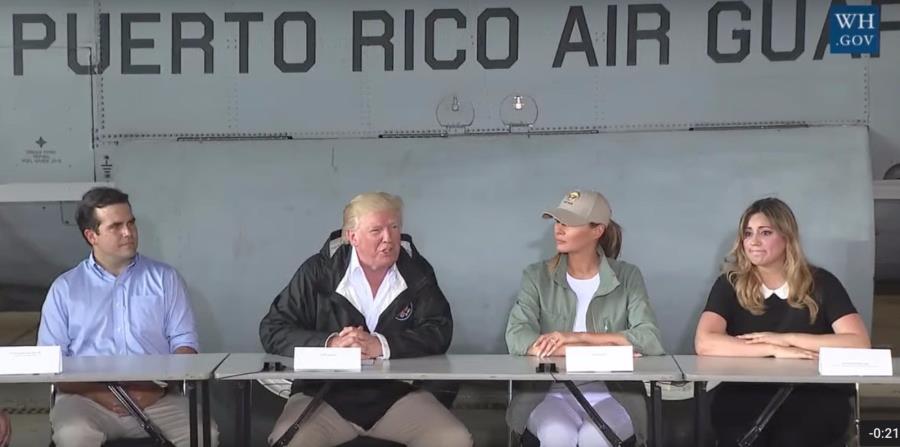 Two weeks after hurricane Maria caused great devastation and left Puerto Rico's residents on the verge of a humanitarian crisis, president Donald Trump arrived in the island to learn first-hand about recovery efforts.
Trump is the first president to ever make a visit to Puerto Rico in the midst of an emergency. First Lady, Melania Trump, was by his side.
In addition to meeting with governor Ricardo Rosselló Nevares, the Commander in Chief was scheduled to meet with hurricane victims and first responders. He also planned to meet with the mayor of San Juan, Carmen Yulin Cruz, who alerted US and international media about the difficulties that the federal government was having while responding a catastrophe of this magnitude.
Puedes seguir nuestra cobertura en español aquí
Follow our live updates:
5:31 p.m. -Minority leader, Charles Schumer, said he is perplexed by Donald Trump's remarks about how the catastrophe in Puerto Rico hast "thrown the budget out of whack".
"I can't remember the president telling Texas that the 'budget was thrown out of whack' because of hurricane Harvey. I don't recall him saying that to Florida", said Schumer.
4:33 p.m. -The Federal Government has denied the US territory's request for its citizens to redeem food stamps for "ready-to-eat" hot meals, amid widespread food shortages and power outages in the aftermath of hurricane María.
The nearly 1.3 million people on food stamps in Puerto Rico — almost 40 percent of its population— are unable to use the benefits of the federal program to buy fasts food or pre-prepared meals at supermarkets, according to The New York Times.
4:05 p.m. - President Donald Trump leaves Puerto Rico.
4:00 p.m. - Air Force One is getting ready to leave Puerto Rico
Se prepara el Air Force One para salir de Puerto Rico @ElNuevoDia @primerahora pic.twitter.com/qHTeOeZR6z

— Mabel M. Figueroa (@MabelMFigueroa) October 3, 2017
3:50 p.m. - In Puerto Rico, Mr. Trump's schedule limited his exposure to the public. After the briefing at the Muñiz Air National Guard Base, he met with storm victims at a church.
The president handed out packages of rice, stamped "Arroz Rico," to the crowd, declaring, "There's a lot of love in this room, a lot of love," according to a pool report. He also gently tossed rolls of paper towels into the crowd, according to The New York Times.
2:57 p.m. - GovernorRicardo Rosselló shares pictures of his encounter with president Trump
Recibiendo a @POTUS @realDonaldTrump hoy en Puerto Rico para dialogar y que conozca de cerca nuestra realidad tras el paso del huracán María pic.twitter.com/3jYYOHLrBr

— Ricardo Rossello (@ricardorossello) October 3, 2017
2:20 p.m. - President Trump visited Calvary Chapel for 15 minutes, says our reporter Istra Pacheco.
2:13 p.m. - Frankie Cabrera, a student, took a selfie with Donald Trump at Calvary Chapel, in Guaynabo.
Justo antes de irse de la iglesia Calvary Chapel, Frankie Cabrera, estudiante, logró un selfie con el presidente #TrumpPuertoRico pic.twitter.com/N5bCoorLt2

— Istra Pacheco (@IstraPacheco) October 3, 2017
1:54 p.m. – President Trump is headed towards a shed where he will board a helicopter to do an aerial inspection of the island.
1:37 p.m. - Puerto Rican Congressman Darren Soto urged the federal government to increase the military presence in Puerto Rico as well as officials from the Federal Emergency Management Agency (FEMA) to speed up the coordination and distribution of food, drinking water , medical equipment and blue awnings.
1:04 p.m. - People gathered at the side of the road to see the President on his way to Guaynabo.
12:46 p.m. -President Trump leaves Base Muñiz to continue with his agenda in Puerto Rico. Trump will stay for about five hours.
12:31 p.m. - "In a message at Congress, congressman Luis Gutierrez sustained that the devastation caused by hurricane María "was worse than he imagined and broke his heart".
After seeing the damages caused by the cyclone, Gutierrez was impressed after "seeing my dear island so devastated, so scared about the future, and feeling so alone".
"There were dead animals everywhere. The people are still desperate for food and water it is almost impossible for sick people – and the elderly- to obtain medicine and medical care".
12:25 p.m. - During the press conference, the president did not make any announcements of the measures he will take going forward in efforts of relief for Puerto Rico. The president focused his speech giving thanks and praising the work of the different federal agencies during the past two weeks.
12:19 p.m. -"This is a united effort. We have to work together in order to overcome what is going on here in Puerto Rico. It is a challenging time, we need to do more, but we will be able to rebuild Puerto Rico", said governor Rosselló. "We will not only come out of this, but we will build it stronger than ever", he added.
12:15 p.m. - Ricardo Rosselló in press conference with Donald Trump and congresswoman Jenniffer González: "The president recognizes that we still need to do a lot more, but we're going to do it together. By the president and the first lady being here shows a commitment to being here for the long haul, helping us get the emergency out, helping us get stability and then rebuilding Puerto Rico stronger than before"
12:11 p.m. - "I hate to tell you Puerto Rico, but you've thrown our budget a little out of whack. We spend a lot of money in Puerto Rico", said Trump.
12:10 p.m. - At one point in the briefing, Trump downplayed the severity of the Puerto Rico emergency by comparing its death toll to that of New Orleans, Louisiana, when hurricane Katrina hit in 2005.
"If you look at the — every death is a horror, but if you look at a real catastrophe like Katrina and you look at the tremendous hundreds and hundreds of people that died and what happened here with a storm that was just totally overbearing. No one has ever seen anything like that. What is your death count?" he said.
"Sixteen," responded Gov. Ricardo Rosselló.
"Sixteen certified," Trump said, and then told the leaders assembled that they should all be "very proud."
12:02 p.m. - The president thanks Bock Long for his outstanding response to the emergencies in the different cities where hurricanes have hit.
"This governor did not play politics. He was saying it like it was", says the president regarding Rosselló.
"I also want to thank your congresswoman Jenniffer González who I watched the other day and she was saying such nice things about all the incredible people (first responders). I've never seen people working so hard in my life", added Trump.
11:41 a.m. – President Donald Trump arrives to Base Muñiz in Carolina
Llega Donald Trump a Puerto Rico. #TrumpPuertoRico pic.twitter.com/ZkOk2DFmL2

— Gerardo E. Alvarado (@GAlvarado_END) October 3, 2017
11:35 a.m. -Puerto Rican leaders from Boston had a roundtable with Democratic Senator Edward Markey (Massachusetts) yesterday about the crisis in the Island.
"This is a crisis of apocalyptic proportions," said Otoniel Figueroa Duran, director of the trade division of the 32BJ International Service Employee Union, District 615, according to the Boston Herald.
Senator Markey, meanwhile, said that President Trump has spent too much time insulting National Football League players, but has not dedicated himself to assisting US citizens living in Puerto Rico.
11:33 a.m. - The number of soldiers deployed along the island to deal with the emergency that produced Hurricane Maria already amounts to 9,000, the governor said.
Initially, there were 4,600 military personnel as General Jeffrey Buchanan had said.
11:01 a.m. - The mayor of San Juan, Carmen Yulin Cruz, arrives at the base Muniz for President Donald Trump's press conference, confirmed spokeswoman, Carmen Serrano.
10:59 a.m. - Regardless of criticism, Donald Trump has said wonders about what he considers to be an effective response from his government and claims even Carmen Yulin Cruz has recognized the "great job we have done".
Before departing to Puerto Rico, Trump was asked about mayor Cruz. "I think she has come a long way (in this matter). I think she already recognizes the great work we have done and people are looking at that. In Texas and Florida, we had an A plus. And I'm going to tell you, I think we have done so well in Puerto Rico, and (there) is really a harder situation. By now the streets have cleared, the communications have returned to work. We need truckers to start driving trucks"
10:58 a.m. - "There is still a long way to go, but things have begun to turn around since General (Jeffrey) Buchanan and his team came to help FEMA and (governor) Ricardo Rosselló, "said Republican Senator Marco Rubio, in a tweet.
Last week, Rubio advised the White House that the Pentagon should take full control of all emergency management in Puerto Rico following the passing of Hurricane Maria.
Buchanan, commander of the Northern Army, is a three-star general who has rank above the head of the Puerto Rico National Guard, Isabelo Rivera.
10:52 a.m. - The Governor asked Trump for a massive aid package for Puerto Rico. The government has not specified how much the emergency and damage caused by the hurricane have cost, but the chief executive has estimated that the figure will be higher than that reported following the scourge of Hurricane Georges in 1998.
10:49 a.m. - Rosselló has previously said that the situation in Puerto Rico changed drastically after the hurricane. He has therefore asked the White House and Congress for flexibility in terms of aid. His request comes when even the country's finances are in the hands of a Fiscal Oversight Board that days before the hurricane required the government to enforce a cutback on the workday for government employees.
10:41 p.m. - Senator Elizabeth Warren (Massachusetts), asked the president to pay special attention to the residents of Vieques and Culebra.
Warren said that up until Thursday, the resident of those municipalities had been without water, gas, communication and -like the rest of the island- without electricity.
She also called out his attention to how the situation can worsen in the old military territories in Vieques. "We share residents' concerns that hazardous waste could further contaminate the island and water supplies and ultimately threaten the health of local residents," said Sen. Warren.
10:32 a.m. - President Donald Trump says the federal government has done a good job in Puerto Rico responding to the devastation caused by Hurricane Maria, but says local officials need to "give us more help."
Trump says Tuesday that "in Texas and in Florida we get an A-plus, and I'll tell you what, I think we've done just as good in Puerto Rico."
He says roads are cleared and communications are "starting to come back." He says on a "local level they have to give us more help."
9:45 a.m. - Details of Trump's agenda on the island have been released. He will spend a "great deal of time" in the military base and at the USS Kearsarge. The president will also go to Guaynabo to visit the facilities of the religious group Calvary Chapel.
Originally, Trump was scheduled to meet with Governor Rosselló and the Governor of the Virgin Islands, Kenneth Mapp at 3:30 p.m. In a second calendar that leaked, Rosselló does not appear in that meeting.
9:30 a.m. -Public Affairs Secretary, Ramón Rosario, said Trump's visit goes beyond seeing the disasters of Hurricane Maria, it is also to consider measures in favor of Puerto Rico.
9:00 a.m. -When Air Force Once approaches the island, the airspace will close. It will land at Muñiz Base, in Carolina. The president will be in Puerto Rico for approximately five hours.
8:30 a.m. - President Trump is scheduled to arrive at the island at 11:45 a.m. in Air Force One, accompanied by the resident commissioner in Washington, Jenniffer Gonzalez.
7:45 a.m. - The White House released the president's agenda:
At 8:00 a.m. President Trump and First Lady Melania will depart from the White House to Andrews Air Force Base in Maryland. About 20 minutes later they will board the presidential plane.
Air Force Once will arrive in Puerto Rico at 11:45 a.m. Upon his arrival, the president will be briefed on the relief and recovery efforts being carried out through the island.
Around 1:15 the president and the First Lady will meet with hurricane victims and at 1:50 they will visit Calvary Chapel in Guaynabo.
Then, at 3:30 p.m. the president will sustain a meeting with the Governor of the Virgin Islands, Kenneth Mapp and at 3:50 p.m. he will meet with military personnel, alongside Governors Rosselló and Mapp.
At 4:10 p.m. Trump will meet with Navy and US Marine personnel. Air Force One is schedule to depart by 5:05 p.m. He is expected to arrive at the White House around 8:55 p.m.
According to the itinerary, Trump will speak to the press upon his arrival at the White House.
💬See 0 comments