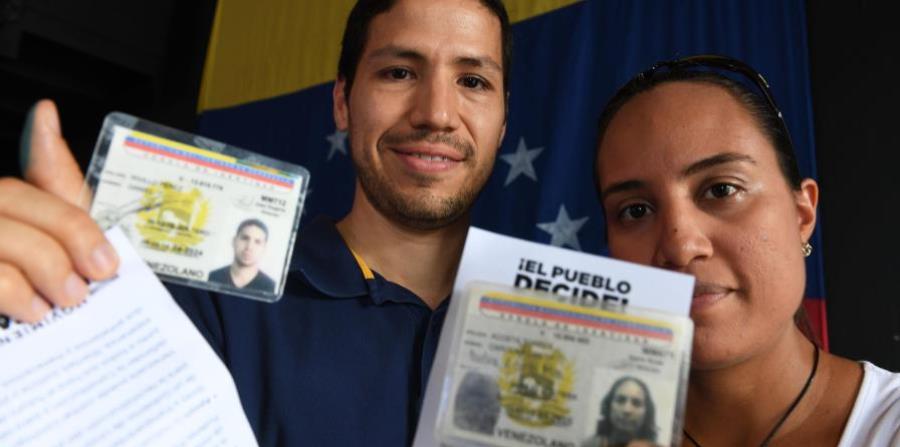 Venezuelans residing in Puerto Rico expressed yesterday their rejection to the regime of the Venezuelan president, Nicolás Maduro, during the popular consultation that took place as a relief of the people against the Constituent Assembly proposed by that country officials.
Almost at 7:00 p.m. the local results were announced and ratified what was expected: the victory of the opposition.
"This was the highest voting (due to the amount of electors) that has ever been held in Puerto Rico (about Venezuela). My responsibility now is to send the results", noted Luis Pericchi, general coordinator of the voting operation, which in Puerto Rico was held in venues near a restaurant in Guaynabo.
As it was informed, with 1,781 votes, the 99,5% favored a change of government in Venezuela by answering "yes" to the three questions included in the consultation that, among other things, asked the elector about support or rejection to the Constituent proposed by Maduro.
The movement of dozens of Venezuelans participating in the process, which allowed the intervention of people of that Sudamerican country which were 18 or more years old, could be seen yesterday from early morning.
"This is nothing other but a democratic rebellion. Votes against guns", said Pericchi.
Puerto Rico was one of more than 100 countries that participated in the process abroad, although on the Island ran peacefully, in Venezuela was peppered by some violent events.
With a huge Venezuelan flag tied to his neck as if i were a cape, Venezuelan Edwin Molero was one of the local participants of this event.
"Most of the Venezuelans do not agree with what is happening in Venezuela. Despite the fact that probably the National Electoral Council (CNE, Spanish acronym) will not validate it, this will definitely go down to history", stated Molero.
Luis Meléndez, from the media committee of the opposition party in Venezuela, The Democratic Unity Roundtable, Puerto Rico chapter, stated, however, that the validity of the plebiscite rests in the Venezuelan Constitution.
"Articles 333 and 350 of the Venezuelan Constitution authorize us to repudiate the government and to do whatever is at hand to reestablish the constituent order", said Meléndez.
The political analyst Néstor Duprey and the licensed Sergio Ramos, from the United Cubans of Puerto Rico Organization, served as observers of the event in Puerto Rico and highlighted its organization and transparency, as well as its significance at an international level. The secretary of State, Luis Rivera Marín, was also an observer of the popular consultation. As it was reported, in Venezuela, several rectors of that country universities served as observers. Meanwhile, five former latin American presidents were international observers.
"The validity (of the plebiscite) is going to be the people, that is repudiating its Constitution", pointed out Suyín Huertas, a Venezuelan who has lived on the Island for 24 years.
💬See 0 comments