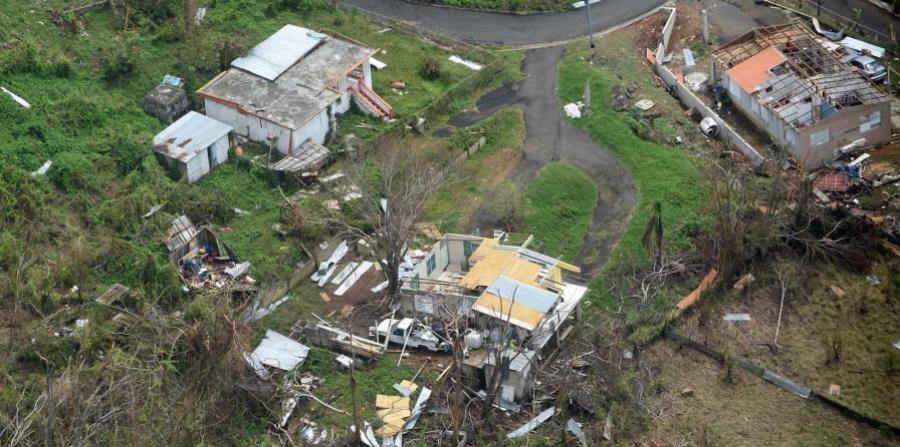 Along with the assistance available for the victims of Hurricane Maria in the Federal Emergency Management Agency (FEMA), there are other initiatives that could provide relief to those who today lack the most essential elements to meet their basic needs or the means to access them.
The crisis caused by the deadly cyclone has forced closure of businesses, enterprises and other workplaces, and keeps a growing number of people full of uncertainty and confusion and without knowing of their livelihood.
In some cases, severance is final and, in others, still to be determined.
For those who have lost their jobs after the hurricane, there is the Disaster Unemployment Assistance (DUA) program, operating with FEMA´s funds, allocated by the Department of Labor and Human Resources through the federal Department of Labor.
That aid, aimed at those citizens who lose their jobs as a result of a disaster, is not available yet on the Island for those who were adversely affected by Maria's passage, but yesterday, Secretary of Labor Carlos Saavedra was confident that the situation would change starting next week.
"DUA is like a second turn at bat. In a normal rule of law, you apply for unemployment. If you do not qualify for unemployment because you do not meet the requirements for the law purposes, then DUA is activated as a second turn at bat," Saavedra explained.
He pointed out that the federal government has not notified him yet about when the aid program could be available or how much money will be allocated, but he emphasized that, when it happens, his agency must also be ready to coordinate assistance.
He explained that the headquarters of the Department of Labor, as well as regional offices, suffered damage after the strike of the hurricane, and it was not until this week that they have begun to resume operations. He estimated that, between Tuesday and Wednesday next week, he will train the staff who will handle DUA applications.
"I also have the responsibility to say if I can receive it (the money for aid), and I do not even have public officials, who are working in the emergency. DUA is an unusual process that is going to be activated, and I need to have my employees ready to receive the number of applications," he stressed.
"We hope that next week we will be ready to start receiving the requests," added Saavedra.
Saavedra avoided giving estimates of how many people could benefit from the federal relief program, but assured that, depending on the amount, he could request amendments to increase the allowance. Currently, 30,000 citizens receive the regular unemployment check.
The Secretary insisted that DUA is offered to those who cannot apply for the regular benefit, but said the process for completing the application is the same.
Funds are available to employees, independent contractors, andeven self-employed people who are no longer employed or have no access to their work area because of the hurricane. Saavedra pointed out that the lack of "access" could be a consequence of the lack of power or other basic services in the premises.
He also warned that people who have suffered cuts in working hours or reductions in their income could also receive some partial unemployment benefit.
Checks
The Secretary of Labor also informed that, as from today, regular unemployment checks issuance will begin to resettle. The checks that will be distributed correspond to the weeks of September 18 to 22 S and 23 to 30.
Saavedra detailed that they will be distributed between 9:00 a.m. and 1:00 p.m. in the regional offices of the Department of Labor in San Juan, Fajardo, Caguas, Carolina, Bayamón, Arecibo (Market Square), Ponce, Humacao (Consortium Offices), Guayama, Aguadilla and Mayagüez.
"These are the towns in which each person receives this service. In addition, those who get the check by direct deposit have already received the benefit. Similarly, people who had to fill out requests for additional weeks may claim the benefit retroactively," he assured.
Legal advice
Among the available aids, there are initiatives that are product of civil mobilization, such as the "Hurricane María Legal Aid" project, which was established this week with the intention of developing a free information and legal support network for the population hit by the hurricane.
The project brings together organizations and people interested in citizens knowing their rights, which might be violated by natural disasters, and also know the remedies they have available.
Ariadna Godreau Aubert, coordinator of the Access to Justice Work Group, which organizes the initiative, explained yesterday that, in this first phase, the priority will be to ensure that the affected people are aware of the aids available through FEMA, and also how to complete their claims. She warned, however, that the intention is that the project will last the necessary time and that they can expand and diversify their assistance.
"We want to help people to know and be able to defend their rights affected in natural disasters, for example, housing. That includes insurance claims, federal programs, mortgages. We want to talk about what bank moratorium, foreclosures, and evictions mean," she anticipated to El Nuevo Día.
The group, which also collaborates with US entities such as the Latino Justice Puerto Rico Legal Defense and Education Fund and the Louisiana Civil Justice Center, has created the website www.ayudalegalhuracanmaria.org, where they have published educational material on the various controversies or situations that may arise in circumstances such as these that are affecting Puerto Rico.
On Wednesday, about fifty lawyers were trained on disaster legal response, and next Tuesday, at the Law School of the Inter-American University in Hato Rey they will offer guidance to law students interested in joining the initiative.
For immediate legal assistance, individuals may contact 1-800-310-7029, and attorneys and students interested in joining the project can write to [email protected]
Today, the group will participate in an activity organized by Pro-Bono, Inc., in Loíza, to notarize documents related to losses caused by the hurricane, and tomorrow they will move to the Hill Brothers community in Río Piedras to attend the proceedings related with FEMA grants.
💬See 0 comments