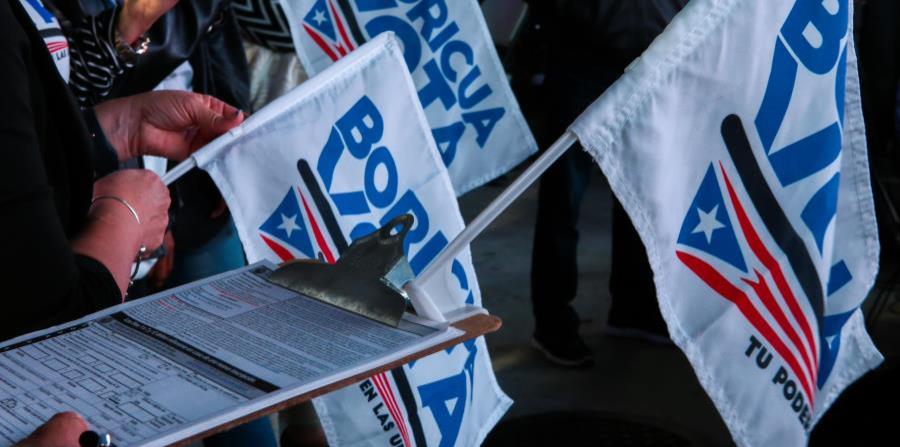 Orlando - Paola Lugo arrived in Central Florida in October, with the first wave of Puerto Rican migration that began moving here after the devastation caused by Hurricane Maria throughout Puerto Rico. After eight months here with her family, she already feels rooted here.
"I want to stay and I want to get involved, participate and vote. But I have no idea how to register and I know there are hundreds of Puerto Ricans in the same situation," said the woman (24) who lives in Casselberry, a city in Seminole County, North Orlando.
"I was blessed since I came here just with nothing and thanks God the doors open. I even received glasses. I cannot complain about the mayor or the governor. I am grateful. But, where am I going to register?," asked the woman born in Gurabo.
However, that interest does not prevail everywhere. In Florida, there are 1.2 million Puerto Ricans, out of which only 500,000 are registered to vote.
Some Puerto Ricans here are simply not interested in elections, such is the case of Eliseo Sáncez (71) who lives in Weston, in south Florica, closet o Miami.
"I am disappointed about the political system since it has no direct impact on satisfying and solving our real needs," said the man, retired from the Puerto Rican pharmaceutical industry and who moved to Florida in 2011 in search for healthcare services for his 22 year old autistic son.
In that search, he found out that federal services are not as efficient and good as many believe them to be, so he ended up resorting to expensive private treatments.
"I do not devote time to it (politics), since I don´t find it valuable and you devote time to things that are worth it," he said. "Registering and voting is a disappointment. The system, as it is and operates, is directly tied to the economy. And in order to confuse people and keep them confused, they call it political system. That political system is not fair, completely unfair as it is," he insisted.
Wilfredo Miranda, 45 moved to Winter Garden, in western Orlando, 13 months ago. "I simply don´t care about US politics since I don´t feel integrated into this community. I still feel tied to my life in Puerto Rico," he said.
What do you think of the fact that Puerto Ricans represent a solid group that can change elections results and even decide the US President?, El Nuevo Día asked him.
"It is a logical approach, and I don´t know, maybe I can accept that in the future and move and get involved but from the affective perspective, I still don´t feel I am part of it," he repeated.
Ivy Viera, 47, has been in Ponciana –between Osceola and Polk- for three years. She acknowledged that she did not register because she does not understand US politics,does not know what the difference between Democrats and Republicans is and she does not understand the issues being voted here. "Go and ask other Puerto Ricans and you will find we are all adrift regarding elections. I did participate and vote in Puerto Rico, but here I don´t understand. Why voting? They win and forget about you," she said.
And Sharleen Mackenzie, born in San Juan, who moved to Orlando en 2009, will not vote since she understands that the electoral system does not represent the voters´feelings. Votes do not count individually here, but by college and that is how Donald Trump won," said the president of Ureddy Real State.
Warning Signs
Last week, the alarm button appeared to be on when ultraconservative Christian leaders, who do not usually get involved in politics, announced that they will actively participate in the efforts to register Puerto Rican and Hispanic voters due to the low voter registration response to November mid-term elections.
Although there are 500,000 Puerto Ricans registered to vote, there are some 340,000 eligible to vote who have not registered, a crucial figure when considering that in a state where candidates win by small margins –between 1 and 2 percent- Puerto Ricans may impact elections results.
Democrats, Republicans and civic and religious organizations have noted their concerns regarding the lack of enthusiasm among new voters.
Yesterday, at Senda Antigua Protestant church in Tampa, Reverend Angel Marcial, president of the Fraternity of Councils and Evangelical Entities (FRACEEV) made a strong call to to register. "The church can not stop being a prophet. Therefore, we invite all members of the church to register and vote so that we are visible to the politicians, so that they respect us," said Marcial, who was also honored, since after 12 years as bishop from the southeastern Hispanic region of the Church of God, he will now have a position at the department of Education of that Church at national level.
"If you think that what I say is not spiritual, you're wrong. You have to vote for those who decide to build hospitals in the right places, and offer services to those who need them. Vote for whoever you want, the church does not interfere there, but the church does want to invite you to register,"reiterated the doctor of Theology.
"I did not participate because I had no tiene and because I did not know who to vote," said the man (47) member of the protestant church.
Last minute decision
Luis Figueroa, president of PODER, the platform launched by governor Rosselló Nevares in Central Florida seeking to register Puerto Rican voters, said that apathy has also shown in previous elections. He said that an slow registration process is usual but as elections come closer, many people rush to register.
"This happened in 2008, 2012, 2014 and 2015. People registered the very last minute, the last day. It is the same pattern, "said Figueroa who announced that PODER will launch an informative campaign in social networks.
He said it is not a myth that Puerto Ricans represent a significant number to impact elections, even more when those who win elections made it by a small margin. "When they are so closed elections, a 10 percent of Puerto Ricans voters that go and vote is enough to change any election, Congress, Legislature, Governor," he noted.
Meanwhile, Gary Berríos, Republican Party director of Puerto Rican Affairs said that the reasons Puerto Ricans offer not to register are already known in that communitiy. That´s why they have scheduled monthly events to reach the Puerto Rican community specifically.
"We want to contribute to closing the gap of the emotional disconnection product of being far from Puerto Rico, and we want to educate about the electoral process. Our purpose is to inform, reach and convince, "Berríos said at an event for Puerto Ricans in Kissimmee.
💬See 0 comments