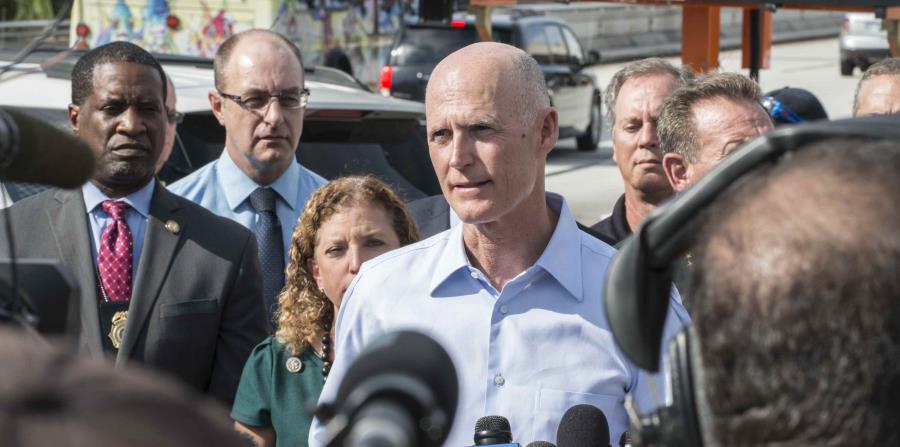 ORLANDO, Florida - When hurricane Irma was just beginning to hit Florida, Rick Scott, governor of this southern state, had already asked President Donald Trump to issue a major disaster declaration for the 67 counties.
A major disaster declaration implies that an area has suffered or will suffer devastation of such magnitude that higher federal aid will be needed for individual assistance of those affected, general aid to cities and mitigation work. Mitigation efforts following extreme natural events usually consist of reconditioning infrastructure - raising bridges, building higher dikes and strengthening structures - to withstand a similar or stronger event
By press time, nearly two million people had no power, more than 6 million were asked  to leave their homes, while the first deaths were being reported in the United States: a sheriff´s deputy and a corrections officer, both from Hardee County, who were killed in a traffic accident. The incident was related to weather conditions.
Besides, there was a report about the death of a corrections officer in that county, also in an accident.
On the other hand, Orlando Police said last night that pictures of people looting businesses that appeared on social media are not related at all with the emergency due to Hurricane Irma.
"We've worked aggressively all week to prepare for this powerful storm and keep people safe, but we have a long road ahead," Scott said.
Trump had already granted Governor Scott a disaster declaration, but this request is far more comprehensive because of the damage that the governor estimates for the rest of the peninsula that will begin to appear today at first light.
About 8:00 p.m., central Florida was beginning to feel heavy rains, bursts and continuous alerts warning of the formation of powerful tornadoes. Through social media, Scott repeated his request over and over for citizens to be careful: "It is not safe now to leave your home or shelter. Flooding may come, roads are in dangerous condition. Be patient. "
Citizens seemed to comply with request of the authorities to remain in their homes, since from early morning, streets and main avenues were virtually empty. Also, yesterday at 7:00 p.m. a curfew went into effect until 6:00 p.m. today. The police warned that they will intervene with those not authorized to circulate. Only rescue workers, doctors, and those who offer essential services are allowed on Orange County Highways.
The same order was implemented in Osceola County. Kissimmee is one of the cities of this county and it is estimated that about 30% of its inhabitants are Puerto Ricans.
In total, approximately 1.3 million Puerto Ricans live in the central area of Florida.
Although yesterday Irma moved away a little from her direct route to Orlando to head further west - particularly Tampa Bay - the magnitude of this hurricane still means danger to the entire central area.Tampa has a population of 303, 447 inhabitants. Twenty percent are Hispanic. According to Census information, 6 percent of those are Puerto Ricans.
Last night, Irma -in category 2 with about 400 miles wide and its most powerful quadrant, the right side - already covered this central area. Irma is expected to lose steam as it moves inland, due to the fact that hurricanes get their energy from the sea,
💬See 0 comments