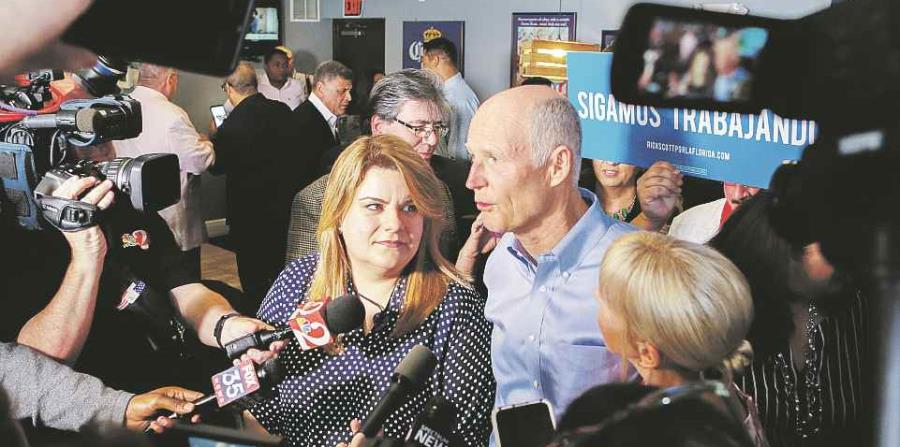 Kissimmee, Florida – Yesterday, Resident Commissioner Jenniffer González asked the Puerto Rican diaspora here for a vote in favor of Republican Florida Governor Rick Scott, now Senate candidate for November elections.
Scott's campaign team chose the Puerto Rican restaurant El Cilantrillo, in Kissimmee for this public endorsement. Kissimmee that does not usually support Republican candidates. In the 2016 elections, the Democratic candidate Hillary Clinton won in this city with 60 percent of the votes. Donald Trump got 35 percent.
48 percent of the Kissimmee population is Hispanic. There are 163,248 people registered to vote, which includes 69,598 Democrats; 41,552 Republicans and 48,109 with no party affiliation, according to data from the Florida Division of Elections.
"I'm here with a friend who in those moments of need in the aftermath of hurricane Maria opened the doors of Florida to Puerto Ricans," González said and recalled the initiatives of Scott´s administration. Among these, she highlighted the creation of an aid center at Orlando airport, where inter-agency services were offered to Puerto Ricans who staged a mass exodus after the hurricane devastated the island. That center closed last month.
González has previously said that she will only endorse candidates who support statehood for Puerto Rico. Scott has not expressed himself publicly on this issue yet.
The Commissioner also highlighted how the governor of Florida waived school requeriments to hundreds of children registered in Florida public schools.
"Thank you for giving us a hug, a roof and an opportunity. Puerto Ricans will never forget that and that's why Puerto Ricans should not forget to give our vote to Scott, "said González.
Scott, who was with his wife Ann, promised that if he wins the Senate seat he will have Puerto Rico on his agenda. "As a senator, I will be by your side helping the island in any way possible. I'll be your partner, "Scott said looking at González.
The governor will have to beat incumbent Democratic Senator Bill Nelson, who has a long history of Puerto Rican support. Nelson was re-elected in 2012 by 13 points and is the only Democrat elected to the Florida legislature.
"I love Puerto Ricans because of their passion and because they take care of each other. I will work hard as a US Senator to represent them whether live here in the state of Florida or in Puerto Rico to make sure every Puerto Rican has the same opportunities at the federal government, "Scott added.
Speaking about that Puerto Rican passion, the governor commented that he participated in the Puerto Rican Parade in Orlando on Saturday: "I walked with my grandson, whom I would later take to Legoland, and he told me: 'They were really loud, grandpa, really loud! '", Scott said making the audience laugh.
💬See 0 comments