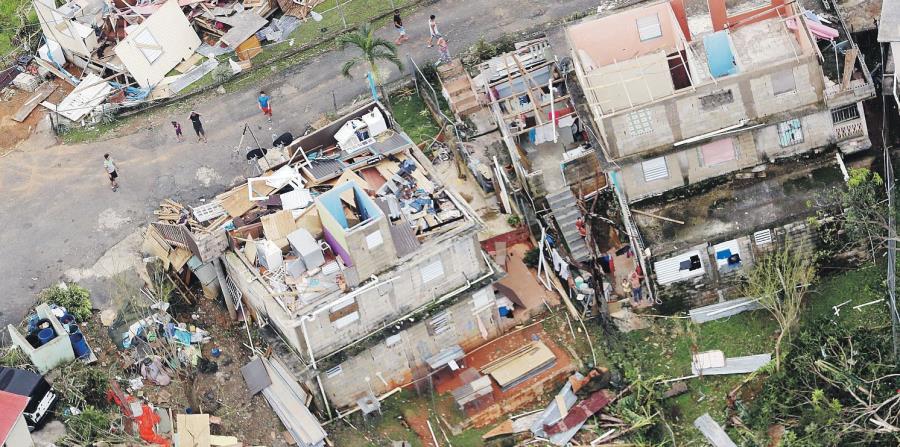 Although the government assures they have everything ready to face the peak of the hurricane season, there is disagreement with mayors that warn of several weaknesses in what they call a hasty planning.
And there are changes. There are defined places, for example, for cargo and passengers aircrafts, as well as the route for ships with food and centers for fuel storage and transport, among other key decisions that seek to avoid repeating the poor reaction to the devastating effect of Maria.
In assessing the government's preparedness at this stage of the hurricane season, the commissioner of the Puerto Rico State Agency for Emergency and Disaster Management (NMEAD, Spanish acronym), Carlos Acevedo, and the Mayor of Yabucoa, Rafael "Rafy" Surillo, stand at opposite ends.
Acevedo shows extreme confidence in detailing government preparedness, emphasizing that emergency plans have been updated. He assures that now there are enough water and food supplies, generators, satellite phones and cots. And, of course, materials to repair the power supply.
According to the official, the communications system severely criticized in the study of the George Washington University Milken Institute School -which estimated at 2,975 the number of deaths caused by Maria- has also been optimized.
But the Mayor of Yabucoa, one of the most affected by Hurricane Maria, cannot erase from his memory how the local and federal government structure seemed to have forgotten his municipality, a good part of the southeast area and the mountains.
The fact that Electric Power Authority (PREPA) and private companies took almost 11 months to energize the entire island, except for Vieques and Culebra, joins this situation.
"I do not know if (in the central government) they have properly prepared or learned from the lessons, but I feel more prepared, however not at 100 percent. I need economic resources and the municipality cash flow is gone with Maria's recovery process," said Surillo.
He said that he only received $1 million of the $ 9 million he claimed FEMA in reimbursements which was an advance payment to all municipalities.
The Mayor recalled he had to wait almost 80 days to receive generators that would allow him to energize the municipal hospital and the Guayanes river dam.
The key points
Acevedo, on the other hand, stresses that the government´s emergency plans and those of the municipalities are complete and, in some cases, are about to be completed.
NMEAD commissioned the government's emergency plan, which includes 30 agencies, to the company Industrial Security Products, owned by Benjamin Nieves, for a $ 50,000 cost in federal funds.
"FEMA participated in all those workshops (which were offered as part of the emergency plan preparation) and was evaluating everything," Acevedo told El Nuevo Dia, stressing that these were made based on a category 5 hurricane.
"It addresses topics such as where FEMA ships bringing supplies through Ponce enter, that air supplies enter through Aguadilla and passengers through Isla Verde," said Acevedo.
The document regulates other issues such as the role of fuel transport and the operations of healthcare centers.
The official highlighted the participation of private companies in the preparation of the central government plan. He did the same when referring to the role of telecommunications companies, hospitals, gasoline, diesel and propane transporters, as well as shipping companies.
NMEAD also has two warehouses, one in Guaynabo and another in Ponce- that it did not have before Maria- to store food, water and generators.
Meanwhile, now FEMA has seven warehouses and 630 generators to activate in case of an emergency.
In response to questions from El Nuevo Dia, Acevedo said that the NMEAD headquarters was prepared with enough communications equipment to handle a category 1 or 2 hurricane from there. In case of a major emergency, main agencies will operate from the Miramar Convention Center again.
"It was not a bubble"
Acevedo was criticized by mayors and opposition leaders who claimed that, after Maria, the Emergency Operations Center became a bubble that alienated agency chiefs.
"It was not a bubble. The Convention Center became the government´s headquarters, and allowed it to continue operating. We would have done it with or without air conditioning," assured Acevedo.
On the other hand, the emergency plan of municipalities was commissioned to the company Diversity Global Group, owned by René Soto, for $ 102,000 in federal funds.
"It has the qualifications and FEMA approved it. There were 16 workshops," said Acevedo, indicating that Soto's company has already held the last workshop and is "drafting the plans" to be delivered to NMEAD right at the peak of the hurricane season.
Several mayors have criticized that the document is homogenous for all municipalities, with annexes for the peculiarities of each town.
When confronted with the time the preparation of municipal plan has taken, Acevedo responded that municipal governments are the ones that should know the needs of their people.
"It is not me. They have to know what their vulnerable areas are and what they have to work with. I coordinate with the state and federal agencies the help that may be needed," he said on the mayors' criticism.
Acevedo insisted that he feels free to make operational -not budgetary- determinations, even under the leadership of Secretary of Public Safety Hector Pesquera.
"I am free to make determinations," he reiterated.
Mayors speak up
For Rolando Ortiz, mayor of Cayey and President of the Association of Mayors, the government has not progressed in its preparation for this peak hurricane season because it does not pay attention to mayors.
For example, he noted that a satisfactory and feasible agreement was never reached for municipal governments to collaborate in power restoration. In addition, he said that the government insisted on the official hurricane-related death toll at 64, when they knew there were thousands.
Ortiz recognized that many municipalities have not been able to invest in improvements to optimize their preparation in case of a natural disaster precisely because municipal numbers are in red after Maria.
"The money we spent in the recovery process has not been reimbursed yet," he said.
Ortiz's counterpart in the Mayors Federation, Carlos Molina, sees things very differently: "We are better prepared and have experience. We have already lived it," he told this newspaper.
"The central government has provided what we requested, but federal funds are beginning to arrive now. FEMA funds took longer and insurances still have not paid totally, but the thing is that we did not have all the resources to do so many things at the same time."
El Nuevo Dia wanted to investigate the level of preparation before the peak of the hurricane season in several government agencies. La Fortaleza did not answer an information request related to how they would solve the dislocation of intra-government communications.
Electric power
PREPA´s Executive Director, José Ortiz, stressed that the public corporation has enough materials in stock, which contrasts with the situation before Hurricane Maria, when their warehouses were virtually empty.
Regarding external collaboration, he said that an agreement with the New York Power Authority will be announced soon. He added that the request for help from the American Public Energy Association, if necessary, would be "faster."
Ortiz agreed with Angel Figueroa Jaramilllo, President of the Union of Electric and Irrigation Industry Workers (Utier), that the redundancy of the system is at 70 percent. In simple words, it means that the 115,000 volt and 230,000 volt lines have that backup cabling in case they collapse.
According to Ortiz, they would reach 100 percent in three to four months.
The Director of PREPA said that, paradoxically, the deforestation caused by Maria clears the power lines from the threat of branches and large trees.
However, he also agreed, as Jaramillo said in a separate interview with this newspaper, that PREPA has to revise a series of connections in the distribution system that he described as "patches."
"Even on a small scale, there are works poorly done. People have electricity, but at some point it will fail," said Figueroa Jaramillo.
Ortiz, meanwhile, said that another priority of PREPA is to restore street lighting. He said that collaboration agreements have been signed with Rio Grande, Yabucoa, Maunabo, Guaynabo and Hatillo.
Almost generalized darkness on the highways is largely the responsibility of the Highways and Transportation Authority.
As for Vieques and Culebra, both islands energized with FEMA and PREPA generators, Ortiz pointed out these are designed to operate outdoors, so they are not vulnerable to a cyclone. He said that the process would be completed in a six month period, after the selection of the microgrid contractor for both island municipalities.
As for the Guajataca dam, the US Army Corps of Engineers announced that they will not finish until the repairs of what is known as "spillway" -damaged by the hurricane heavy rain- until next year.
Ortiz said that water supply is guaranteed for nearby towns such as Sabana Grande, Isabela and Quebradillas, and there were efforts to maintain the water level at 191 meters.
The Corps of Engineers has pumping machines to divert water to channels in case of extreme rainfall.
PRASA's list
Although 60 water pumps still operate with fuel generators, the Executive President of the Puerto Rico Aqueducts and Sewers Authority (PRASA), Elí Díaz Atienza, assured that, today, the public corporation is in a better position to face a category 5 hurricane.
"We know the system much better and we have to understand that we have worked on the system since it was turned off until now that it is completely on. Operational staff has learned a lot from the system," he said.
Díaz Atienza emphasizes that FEMA has more than 600 generators available to install in pumping systems, and PRASA maintains its own generators.
"We are the second priority (for FEMA) after hospitals," said Díaz Atienza, revealing that there is a purchase order for 200 generators to replace those owned by the public corporation. He could not anticipate when all that equipment will be in PRASA.
Pedro Irene Maymí, President of the Independent Authentic Union of PRASA, raised the issue of structural damage in filter plants such as Humacao and Guayama, and on how the public corporation has not renewed its fleet or its heavy equipment stock.
"PRASA has not taken action to make the repairs," said the union leader. "The problem is how you leave an operator in an area that is not safe," he added, noting that PRASA has lost 750 employeesin one year.
Diaz Atienza did recognize the severe damage to the Dorado wastewater plant, which was six feet under water. "It is operating, but we know any storm may affect the system. We are working on a project for a new plant," he said.
Health Preparation
In written statements, Health Secretary Rafael Rodríguez Mercado said that a first workshop with doctors to correctly fill out t death certificates was held in June. The goal was to reach an accurate count of deaths related to natural disaster.
Future workshops will be held at facilities identified by the College of Physicians with funds and personnel from the Center for Disease Control (CDC).
The Health Department did not recognize that the number of deaths from leptospirosis after Maria had exceeded those of previous years, and did not answer a statement from GWU study that concluded its emergency plan was outdated.
Shelters are ready
The Housing Department has 398 facilities identified as shelters among schools, community centers and private facilities.
In written statements, the Secretary of Housing, Fernando Gil Enseñat, said the agency can serve more than 53,000 refugees and, in a situation of extreme urgency, that number can be doubled.
According to the head of Housing, the closure of 400 schools ordered by the Department of Education has not affected the ability of the agency to manage shelters.
However, if there is a need to settle a shelter in a school that is closed, that would be up to the Office of the Chief Infrastructure Advisor at La Fortaleza.
💬See 0 comments