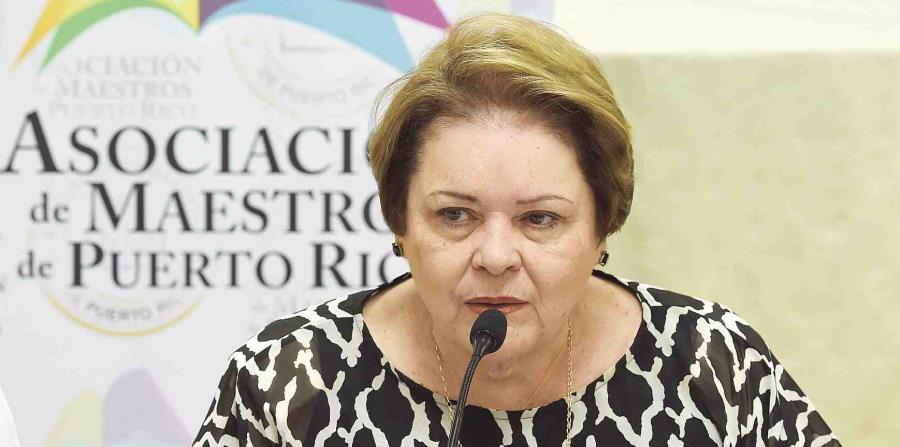 Convinced that the imposition of further austerity measures will deepen the crisis in the country, union leaders representing public employees yesterday rejected the bill that seeks the implementation of the Fiscal Plan for Puerto Rico, and urged workers to mobilize in opposition to the measure.
Iram Ramírez, president of the Office and Professional Employees International Union (OPEIU), stressed that, ever since the fiscal and economic crisis started over a decade ago, successive administrations have adopted tax and expense control measures but none has improved the Island's situation.
"Since 2006, we've been having this sort of austerity measure, and when one looks at the development of the country, it has been totally negative. These measures are identical to those taken in Greece, and when one looks at the result, the decrease has been greater," said the labor leader to reporters waiting outside the room where the first public hearing was being held on the administration's bill to execute the fiscal plan.
"The country's short sightedness in not wanting to understand and see what is happening in other countries. Austerity does not work, it's more than proven. We did it with Law 7 (on fiscal emergency), it didn't work, with Law Ley 66 (on fiscal sustainability), it didn't work, as recent as the labor reform, where is the economic growth?", added the union leader.
Along with José Rodríguez Báez, president of the Workers' Federation and Aida Díaz, a leader with the Teachers' Association, Ramírez censured that at the joint public hearing by the Senate and House Treasury Committees only the United Public Servants organization was invited in representation of the labor movement.
Díaz, for her part, compared the consideration of the fiscal plan bill with the evaluation and subsequent approval of the measure that altered and cut benefits in the Teachers' Pension Fund.
"This is major nonsense and an even greater betrayal," sentenced Díaz.
"I call on the teachers to rise and mobilize once more. This renders every agreement without effect, so, why do we even exist? This has not been the struggle of a day, but rather one of years and years" to accumulate benefits, added the leader of the associated teachers.
The bill would create the "Law for the Compliance with the Fiscal Plan," among other things, it would level fringe benefits for all government employees, without distinguishing between those who work in agencies with those work in public corporations, whose compensations are generally higher.
"The austerity measures included here are going to be devastating. This is a crime against the Puerto Rican people and, also, invalidates all the labor relationships that have been defined even by the Constitution itself," said Rodríguez Báez.
💬See 0 comments