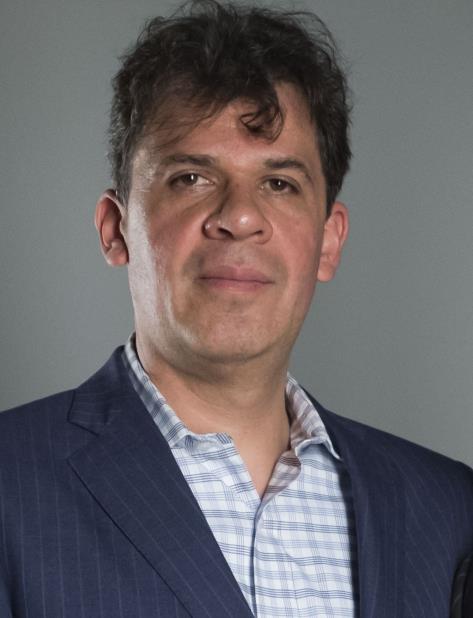 The new Director and Chief Executive Officer of the Electric Power Authority (PREPA), Rafael Diaz Granados, said last night that his work agenda does not depend on the government's plan to privatize the public corporation, so he will immediately implement a strategy focused on operational improvements.
Díaz Granados will take office this Sunday amid criticism due to his $ 750,000 salary a year, which may increase between 55 and 60 percent due to the benefits package that covers PREPA' regular employees. The head of the public corporation cannot be a contractor.
In his first interview after being appointed, the official told El Nuevo Día that, although "we all agree" with the government´s public policy for PREPA privatization, there is no certainty that this process will be completed in 18 months, as provided by the law signed Governor Ricardo Rosselló Nevares signed on June 20.
"The medium-term goal is to carry out the privatization (of the generation) or the concession (of transmission and distribution on time). But, until that happens, if it does, we have the responsibility to improve the way PREPA operates," he said.
"In a year and a half, if the transformation takes place, then, great. But, if it does not happen, improvements must also be made," he added.
In that line, Díaz Granados said that his agenda for operational improvements will focus on reviewing everything, from internal processes to employees positions.
He mentioned, for example, that his predecessor, Walter Higgins, as chief executive officer, spent one to two hours a day signing documents and his intention is to reduce that time as much as he can.
"There are processes that can be eliminated to make things more agile and lead this added value for the benefit of customers. Other issues related to operational excellence is the safety of our employees and customer service; that we are fast, agile and innovative," he said.
According to Díaz Granados, another item on his agenda is to "give PREPA back" the "leading role" in its transformation and that of the island´s power grid.
What do you mean by that?, El Nuevo Día him and he replied that several agencies, such as the federal Department of Energy, the Federal Emergency Management Agency and the US Army Corps of Engineers have developed plans and strategies about the island's energy future, in which PREPA has been "a spectator".
"The one that operates and knows the system is PREPA. These projects and studies would have much more value if PREPA, instead of being the recipient, was a participant and protagonist in the creation of ideas. We all agree that it is necessary to improve the generation base, in which more renewable energy and more distributed energy projects are needed, but it is PREPA the one doing the daily work," he stressed.
"Consistent" salary
Díaz Granados will replace Higgins, who resigned unexpectedly after just four months in office, and had a salary of $ 450,000 per year, with the possibility of doubling it if he met certain unspecified performance metrics.
Díaz Granados said he was aware of the citizens discomfort generated after his salary was known, which exceeds that of the executive director of the Oversight Board, Natalie Jaresko, who earns $ 625,000.
Regarding this issue, the president of PREPA Governing Board, Ernesto Sgroi, said that the $ 750,000 salary is "consistent" with the power industry compensation for companies of the size, complexity and scope of the island´s public corporation.
He added that the figure is less than that obtained through the formula provided by the American Public Power Association, which takes into account the income of public corporations. PREPA's annual revenues total $ 3.3 billion.
But Diaz Granados went further and said that his compensation is below the standard and what he has earned in other companies, which have paid him "much greater numbers."
He graduated in Economics and Law from Harvard and Georgetown, respectively, and between 2010 and 2014, he was in charge of several General Electric business operations. Before that, he worked as a lawyer at O'Melveny & Myers, in New York, as well as at Covington & Burling and the US Securities & Exchange Commission, in Washington, D.C.
"My intention is to create an operational improvement, in a way that justifies –and more than justifes- my salary. I have a commitment to the Governing Board to lower expenses and reduce spending on consultants, for example, which will justify my salary. In addition, this is an operation of more than $ 3 billion in revenues, 1.5 million customers and a complexity that requires leadership," he assured.
He stressed that, unlike Higgins, his salary does not include bonuses. PREPA will not pay for his move to Puerto Rico or other reimbursable expenses. The official divides his time between Miami and Boston, and is currently looking for an apartment in San Juan.
Another agreement reached is that the Governing Board may request the resignation of Díaz Granados at any time, and he would not receive any compensation or bonus. He will get only what he has worked for the last 14 days.
"I want to start creating a culture in PREPA where what matters is the performance in a pro-customer vision, pro-resources and pro-economic development of the island. Personally, taking this position is not a great bonus; on the contrary, I do it because I support the people of Puerto Rico," he said.
Meanwhile, even though he acknowledged that the Board has jurisdiction over PREPA - being in a debt renegotiation process under PROMESA Title III- it was unlikely that the agency would interfere with its salary "because its budget interference is at global level".
Opposing versions
Higgins resigned yesterday amid contradictions about his reasons for leaving the position.
Shortly before PREPA's Governing Board confirmed the resignation, Rosselló Nevares said that the official was leaving "for purely personal reasons."
Minutes later, Higgins sent an email to PREPA employees, in which he stated that, after weeks of discussion and "a lot of work" with the Governing Board, "it became clear" that he could not continue to lead the public corporation under the original contractual terms, specifically those related to his compensation.
Last month, Secretary of Justice Wanda Vazquez, warned that the additional $ 450,000 that Higgins could have earned was, in essence, a productivity bonus, and that this type of compensation is prohibited in the government by law.
Back then, sources suggested that Higgins was not willing to accept a salary reduction.
Yesterday, after the controversy caused by opposing versions, PREPA issued a second written statement attributed to Higgins in which he stated that "the Governor was correct in stating that this situation was also an important factor in my decision to step down".
"It is true that the Governor was also fully aware that my wife and I are facing a serious health situation within her family. This has placed many new and unexpected pressures on us. This situation has required frequent absences by Mrs. Higgins from Puerto Rico and occasional unplanned absences by me. This health situation is one which cannot be resolved and will create additional burdens on us, and in fact, already is," said Higgins.
Changing positions
Higgins resignation will be effective this Saturday. The next day, he will become a member of PREPA Governing Board.
There, he will exchange chairs with Díaz Granados, who has been a member since July 29, 2017, when Rosselló Nevares appointed him for a five-year term. Díaz Granados had already integrated the Governing Board, and the Governor reappointed him under Law 37-2017, which changed the composition of the governing body.
"Higgins will join the Governing Board to provide continuity to the processes of the Authority, and will continue assisting in the recovery processes from the Governing Board. We are very pleased with this logical solution for this transition," said Sgroi.
Law 37-2017 provides that members will receive the compensation that the Board itself determines unanimously. If unanimity is not reached, the Governor will then determine the compensation.
El Nuevo Día found out that, as a member of the Governing Board, Higgins will receive a compensation of $ 5,000 per month. If he becames president of a committee in that body, he would get an additional $ 416 per month.
Díaz Granados, for his part, explained that Higgins "does not require" senatorial endorsement to join the Governing Board because "he will occupy one of the positions that the Governor can appoint".
According to Law 37-2017, members that need legislative endorsement are those "independents", who are chosen from a list prepared by a specialized company. Díaz Granados occupies one of those positions, so Rosselló Nevares would have to make a new appointment.
Another Approach
After stating that he did not offer himself to replace Higgins, but "it was something that happened organically within the Governing Board," Diaz Granados said that he will provide continuity to the work of the former director.
However he admitted that Higgins' work was focused on restoring the electricity service after hurricanes Irma and María.
"As 99.9 percent of customers are already connected the focus shifts towards PREPA operational transformation. But yes, there is continuity, and that is why we have succeeded in the Governor deciding to appoint Higgins to the Board," he said.
Regarding the future of advisor Víctor Peña, whom Higgins brought with a contract of $ 22,500 per month, Díaz Granados said that "we are going to analyze it (the contract), like everyone else´s, to see what makes sense in the future."
Díaz Granados is 45 years old, and was born and raised in Bogota, capital of Colombia.
💬See 0 comments