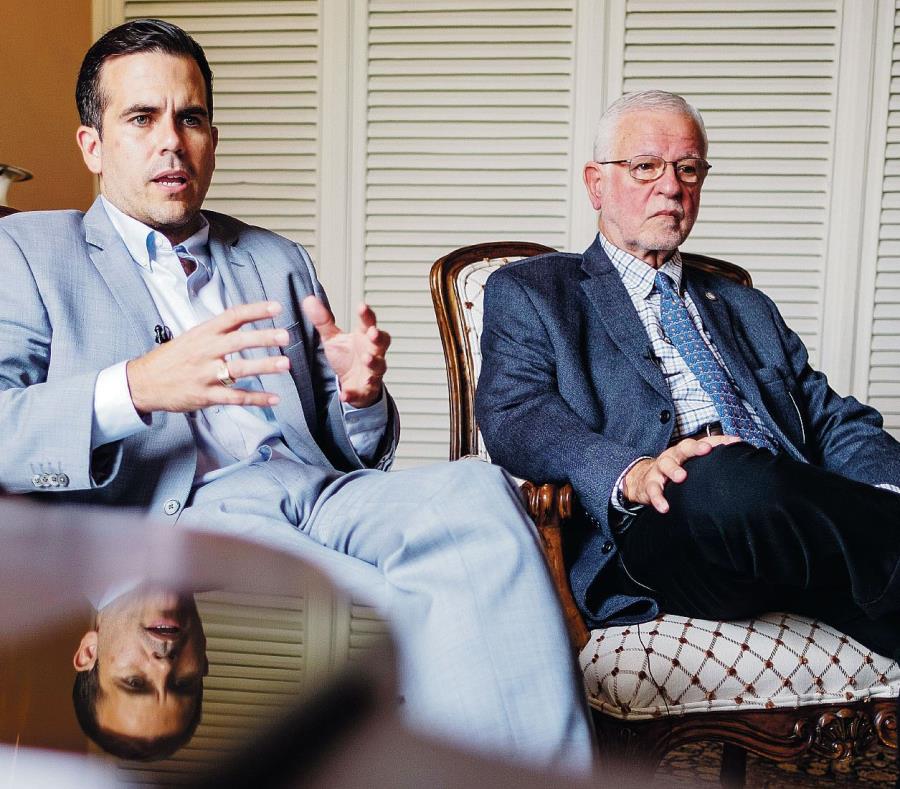 He repeated it -at least- seven times: Hurricane Maria was an "unprecedented catastrophe". With this phrase, Governor Ricardo Rosselló Nevares justified yesterday the criticisms about his own administration performance in the emergency.
The criticism is part of the study that the government entrusted to the George Washington University Milken Institute. A report on the investigation -released yesterday- estimates Hurricane Maria death toll in 2,975, it states that the government was not prepared to handle such a storm, and that agencies leaders were alienated due to problems in the once the winds were over.
In fact, the document echoes testimonies collected by the researchers, suggesting that government officials handled the issue of deaths associated with Hurricane Maria following partisan criteria, a matter that Rosselló Nevares denied in an interview with El Nuevo Día.
"A number like this in our hands, at that time (the first days after the hurricane), far from denying what was happening, would only support the magnitude of the catastrophe," said Rosselló Nevares.
However, the governor admitted that there were significant dislocations during the first days following the Hurricane, especially regarding communications.
He stressed that the findings show that the most vulnerable populations were those over 65 and people living in municipalities with low economic development.
In addition, he announced that he will sign an executive order to establish Commission 9/20 (the date when Hurricane Maria hit Puerto Rico) to be in charge of enforcing the recommendations contained in the study and create two records, one for people with chronicle diseases and another for care centers for the elderly.
He also entrusted the University of Puerto Rico School of Architecture to design a memorial to honor those killed by the Hurricane.
"The objective is to recognize Puerto Ricans courage after this devastation, and to remember those who lost their lives, in a way that it becomes a reminder of the devastation we lived and of our strenght to change for the future", he said to El Nuevo Dia.
The study sparked harsh criticism against your government. It states that people interviewed by the researchers affirmed that the government leadership seemed disconnected from what was happening in the communities after the hurricane ...
- That was one of the observations. The historic hurricane preparation and protocols in Puerto Rico are actually set for (a hurricane) category one (with winds between 74 and 95 miles per hour), perhaps category two (between 96 and 110 miles per hour), never at María´s level. When lossing the entire communications and energy system, there was a dislocation. Although there were communicators outside, the message was not clear... There was a lack of information. For example, the Demographic Registry was closed, and many rumors arose ... One of the observations is to develop a protocol so that communications are consistent, constant, with a single vehicle of communication for people to know where to get correct information
The document recommends to be "compassionate" in public communications regarding deaths. In another way, that argument presumes that, perhaps, there was no such compassion in communications especially on deaths.
How do you see it?
- Here, without a doubt, this was a process without precedent and it should be done better. We are ready to evaluate all these recommendations and put them into practice. Self-evaluation is an important part of our administration. What we do now to identify the mistakes, the failures and direct possible solutions is what will frame Puerto Rico in the future. Before any observation, I will personally talk with the researchers so that they can give me more detail about these issues. The important thing is that we are ready to execute, be it a heavy or light recommendation.
They say that it was not until February that deaths reached levels that could be understood as normal. That is, almost five months after the storm, people were still dying due to the hurricane.
- That shows the magnitude of the catastrophe. This shows that, in Puerto Rico, when all the services fell, in same cases, there was very little help, and it shows the unprecedented challenges that Puerto Rico had. Also, it shows the bureaucracy that could have delayed processes. That shows many things, but, specifically, that this was an unprecedented catastrophe, and that we have to see how we will prepare for the future ... we have to evaluate the results, and have a quick execution plan to be ready for any other event, be it a hurricane or an earthquake.
What did you learn from the process?
- Personally, it is very painful. That so many Puerto Ricans died from a hurricane is simply painful. We know that many families have been affected, many continue with challenges, and my commitment here is that I will not rest until we can achieve normalization in Puerto Rico, but, beyond that, to more effectively rebuild. I believe that, at a professional and personal level, one has to anticipate the worst scenario, and hope it does not happen, but you have to be prepared for it. This happened just eight months after we took office. We had already begun to make a series of changes and evaluations about the emergency response process ... but the truth is that an event of this magnitude was unprecedented.
When you entrusted Hector Pesquera, Secretary of Public Safety, with the responsibility of directing the efforts to have the estimate of deaths, that decision was criticized for not being in the hands of a public health expert. After this outcome, do you still think you made the right call?
- It is part of what we are going to be evaluating in terms of the structure. We chose Pesquera because he is the state coordinator with FEMA, and he is in charge of public security, which includes a series of particular areas that have to do with emergency and deaths response, and there was certainly collaboration with agencies such as Health, among others.
So, that collaboration existed?
- Yes. There were also challenges without precedent at that time. The Demographic Registry was virtually closed. Things were coming weeks after what happened. There was poor communication and, to some extent, I believe that, in general terms, one of the recommendations was to centralize and have a person to communicate on these issues. We are going to evaluate all those recommendations.
When this study was originally mentioned, the idea was that it was going to identify the cases and not the deaths. What happened?
- The study has phases. The phase we could finance was the first one, and it established deaths estimates with a smaller reliability range than those we have seen in other studies. There was one that had a reliability range from 800 to 8,000. The idea was to back it up with a scientific methodology, that could give us an estimate. Studies or subsequent phases we can achieve with this effort, which can already be done with federal subsidies, would go a little deeper into identifying each of the deaths and have what would be a number and the causes ... This first phase was always an estimate. The only thing is that it was somehow more accurate, according to the methodology, and an analysis of what was done with the CDC protocol (US Center for the Control and Prevention of Diseases), which was not the best, but was carried out in the best way it could be done at that time and a communication process analysis.
But there were already estimates of excess deaths...
- We wanted to give a greater degree of certainty to the people of Puerto Rico about the analysis. We looked for renowned scientists that could do this. For that reason, I will be activating the 9/20 Commission that will allow us to process some of these recommendations and others to come. Subsequently, the study could be extended to other areas, beyond public health, to address other issues that must be mitigated in Puerto Rico after a hurricane. My aspiration is that we can give greater clarity to the people of Puerto Rico and to those who lost people in the hurricane.
When US President Donald Trump cameand said Hurricane Katrina as a "real" catastrophe, there were only 16 deaths related to the hurricane (Maria). Given the information available now, how do you evaluate that moment?
- I'm not perfect. I make mistakes. Now, backward vision tends to be 20-20. At that time, we had a protocol and we did not realize until a little bit after (the hurricane) that it was insufficient and that it was up to doctors to establish the cause of death, but unfortunately there was no formal process to prepare them before such devastation. At that time, that was the number that we had. After, we had evidence pointing that, at that time, the number was, most likely much higher. One has to assume the actions that has taken. I have stated that, in this unprecedented process, I made mistakes, but my commitment is to learn from them and correct them for the future.
Some people said that the issue of hurricane related deaths had partisan or political interests ... (The report mentions this).
- Let me categorically say no. My premise, the Secretary´s premise (Pesquera), and our team´s, even before the hurricane reached Puerto Rico, was that it was going to be a catastrophe without precedent. Part of what we argue those days was that Puerto Rico needed help. A number like this in our hands, at that moment, far from denying what was happening, would have supported the magnitude of the catastrophe. I do not see the reason, the logic, the morals of doing that kind of process. Recognizing like I done it, that I made mistakes, but guaranteeing you that this is not one of the considerations.
This issue is not new. It was something that was in the public debate because the official figures seemed far from reality ...
- In this discussion, the moment has to come for all this politics issue to be put aside. Please, we are talking about people who lost their lives, family members, their pain and, beyond any political consideration, I am governor of Puerto Rico, and I want family members to have clarity and for people to have access to the services they need , and be able to protect them. It was a great sense of lack of power before the devastation, but the fact to imply that this is a politics issue, I think it affects the memory of the people and the goal of what we are doing.
💬See 0 comments