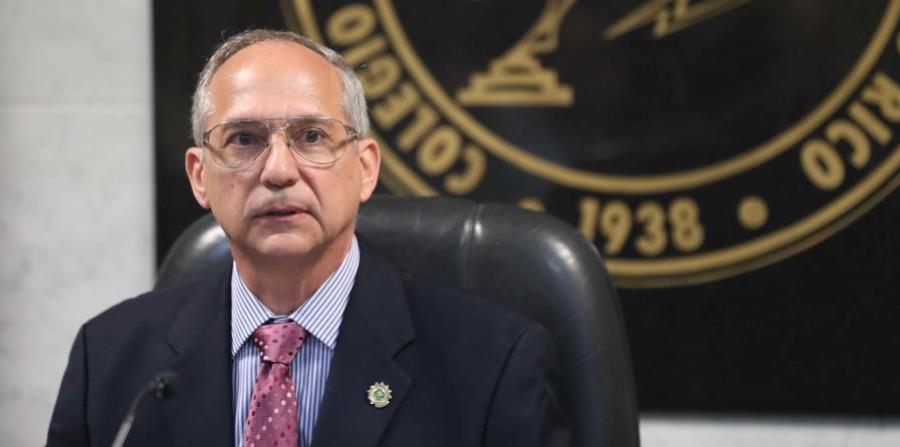 Engineer Ralph A. Kreil Rivera, new vice president of PREPA´s Governing Board said yesterday that, in "a couple of days", the governing body will have selected the person who will replace outgoing CEO Walter Higgins.
"Things will fall into place. Actually, I have always believed in the employees and in PREPA. I trust that we can promote its development, that we are still on time," he said.
PREPA will have its fourth leadership transition in just a year and a half, a period when the public corporationg has been directed by Ricardo Ramos, Justo González and Higgins.
When asked about the possibility to be available for the position, given his experience in the energy field, Kreil said: "I can not say no, because I have been available in the past, but at this moment I am the vice president of PREPA´s Governing Board".
At the same time, he said that there is talent in Puerto Rico capable of leading PREPA, but "one thing is that they exist and another thing is if they are available to accept the position".
In a separate interview, Tomás Torres Placa, Executive Director of the Institute of Competitiveness and Sustainable Economy (ICSE-PR), said that whoever replaces Higgins must have experience in an energy company of the scale of PREPA, with earnings for "$ 4 billion, that has about a $ 10 billion debt and in infrastructure projects for $17 billion".
"PREPA needs experts. The selected director must have experience in renewable energy, energy distribution, in economics and finance. This must be a person with broad understanding," said Torres.
After the Manufacturers Association suggested Torres to join PREPA´s Governing Board, the engineer clarified that he would only do so "to complement the public interest voice, because that is what we do (in ICSE)". In addition to Torres, the Manufacturers Association suggested Kreil and Noel Zamot, Revitalization Coordinator for the Oversight Board.
Who is Kreil Rivera?
In addition to chairing the College of Engineers and Land Surveyors from 2015 to 2017, Kreil leads Electrical Engineering Service, Inc., which he founded 26 years ago. This company is dedicated to substations and generators installation and electricity control systems.
During his first years after graduating from the Mayagüez University Campus, Kreil worked in the nuclear power industry in Tennessee. At that state public university, he completed a master's degree in Electrical Engineering, focused on transmission systems. He has another master's degree in Administration.
With this background, Kreil Rivera satisfies the requirement of Law 37-2017, which in Section 4 orders that PREPA Board members must have "not less than 10 years experience", either in electrical engineering, business administration, economics and finance or legal. He also complies with the requirement of not being a public employee.
As this law sets in four the minimum quorum for the Board to operate, Governor Ricardo Rosselló appointed Kreil and Elí Díaz Atienza, executive director of the Aqueducts and Sewers Authority, on Friday, one day after the resignation of five of its members, leaving just two in the governing body: Christian Sobrino, chairman of the Board of Directors of the Fiscal Agency and Financial Advisory Authority (FAFAA), and María Palou, Development and Infrastructure advisor in La Fortaleza.
Ernesto Sgroi, Edwin Irizarry, Erroll Davis, Nisha Desai and Rafael Diaz Granados resigned. The latter was the trigger for the group resignation, after Rosselló demanded that the Board reviewed the $ 750,000 salary agreed with Díaz Granados to replace Higgins as executive director. The figure raised public outrage for surpassing Higgins' already controversial salary, which amounted $ 450,000, plus bonuses, for directing a bankrupt public corporation.
However, in their resignation letter they did not mention Rosselló´s request. They alleged that "the political forces in Puerto Rico have provided a definitive statement that they want to continue to control PREPA".
💬See 0 comments