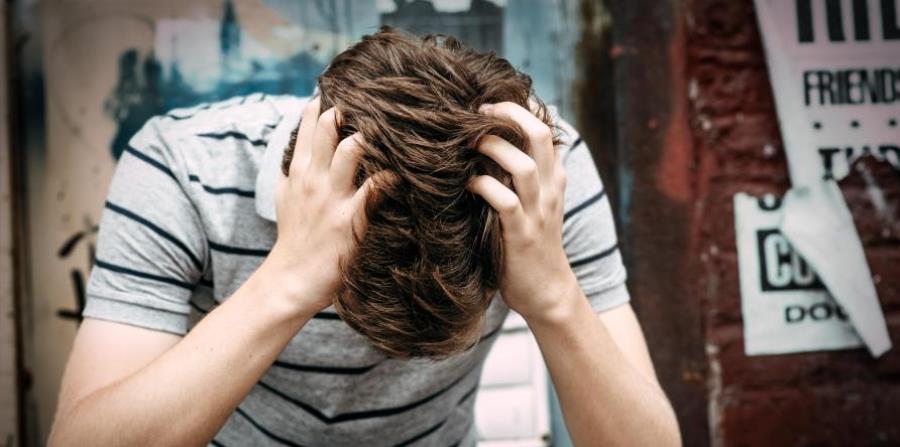 After years of steady drops in suicides reported on the Island, 2017 ended with a 29 percent increase in cases recorded by the Department of Health compared to the previous year.
In addition, calls to a government helpline from people who had attempted suicide tripled in the past three months compared to those registered between November 2016 and January 2017.
This is the picture shown in the monthly report published by the Commission for the Prevention of Suicide of the Department of Health.
According to the report, 253 people committed suicide in Puerto Rico in 2017, that is 57 more than the previous year, or an increase of 29 percent.
That document also states that the rate of 7.6 suicides per 100,000 inhabitants in 2017 was the highest since 2013, when the suicide rate was 9.
That is that the suicide rate that had consistently dropped during three years until 2016 has ended.
Moreover, with the exception of 2013, this trend on the incidence of suicides could be observed from 2010 to 2016, which registered 196 suicides and a rate of 5.8.
The figures for 2016 were the lowest in 17 years, indicated Maria Coss, educational coordinator of Commission for the Prevention of Suicide of the Department of Health.
The report shows that 38 percent of the cases in 2017 were registered in the last four months of the year.
Meanwhile, those 96 suicides between September and December 2017 represent an increase of 34 cases compared with the same period the prior year and an increase of 22 cases compared to 2015.
The hurricane factor
This scenario takes place in the year in which Puerto Rico suffered the worst hurricane in decades, but Coss said that the authorities are not in a position to officially state that the increase in suicides was due to Hurricane Maria on September 2017.
"After María, there has not been a research therefore I am not able to say with certainty that there is an increase due to the hurricane," said Coss.
The official noted that in September, October and November 2017, 27 suicides were reported per month, that same figure was registered in January and May 2017, so, according to the reports, the link between the suicide rates and the hurricane cannot be proved.
She also said that the 2017 totals do not exceed those for years prior to 2014.
"It is unfortunate that we saw (in 2017) an increase compared to 2016, but we can remark that we have seen those figures in the past five years," said Coss.
However, Coss said that it is necessary to conduct a research that confirms or rules out a relation between the increase in suicides in Puerto Rico and Hurricane Maria.
In addition, the doctor noted that the most recent Health report indicates that in January 2018 seven suicides were reported, a figure which is lower than that registered in the previous months.
In particular, she said that it would be necessary to see the files of each case in the Forensic Sciences Institute to analyze the factors present at the time of the suicide.
"After researchs that have been carried out in the past, such as after Hurricane Katrina (in 2005), there is scientific evidence that, in fact, it is true that after a natural disaster, more suicides will be reported," said Coss.
"Cases of depression and vulnerable situations can be doubled, especially in children and the elderly," she added.
This was reflected in press reports at the time, such as an article published in "The New York Times" in 2006, which shows that, in the four months after Katrina, the suicide rate in the New Orleans region almost tripled, with an increase of 9 to 26 cases per 100,000 inhabitants.
More attempts
Although January 2018 registered a drop of 20 suicides compared to January 2017 - and with those reported the previous month - a different picture can be seen in the number of people who admitted to having attempted suicide.
The Department of Health reported that their helpline (PAS, Spanish Acronym) received, only in January 2017, 1,075 calls from people who had attempted suicide. That total represents an increase of 696 more than the 379 of January 2017.
Meanwhile, in December 2017, the PAS line received 1,002 calls from people who had attempted to commit suicide, 796 more than the 206 registered in December 2016.
Also in November 2017 the increase was significant. According to data of the Department of Health, out of 297 calls received that month of 2016, communications from people who had attempted suicide amounted to 973 two months after Hurricane Maria, a difference of 676.
Between November 2017 and January 2018, PAS got 3,050 calls from people with suicidal thoughts, 2,168 more than the 882 registered throughout 2016.
The PAS Line is a service of the Mental Health and Anti-Addiction Services Administration (ASSMCA, Spanish acronym) and serves citizens at times that they think they need a preliminary evaluation at the psychosocial level, venting session, crisis counseling and emotional support, coordination of psychiatric and psychological evaluation, coordination services and referrals to other agencies.
Records show low numbers for the months of September and October of 2017, when telephone service on the Island was intermittent and, even, non-existent in many places. Since the normalization of communications, the PAS line call records have increased significantly.
In addition to those who attempted to commit suicide, the report of the Department of Health details that, in November 2017, 2,996 people called "with suicidal thoughts", 1,060 more than the previous year.
But the difference in those calls increased even more in December 2017, with 3,176 in total, an increase of 2,228 compared to 948 in the same month in 2016.
People with "suicidal thoughts" also called 3,473 times in January 2018, an increase of 1,085 compared to January 2017.
It is also striking that in general, PAS received 12,668 calls more in the past three months, than during the same period of the previous year.
Aggravated crisis
Although scientific studies are still needed to attribute the increase in suicides, as well as suicide attempts and suicidal thoughts to the consequences of Hurricane Maria, for the psychologist Julio Santana there is no doubt that the cyclone exacerbated the number of suicides on the Island.
The head of the University Carlos Albizu (UCA) said that this was because the hurricane aggravated the crisis in the island's socioeconomic conditions "that ensure that people find healthy solutions when they face problems in everyday life."
"Before María, there was a substantial decay due to the high level of unemployment, loss of homes and foreclosures, violence linked to unemployment and loss of opportunities. Those conditions that guarantee the emotional health of the people were disappearing," Santana said.
"Maria hits and adds a level of physical and structural destruction, which generates extraordinary unemployment and people have to migrate, which causes family and emotional disorganization," he added. "Even if it seems like an escape route, the loss of family members is one of the biggest stress causes ... For those who remain, their family has been fractured and they are left in conditions of greater dispair and perception of abandonment."
He also said that the lack of electricity service for months becomes a contributing factor because "welfare is when you do not meet basic aspirations."
"Normally there are conflicts in families, but when you add a stress cause for more than five months without power, without food, life patterns change ... going to bed earlier, trying to get petrol and spending more money ... It makes it harder for people to manage everyday life, " he said.
Santana advanced part of the findings of a study conducted by UCA researchers, which includes visits to communities affected by the hurricane.
Through questionnaires, they have found that people in isolated communities who lost their homes have more "suicidal thoughts" than other victims, and recalled that it is estimated that the hurricane destroyed 70,000 homes.
💬See 0 comments