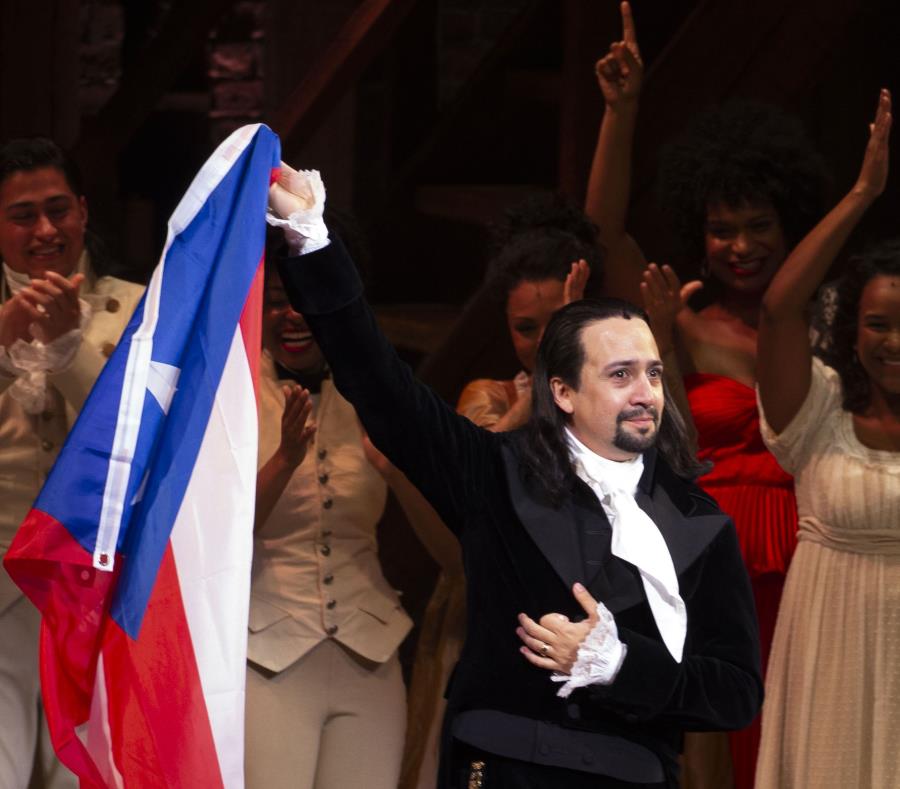 Visibly moved and shouting "Puerto Rico!", actor and playwright Lin-Manuel Miranda received this Friday a standing ovation at the curtain call of the premiere of the musical "Hamilton", in front of a full audience at the Antonio Paoli Festival Hall, Santurce Fine Arts Center. "Hamilton" is set to perform 23 shows in Puerto Rico.
After thrilling the audience proving once more why he is one of the most critically-acclaimed artists, Lin-Manuel addressed the audience of nearly 2000 that joined to thank his team and all those who worked to make these shows possible.
"Thank you, Puerto Rico. Miracles do happen," said Miranda after a three-hour show. The actor thanked Vega Alta, his adopted town, and his father who joined him on stage.
"I taught my children that our homeland and family are the most important things in life and having 'Hamilton' in Puerto Rico meant both. We knew how much hard work bringing 'Hamilton' to Puerto Rico meant, but the family and a great team made it possible," said Lin-Manuel's father, who in turn thanked his "genius son" for the event, starting with the masterpiece he wrote and produced for future generations.
"Hamilton" premiered at 6:50 p.m. with the song "Alexander Hamilton". As soon as Lin-Manuel Miranda appeared on stage, the audience delivered an ovation for almost a minute. Silently, the artist watched the scene, while the music stopped until the applause ended.
The performance of Donald Webber Jr., who plays the antagonistic role as "Aaron Burr", was brilliant and also received ovations. The other Puerto Rican actor in the musical, Rick Negrón, also captivated the audience with his successful and funny "King George". The whole team -Julia K.Harriman as "Eliza Hamilton" was fantastic as well as choreographies by Andy Blankenbuehler and the music, directed by Alex Lacamoire- stood up to the expectations.
The musical that tells the story of Alexander Hamilton -whose birthday is today-, through 34 songs that dive the audience into the plot, which perfectly combines drama, romance, comedy and tragedy, to tell the story of Hamilton and his country.
Lin-Manuel Miranda´s musical captivated an audience eager to see the artist, born and raised in the U.S. to parents from Puerto Rico and who returned to Alexander Hamilton after two and a half years.
Tras año y medio de espera, este viernes finalmente estrenó en Puerto Rico, el musical "Hamilton". (Ramón "Tonito" Zayas)

Decenas de invitados y curiosos que no tenían taquillas, pero querían presenciar la llegada del público llegaron desde temprano a la plazoleta frente al Centro de Bellas Artes. (Ramón "Tonito" Zayas)

También llegaron familiares del autor de la obra, Lin-Manuel Miranda, entre ellos, su esposa Vanessa Nadal. (Ramón "Tonito" Zayas)

El actor y cantante Leslie Odom Jr., quien interpretó a Aaron Burr con el elenco original de Broadway estuvo entre los invitados a la función. (Ramón "Tonito" Zayas)

La actriz Marilyn Pupo fue parte de los invitados y aseguró estar emocionada y agradecida por la gesta de Miranda. (ELNUEVODIA.COM)

La presentadora Alexandra Fuentes y su esposo, David Bernier, asistieron a la función. (ELNUEVODIA.COM)

Más temprano, el presentador Jimmy Fallon causó emoción al grabar un segmento de su programa "The Tonight Show" frente a decenas de curiosos. (Gerald López Cepero)

Un grupo de miembros de la Sociedad Civil Estadista realizó una breve manifestación en la plazoleta. (Ramón "Tonito" Zayas)

Un fanático llegó con una medias con la cara de Alexander Hamilton. (Ramón "Tonito" Zayas)

Temprano, llegó la joven Adriana Acevedo, quien luego de intentar sin resultado comprar boletos por internet, logró acceso por la lotería. (Gerald López Cepero)

El secretario del Departamento de Seguridad Pública, Héctor Pesquera, estuvo en las afueras del Centro de Bellas Artes. (Ramón "Tonito" Zayas)

Hamilton se presentará en Bellas Artes hasta el 27 de enero. (Ramón "Tonito" Zayas)

La obra cuenta la historia de uno de los padres fundadores de Estados Unidos. (Ramón "Tonito" Zayas)

El público recogió boletos en una guagua colocada en la plazoleta del Centro de Bellas Artes. (Gerald López Cepero)

Un joven emocionado posó sobre una proyección del logo del laureado musical. (Ramón "Tonito" Zayas)

Todas las ganancias producto de la venta de taquilla, donativos y auspicios serán asignados al Fondo Flamboyán para las Artes. (Ramón "Tonito" Zayas)
Lin-Manuel decided to return to one of the Founding fathers only for the 23 shows set to raise money for the Flamboyant Arts Fund in Puerto Rico to help artists and cultural, education activities as well as art organizations. This is the second time that Miranda, 38, plays at the Fine Arts Center, the first one was in 2010 with "In The Heights".
Ron Chernow, whose biography of Alexander Hamilton inspired Miranda, also attended the premiere of the musical, directed by Thomas Kail.
Choreography by Andy Blankenbuehler, along with Jeffrey Seller production- in collaboration with Puerto Rican Ender Vega - were as outstanding as the scenography, whose 9-feet high platform was brought from the U.S. for these 23 shows on the island.
The musical, which has been awarded a Pulitzer, a Grammy and eleven Tony awards, achieved its purpose once again, telling part of the story of the first Secretary of the Treasury of the United States. Born in the Caribbean - on the island of Nevis - Hamilton arrived in the United States, where he studied and worked to become one of its Founding Fathers. The interesting thing about the story and Miranda´s fascinating work is that the shows sets story of Hamilton and the American revolution to the rhythm of hip-hop, blues, rhythm and pop, mainly with African-American and Latino actors, what turns out as one the most important political commentaries of the piece.
"Hamilton" premiered in January 2015 at the Public Theater in the off-Broadway circuit. After its good reviews and a surprising audience response, it moved to the Richard Rodgers theater on Broadway. This is their 6th production of "Hamilton" after shows in several cities in the United States and the United Kingdom.
💬See 0 comments