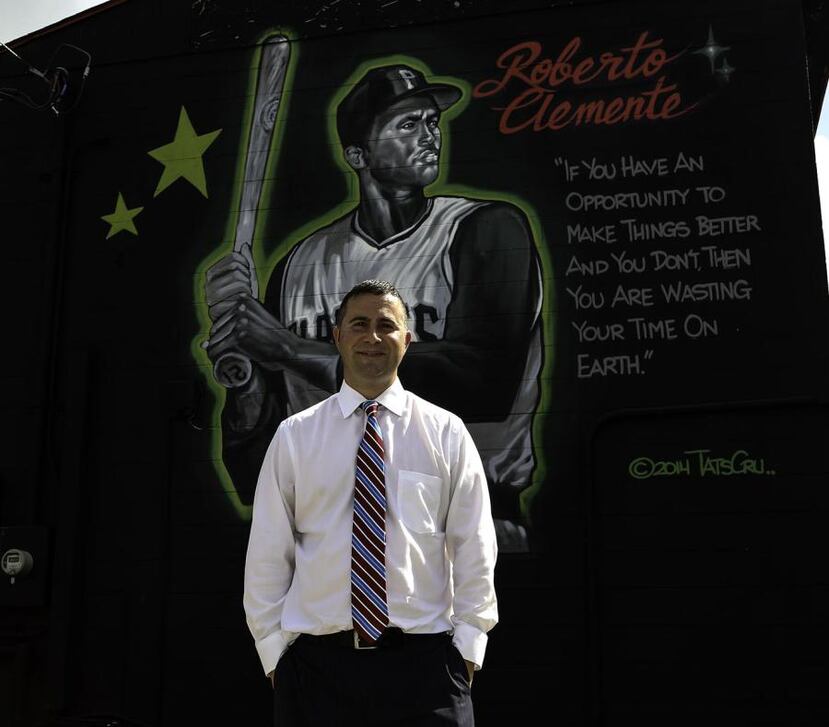 ORLANDO, Florida - Darren Soto is a true portrayal of an important sector of the Puerto Rican diaspora in Florida, whose growing political sway will be measured later this month.
Soto, son of a Puerto Rican man from Arecibo and an Italian-American woman whose origins trace back to Naples, was born in Ringwood, in northern New Jersey.  Like many other Puerto Ricans, Soto and his family left the Northeastern United States to settle in Orlando.
After graduating with a degree in Economics from Rutgers University and a law degree from George Washington University in Washington, DC, he went into politics as part of an effort to meet people and grow his attorney practice.
First, he associated with the Young Democrats. Then he aspired to the state House of Representatives. Although he lost his first race in 2006, he insists that he was only seeking to fill the Democrat seat, without any chances of winning.
By 2007, the story had changed.
To fill in the vacant seat left by Puerto Rican state Representative John Quiñones, Soto beat Republican Anthony Suárez, who in his period as a Democrat had become the first Puerto Rican in the Florida Legislature. Soto beat Suárez by less than 300 votes.
Nowadays, going into the Florida primaries (to be held on August 30), Suárez supports Soto as a pre-candidate for Congress.
Soto wants to make history and become the first Puerto Rican elected into Congress to represent the 9th District of Florida, a state where more than a million Puerto Ricans currently live and could potentially decide the presidential elections on November 8.
This potential also applies to Soto's election. One out of every five voters in the August 30th Democratic primaries for the 9th District (which is based in Kissimmee) could be Puerto Rican.
Soto is facing four other pre-candidates, although his main rivals are Dena Grayson—wife of current congressman for the 9th District, Democrat Alan Grayson, who is now an aspiring Democratic candidate to the US Senate—and Susannah Randolph.
Whoever wins these Democratic primaries will go to general elections against the winner of the Republican race, which is being held between Puerto Rican Wanda Rentas (current vice mayor of Kissimmee) and Wayne Liebnitzky.
But in a mainly Democratic district, winning the primaries on August 30 could set Soto on the path towards becoming the fifth Puerto Rican member of Congress.
The Puerto Rican members of Congress—Raúl Labrador (R-Idaho) and Democrats José Serrano (New York), Luis Gutiérrez (Illinois) and Nydia Velázquez (New York)—are certainly favorites to be reelected in November.
The 38-year-old politician of Puerto Rican descent has spent a decade as a state legislator. He was reelected for representative in 2008 and 2010.
In 2012, he became the first Puerto Rican in the Florida State Senate, a post he was reelected for two years later.
In an attempt to grow closer to Hispanic and Puerto Rican voters, which account for one out of every three in the 9th District—which he hopes to represent,—Soto has become fluent in Spanish, even taking private classes to achieve this.
Like Soto himself, six out of 10 people who identify as Puerto Rican in Florida were not born in Puerto Rico.
He gives credit of the strength of his Puerto Rican identity to his family, his grandmother Sara, and his cousins who lived in the Island during his childhood years, with whom he used to hang out in Arecibo or Ringwood almost every summer.
Who is Darren Soto?
"I am a husband, a lawyer and a musician, although most people know me as a state senator."
What instruments do you play?
"The acoustic guitar, and I write songs."
Do you sing?
"Of course."
Do you do it well?
"I hope so. Otherwise, people are just being nice. I performed in fundraising events when I ran for the state House of Representatives and Senate."
How would you describe your identity?
"It's a very common mix where I come from, in northern New Jersey. If you think about West Side Story, I'm the next generation. That has helped me a lot. I've been aware (of my Puerto Rican identity) as long as I can remember. My parents used to take me to visit the Island since I was 3 or 5 years old. I remember my grandmother's farm in Sabana Hoyos, in Arecibo, my great-grandmother's tight embrace, my great-uncles, the plantain trees, and the cows in the farm. I also remember my grandmother killing a chicken right before my eyes. That experience was a little traumatic, but it became a great dinner."
You continue your efforts to improve your Spanish.
"When I was growing up in Ringwood, we didn't speak a lot of Spanish at home because my mother doesn't speak Spanish. But I took classes in middle school and high school, which gave me a decent vocabulary. It wasn't until I got to Central Florida that the need became greater for my law practice. And I didn't know it back then, but it would eventually become a great help for politics as well."
How about your Italian?
"That side is more related to culinary culture, even though my wife and I went to Italy two years ago."
Pasta or pork?
"My mother loved cooking ziti and lasagna, mostly, and sometimes spaghetti. I am blessed for having my entire Puerto Rican family here, so we also have a lot of rice and beans. We moved in 2000. A lot of my family came from New York and Puerto Rico, two common migration paths for Puerto Ricans. My family's history is the Puerto Rican history in Florida."
Did you always want to be a lawyer?
"I thought I would have an entrepreneurial career. When I was young, my great-uncle Lorenzo Casanova (who was the first Latino police deputy commissioner in New York) and my father always used to tell me I should be a lawyer because I talked a lot."
How did you get involved in politics?
"By accident. I moved here and worked with a family member, Luis González, uncle to one of my cousins, who worked for over 20 years in US and Puerto Rican courts. He said, 'Get out and meet people so you can build your private practice.'
I joined the local kickball league and the Young Democrats. When I arrived at the Young Democrats meeting, back in November 2004, the room looked rather like a funeral, sad. John Kerry had lost, so they were disappointed. But I saw an opportunity. In the next elections, I became the vice-president of the Young Democrats in Orange County. I was surprised to find out we only had 25 members in a Democrat majority county with 1.2 million residents, back then. I suggested creating an event called 'Speak Easy' on the last Friday of each month, where an elected official or known leader would speak for five minutes, and then we went on to a happy hour. Our enrollment went up to 150."
Why do you want to be a congressman?
"I am the one with experience and knowledge regarding the district. I want to make history as the first Puerto Rican in Congress for Florida and the first Hispanic from Central Florida. Just like President Barack Obama has inspired generations of African-Americans, I vie to inspire the next generation of Puerto Ricans and Hispanics. I have worked with many Hispanic issues, with immigration. One of the bills I managed to turn into law gives children who have English as their second language two years in a Florida school before their academic achievement tests count. It took my own father two years to learn the language after he arrived as a child in New York."
What would be your first project as a congressman?
"One that will correct how we release the waters from Lake Okeechobee into the Everglades. I've focused on environmental, judicial and civil rights issues. Our state has been ravaged by the green algae of the Everglades and Lake Okeechobee, which is destroying our environment."
Did you feel well represented by Alan Grayson?
"I think he did a good job. We worked together on some issues. He has been more focused on national issues than district issues. I'm more practical. My main focus will be bringing big projects to the district. I believe all politics are local, so I can bring up the issues that the district needs, such as connecting Poinciana Parkway with Interstate 4, which will help the vehicular movement for more than 75,000 people, many of whom are Puerto Ricans.
We also need a new control tower in the Kissimmee airport."
Who do you believe is your main opponent?
"It's a three-way race. Dena Grayson recently arrived in the district. She moved when she began her (political) pursuits, but her last name is Grayson and she has had a lot of publicity.  Susannah Randolph is not very well known in the district, but she has received a significant amount of money, and she constantly attacks me in her mail campaigns. I guess it's because she's not confident in her message."
Do they spend more time attacking you?
"They all do because they know I'm leading the polls and I've raised more money ($630,000, up until June.) The reason why no Hispanic has been close to being elected to Congress for Central Florida is because no one had raised the amount of money I've been able to collect."
You say a recent poll showed you leading by 16 points. Do you feel confident?
"I like my chances, but nothing is set in stone. We need to move voters to help me make history."
One of the issues in the diaspora is its low voter turnout.
"Especially in the primaries and mid-term elections. We have voting patterns that resemble those for non-Hispanic white people in presidential elections. Things get better, taking into account that, in 2012, we went from having one state legislator to having six. This time, I've been investing huge amounts of money in publicity over Telemundo, Univisión and Wapa."
Do you believe you cannot rely solely on the Hispanic and Puerto Rican vote?
"No, the numbers are not enough. The district is 40% Hispanic in the primaries, but the turnout rate is closer to 25%. I'm trying to increase that rate to over 30. We have strong support in the suburbs and agricultural communities, and I'm the only one who has been endorsed by African-American elected officials."
Do you expect a higher turnout?
"I think it will happen because no one has committed as many resources—as I have—in a primary to get closer to Hispanic voters. In La Raza's annual conference (held in July,) every single bartender and waiter asked to take pictures with me. It was the first time I noticed so much public recognition."
What would your victory mean for the Puerto Rican community in Florida?
"An immense pride, and being able to somewhat dispel the notion that we are not civically committed. It would be having someone in Congress who shares their experiences and understands their culture and needs."
What are your priorities regarding Puerto Rico?
"The economy first. Congress has approved PROMESA. My concerns are that the Oversight Board doesn't include enough local participation, and also the part that refers to the minimum wage. If the Island decreases the minimum wage—although every gubernatorial candidate has ruled it out—we will see an increased exodus heading this way. We welcome all Puerto Ricans who wish to live in Central Florida, but we don't want it to be at the Island's expense. Central Florida will be stronger if the Puerto Rican economy becomes stronger."
If you had been in Congress, would you have voted in favor?
"Yes."
Even though the Island's top elected authority is eliminated.
"Puerto Rico needs to restructure its debts, and Republicans in Congress would have never allowed it without mediating transactions. I would have joined Nydia Velázquez and José Serrano to vote in favor. I'm ready to be pragmatic, but the work is just getting started, because if the Oversight Board favors bondholders too much, it will be specifically against the pensions of retirees and it will not be good for the local economy. We have to emphatically regulate it. If this means submitting 1,000 amendments to change its composition, we will do it."
That was my next question. Do you think the powers of the board should be mitigated?
"I believe so. We have to supervise them. I hope to be in the committee that supervises them, the Committee on Natural Resources, because I will also focus on environmental issues. These issues are essential to Florida, which has no representation in this committee. I also hope to be in the Judiciary Committee."
Does this debate confirm that Puerto Rico is a US colony?
"Unfortunately, this is the case. The federal government has, again, become Puerto Rico's best friend and worst nightmare. I think that eliminating the benefits of Section 936 (of the US Internal Revenue Code) was the main cause for the financial collapse. I would like to see new tax exemptions that will help companies stay in Puerto Rico or relocate there."
Would you promote a revival of Section 936?
"I would like to speak with local leaders to see what their point of view is. I'm a Puerto Rican boy from New Jersey. I wouldn't be in Congress to tell the Puerto Ricans of the Island what they have to do. I want to listen to what the Puerto Ricans in the Island want to achieve. Anything else would just be more colonialism."
A congressional task force will spend this semester analyzing possible economic initiatives to help the Island. You favor parity in federal programs and full access to the Earned Income Tax Credit (EITC) and the Child Tax Credit (CTC).  What else should be taken into account?
"I will listen to local leaders, but they should focus on promoting existing industries, such as tourism, agriculture, pharmaceuticals, and rum. However, they should also examine what other industries could be beneficial in the long run."
You support the idea that residents in Puerto Rico and other territories should be able to vote for the President of the United States. Hillary Clinton promotes this idea.
"I would be happy to submit that bill."
But do you think it's realistic? It requires an amendment to the Constitution. Even those who support statehood acknowledge it's easier for Puerto Rico to be admitted as the 51st US state.
"Every reform has to start somewhere. When we talk about civil rights, such as the ones for the LGBTT community or Black Lives Matter, well, as you can see, Puerto Ricans in the Island cannot vote for the US President, and that is a national civil rights issue."
What does Puerto Rico's future hold: statehood or independence?
"I leave it to Puerto Ricans in the Island to make that decision, and I will certainly support it."
Recent census data shows that Puerto Ricans who have arrived most recently in Florida face a higher level of unemployment than the rest of the Puerto Ricans in the state.
"We have a small urban area, with extensive suburban and agricultural zones. We have a lot of jobs, but they don't pay high wages."
There are also housing access problems. Some Puerto Rican families are stuck in motels, and there are even rumors of people living in the forests.
"We need a better rental assistance program. People arrive from Puerto Rico and other states, unable to make their first deposit, so they start off living in motels, where they pay $200-300 per week. That's more than what a monthly rent would cost in Osceola County. I would like to see a more robust federal rental program. Many of those who live in the forests are veterans who don't want to live in institutions."
How many people are living in the forests?
"There are hundreds, at least."
Puerto Ricans?
"I can't provide an exact number. But it's a significant amount."
What message would you send Puerto Ricans who are considering moving to this area?
"We welcome them, but before moving, they should have living and working arrangements. There are jobs with modest wages, and the cost of living is low, but they need to come prepared."
Is Donald Trump a racist?
"He is. He has issued racist comments about Hispanics, Muslims..."
If Trump is a racist, how do you explain that he is still competing against Hillary Clinton, especially in Florida?
"He's running behind. But he has moved (non-Hispanic) white voters and workers who are frustrated by the lack of economic progress many in the US have been experiencing. Hillary Clinton is, by far, the better leader to solve this problem. Politics are a pendulum. We have had a highly intelligent African American president who has achieved great changes, and there's a segment of the population that wants us to turn back time to an era where there wasn't as much equality. We must not allow it. We must fight it to the end."