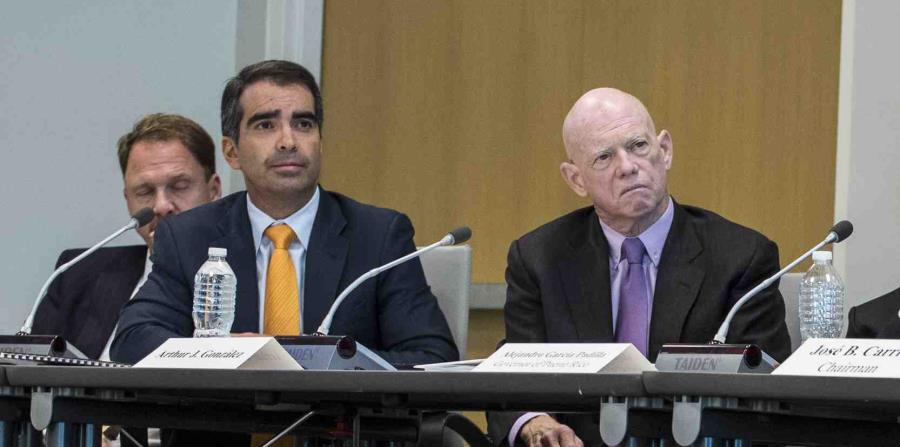 Washington - Yesterday, civic groups and community leaders called for the resignation of two of the members of the Oversight Board controlling the Island's public finances, due to their understanding that these members have walked through a "revolving door" between Wall Street and the Puerto Rican government.
In a press conference/protest in Boston, MA, activists revealed a report from the group Hedge Clippers, which highlights the links between Puerto Rico's public debt and Santander Bank, an institution where Carlos García and José Ramón González—both Board members and former presidents of the Government Development Bank (GDB)—occupied managerial positions.
According to the report from Hedge Clippers—titled "Pirates of the Caribbean"—, Santander issued almost $61 billion in bonds from the Puerto Rican government through subsidiaries that serve as municipal debt underwriters, obtaining $1.1 billion in fees in the process.
According to the Hedge Clippers report, "Santander has played a crucial role in structuring and profiting off Puerto Rican debt through a revolving door with Puerto Rico's Government Development Bank," which was the Commonwealth's fiscal agent. Hedge Clippers is a group devoted to investigating Wall Street, and they have closely followed the Island's financial crisis.
Félix D. Arroyo, former city councilor in Boston and co-founder of Alliance for Puerto Rico, stated that when auditing Puerto Rico's public obligations and trying to ascertain if there is any illegal debt, judgment should also be passed on the role played by the financial institutions.
"There is no better example of greed, corruption, and abuse of power than Santander," said Arroyo, a Puerto Rican who is currently Register for the Suffolk County Probate and Family Court in Massachusetts.
The press conference/protest was held in front of the central offices of Santander in Boston.
The call was made by Hedge Clippers, which gathers unions, community groups, and coalitions. Its participants include teacher organizations such as American Federation of Teachers, National Education Association, Refund America, New York Communities for Change, Organize Now from Florida, and Communication Workers of America, among others.
The Hedge Clippers' report highlights that it was especially García—under whose GDB presidency $10 billion in debt were issued—who "went directly from Santander to the GDB and back again."
García—who directs his own financial consultancy firm, Bay Boston—was president of Santander Bank in Puerto Rico when he was appointed to the GDB, a role he assumed in 2009. When he resigned from his position in the GDB, he went on to become the vice president of Santander Holdings USA.
González, for his part, was president of the GDB from 1986 to 1989. Afterwards, he became president of Santander Securities from 1996 to 2001, and of Santander BanCorp from 2002 to 2008. He is currently president of Federal Home Loan Bank in New York. Both García and González stated they would issue no comment.
Hedge Clippers states that, under Luis Fortuño's administration, "García and a group of former Santander executives were appointed to run the GDB and instituted a massive bond issuance program that lies at the root of the solvency crisis facing Puerto Rico today."
In that sense, they mention that when García quit the GDB presidency "to return to Santander," another former executive from the Spanish bank, Juan Carlos Batlle, was appointed president of the GDB. Then, the report says, Fernando Batlle—Juan Carlos's brother, who was García's second-in-command in the GDB—was named CEO of Santander Securities, the subsidiary in charge of the municipal bond issues.
The report says that under Fortuño's administration a law was approved in January of 2009 "that doubled the amount of sales tax revenue set aside for COFINA (PR Sales Tax Financing Corporation) bonds, enabling García's GDB to issue more debt underwritten by Santander and other banks." "Public Law 7, passed March 2009, permitted the Treasury Secretary to refinance debt without considering whether it would actually save Puerto Rico money," the report adds.
The analysis mentions, among other things, a bond issue from 2011, valued at $2.9 billion, which used the contributions made by governmental employers as a guarantee, a practice they considered "virtually unheard of" for public pension funds.
"As Puerto Rico fell deeper into debt, municipal bond underwriters like Santander advised the Commonwealth on increasingly risky debt deals," the report continued.
The report stated that a key question all Puerto Ricans must ask is, "how did the Commonwealth's debt grow so much and become so onerous that it became unpayable?"
Auditing The Debt
Hedge Clippers also supported the work done by the commission created in Puerto Rico to audit the debt and determine if part of it was acquired illegally.
"The Audit Commission should be funded and empowered to complete its investigation of the debt, so that Puerto Rican people are provided with answers," the report states.
The report also stressed that "Santander should refund all the underwriting fees and discounts it received from the government, including its public corporations and instrumentalities like COFINA."
Stephen Lerner, from the Hedge Clippers campaign, remarked that the financial institutions "manipulated a government that was desperately trying to avoid ruin."
💬See 0 comments