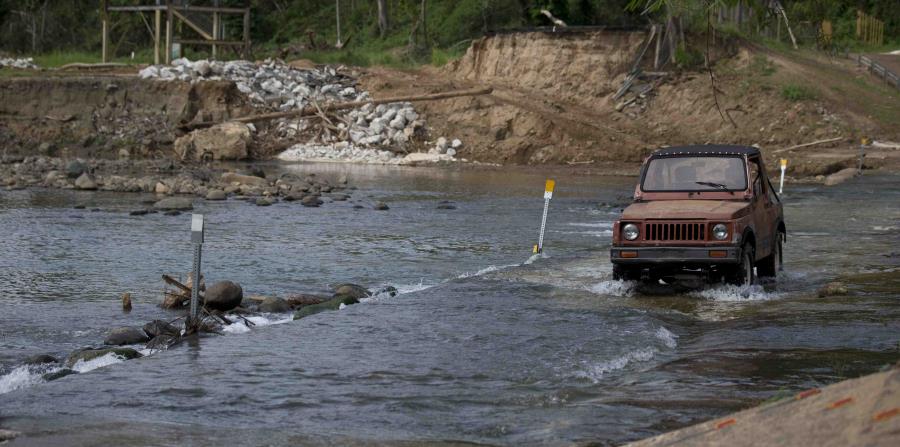 Morovis - Lines to receive food and water from trucks and carried by military personnel. Split wooden posts, blocking roads. Mountains of debris on the roadside. Piles of garbage where there used to be houses.
Bridges demolished, cars crossing rivers. Isolated neighborhoods. Families crammed because homes that were lost have not yet been repaired, nor have their tenants received help to relocate. Total darkness. Very little water.
It looks like the scenario of Puerto Rico in the days immediately following the passage of Hurricane Maria on September 20. That is still the scenario here, in Morovis, in Ciales and in other mountain towns.
Clock stopped ticking in these towns on that fatal Wednesday and, today 74 days after the hurricane, there´s very little done to allow residents think of a glimpse of normality.
Most of the roads were cleared, the mountains are green again and trees have leaves. But everything else still remains the same as those painful hours following Maria.
"We have no power anywhere in our municipality. We have many of the neighborhoods still without water service and those that do have it, suffer intermittency. They may have water in the morning but not in the afternoon, or they have the service every other day. That is how we stay. This is how our people are right now, "said the mayor of Morovis, Carmen Maldonado.
In Ciales, the situation is not different. "Water comes and goes because generators have to be stopped to change the oil and they break continuously. We are at zero percent electricity. We have debris on almost all roads. People are very upset, "said Mayor Luis" Rolan "Maldonado.
While Puerto Rico tries with slow steps, and with many setbacks, return to normal, here in the mountains, they are still in survival mode.
People still depend on the charity of humanitarian organizations to eat. Mayors and citizens denounce that the central and federal governments have abandoned them.
It was not until last week that FEMA was in the area for the first time to install the tarps. No one has seen government assistance, except, in some cases, the emergency $ 500 granted by the federal agency.
"Whatever God wills"
People are still getting water from pipes, hand washing, cooking with wood or gas, in a long, tedious and apparently endless wait because for recovery to start here too. "I wash by hand. Look how I have my hands, "said Santita Santiago, a resident of the San Lorenzo de Morovis neighborhood, showing her reddened palms.
The 85-year-old woman lives in a house half cement, half wood, with her husband, Antonio Acevedo. His 37-year-old son, named after his father, who works in farms in the region, lived in a wooden house on the second floor, which lost its roof. Since then, he lives with his parents. Before FEMA installed awnings to the structure of the second floor in the past days, the first floor was soaked with thefrequent rainfalls here.
"Whe it rained this, oh boy, this was a lake," said the woman, who eats thanks to private organizations that occasionally bring aid to the neighborhood.
"Many people come around giving food, medicines, everything. We can not complain about that, because everyone has come with something. My daughter wanted me to go with her (to the United States), but I don´t. What for? If I already gone through this when I was young, washing in the river, toasting coffee. I already been here when I was young. It does not bother me that there is no power, "the woman added.
FEMA offered Santiago a loan to repair the house. But with the $ 880 monthly income from her and her husband, she could not accept it. "I'm waiting for it to be whatever God wills," he said.
In the San Lorenzo neighborhood, María took away the only bridge that connects them with the town. When the river is high, they have to walk around 45 minutes to get to the town. On days when the river is low, cars cross slowly, breaking the water in their path, through what used to be the base of another older bridge, running the risk of water surprising them halfway .
"I know this is dangerous, but over there it's very far away," said a man crossing the river in a Toyota Corolla.
One of these days, like in the first days after the hurricane, there was a line in Morovis Square to receive boxes of water and food from the Red Cross.
Among those who lined up were Sylvia Otero and her two daughters, Jessica Murillo Otero and Yashira Rivera Otero. The three, with their respective husbands and children, live since Maria in a small house in the urban area of Morovis. In total, there are nine people in a three-room house.
Yashira, who has three children between five years and eight months, lost the house where she lived, which belongs to her grandmother. Right now, the five members of her family sleep in the same bed. Yashira, who has a two-year-old baby and is four months pregnant, sleeps with her husband on a cot while her baby sleeps in a crib.
"This causes a lot of anxiety," said Yashira, who says she submitted all the documentation requested by FEMA, but has received no answer.
Exodus and economic crisis
Before Maria, Morovis had 32,600 inhabitants, 55 percent of them below the poverty line. Many have left since then. The municipality keeps a collection and help center operating in the city hall, where citizens go to look for supplies. Several times a week, trucks from the municipality go through the communities distributing the aid provided by FEMA or by humanitarian organizations.
"It has been very difficult for us not to count on the collaboration of the state government, very difficult. We have worked on it with the help of many people who have come from the United States. We have received help from many citizens and foundations in the United States, "said the mayor.
Maldonado said that the vast majority of businesses far from the urban area are closed due to lack of power.
"At the moment we are working with a census to verify what is the real number of shops closed. But I have to say that there are very few open and they are mainly close to the urban center. Most of the kiosks and restaurants that were near the different neighborhoods are still closed, "added the mayor.
Gabriel Rivera, who has a coffee shop in the urban area which opens due to the use of generators, said that the rest of the island has forgotten the mountain.
"I do not think it's fair. This is not a different island. We are all one island. We are giving priority to so many other things and here too there are many people who have needs, "Rivera said.
Mayor Maldonado said she has carried out activities trying to lift the spirits of the town, such as a Christmas party in the town´s public square.
But she recognizes that the mood among the population remains difficult. "It's frustrating. You have to admit it. Under the circumstances we have been helping each other, but it is difficult, "he says.
In her house in the San Lorenzo neighborhood, where she has given shelter to her mother and her sister since Maria, Sonia Robles has a large Christmas decoration in the room, next to the containers in which she collects water, prepared by her husband, who is decorator.
A battery-powered radio plays songs of the season. The three women have neither power nor water, nor means other than charity to have food. But they try that these difficult circumstances do not affect their mood to celebrate Christmas anyway.
"We're going to celebrate, even if it is with candles, even if it's playing with cans," said her sister Carmen.
💬See 0 comments