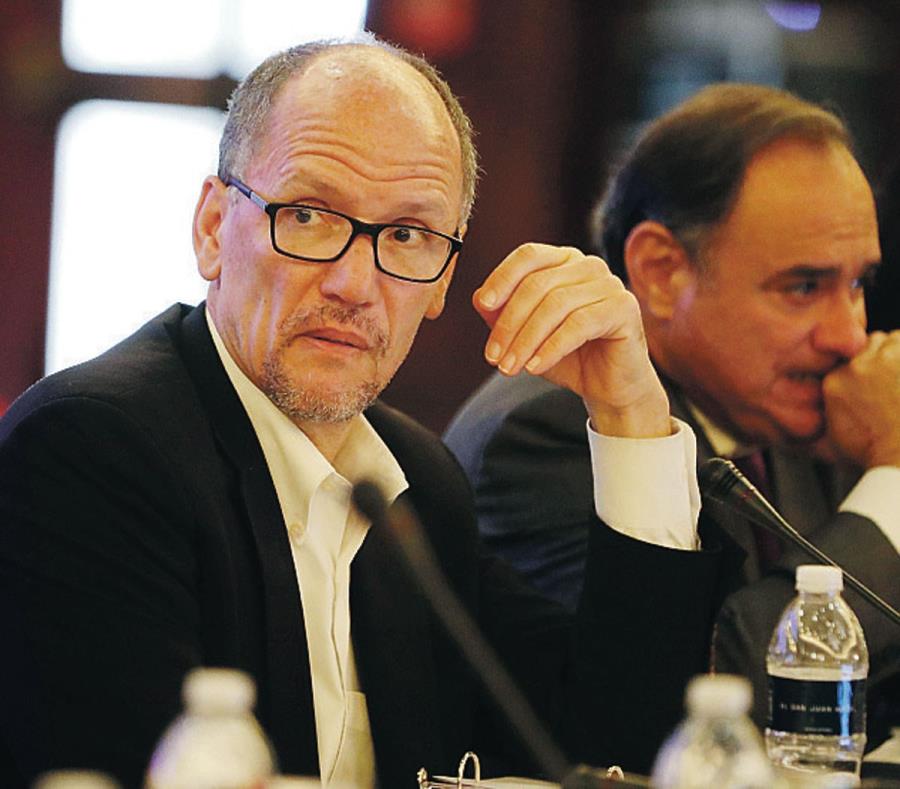 According to Tom Pérez, Chairman of the US Democratic National Committee, the Republican Party doesn´t seem willing to recognize a favorable result to statehood for the island precisely because of President Donald Trump's hostile attitudes towards Puerto Ricans.
Pérez, of Dominican descent, expressed himself in favor of statehood for Puerto Rico on several occasions and yesterday reiterated his position, adding that the "status quo", that is the Commonwealth, "has not worked."
In a late September tweet, regarding the Mayor of San Juan Carmen Yulín Cruz, Trump said that Puerto Rico "should not be talking about statehood until they get some people that really know what they are doing. (When) you have good leadership, statehood for Puerto Rico could be something they talk about. With people like that involved in Puerto Rico, I would be an absolute no to statehood".
Pérez does favor statehood for the island.
"When you see Medicaid, Hurricane María, there are many examples of Puerto Ricans are second-class citizens and we need a different way. That would be statehood," he said in an interview with El Nuevo Día yesterday, after chairing a meeting of the Democratic National Committee, being held in Puerto Rico this year.
According to Pérez, the results of the last two status plebiscites, in which statehood got the majority vote – the last one held last year with a really low voter turnout – showed that Puerto Ricans "may accept" statehood and that represents a problem for the Republican Party. Pérez did not answer if the US House of Representatives, in Democrats hands after midterm elections, should commit to comply with the result of a "statehood yes-or-no" referendum.
"Until recently, statehood was on the Republican Party platform. Now that they realize that it may be accepted and that Republicans ideas cannot compete on the island, there is fear that Donald Trump's inaction (facing María´s disaster) and his hostility towards Puerto Ricans would not be well reflected in a referendum. Republicans have lost the will to act on an issue that was on their platform," he said.
If Perez is right, this would mean a problem for the pro-statehood movement at a time when public figures like Governor Ricardo Rosselló have conditioned a "statehood yes-or-no" plebiscite to Congress committing to abide by the result. Republicans still control the US Senate.
When asked about the same issue, the chairman of Puerto Rico´s Democratic Party, Charlie Rodríguez, said that, while the local government can wait for the US Department of Justice to validate an electoral ballot and the educational campaign of an upcoming referendum, he said that "what will finally happen" will be that the 116th Congress, which begins in January, or the 117th, in 2021, will approve Puerto Rico´s admission act as a state "subject to the approval of this act of admission with a "statehood yes-or-no" referendum in Puerto Rico."
Rodríguez thinks that Resident Commissioner Jenniffer González will file a new statehood bill in January after announcing that she would do so if the Puerto Rico Legislative Assembly approved a "statehood yes-or-no" referendum.
"She said she will file it," noted Rodríguez.
💬See 0 comments