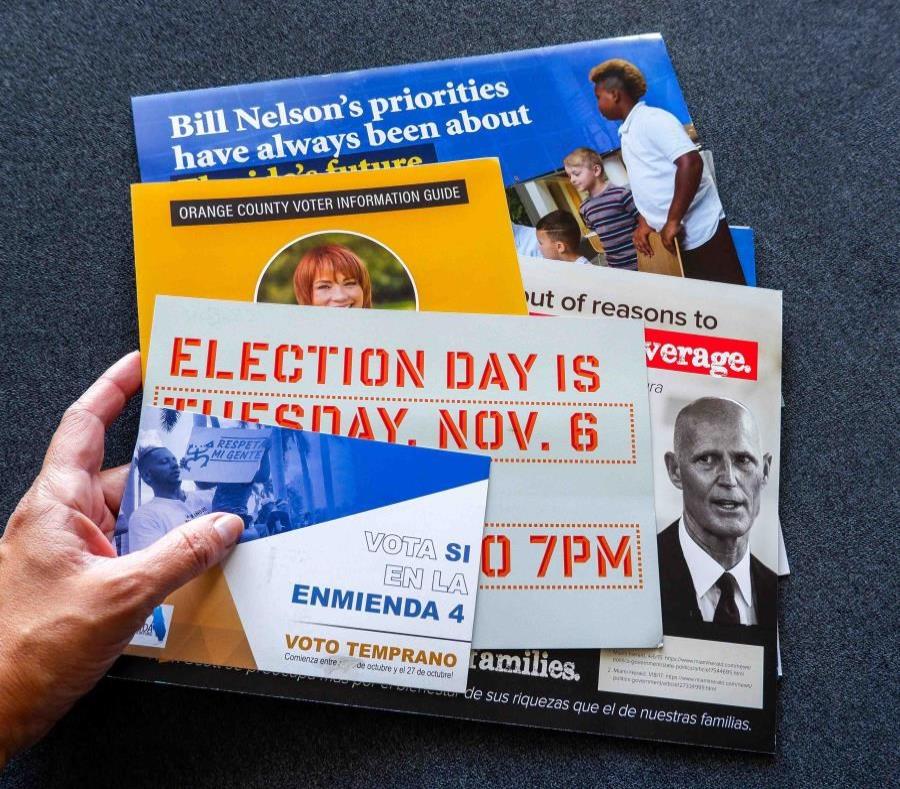 Orlando, Florida - With more than 20 million inhabitants, 13 million registered voters and 354 candidates running across the peninsula, Puerto Ricans, -who look at midterm elections on Tuesday - face the arduous task of discerning who will fulfill the promise of being "friends of Puerto Rico".
The issue of Puerto Rico and Puerto Ricans - both those who live on the island and in Florida - has become the medal for candidates to the top positions.
No wonder: it is estimated that 1.2 million Puerto Ricans lived in Florida before Hurricane María, a figure that must have increased after the cyclone. Unlike other Hispanics, Puerto Ricans only have to move to the US and get an ID to register to vote.
And in a state where some positions are decided by a few hundred votes, it does not take many mathematical calculations to know that Puerto Ricans could be a decisive element in Tuesday's results.
"As for Puerto Rico, the proposals of Florida´s candidates are going to be general because their main voter is in the state," said Luis Figueroa, president of PODER, a digital platform that the government of Puerto Rico set in Florida to encourage Puerto Ricans to vote.
Figueroa added that the proposals "are even more general with Bill Nelson (Democrat) and Governor Rick Scott (Republican) running for US Senate, because whoever wins will represent the 21 million inhabitants of Florida, but also the 328 million people living in the US."
Although elections are on Tuesday, the voting process has already begun for those who asked to vote in advance by mail. By November 1, 3.7 million people had voted by mail or in advance, according to the Florida Supervisor of Elections office. This figure is lower than the 4.8 million who had voted by the same date in the 2014 mid-term elections.
Data from that office indicate that Republicans show a greater voter turnout with 1,555,061 votes cast versus 1,491,344 from Democrats.
In Florida, there are seven minority parties that have accumulated, so far, 676,822 votes. These are the Constitution Party, Ecology Party, Green Party, Independent Party, Libertarian Party, Party for Socialism and Liberation and the Reform Party.
Due to the number of candidates for these elections, El Nuevo Día focused on the governorship, federal Senate and some Republican and Democratic Puerto Rican representatives. The complete list of candidates certified by the Supervisor of Elections is at dos.elections.myflorida.com
"Puerto Ricans are part of a culture that aspires to progress. A Florida´s politician who wants to appeal to Puerto Rico and Puerto Ricans will have to talk about how they will improve healthcare, employment and education. Once these issues are addressed, which are basic needs, then we should talk about the status," said Figueroa.
"Puerto Ricans have the electoral numbers here, the force. Now, we have to find the political power to sit at the table where decisions are made and ensure the elimination of inequality in Puerto Rico," he said.
The offers
The campaign promises of leading Floridian candidates, which are relevant to Puerto Rico, address issues of economic development, they have to do with relief measures after the disaster caused by Hurricane María and some mention to issues related to status and education.
Scott, Republican candidate for Senate, highlighted the status issue in his proposals. In written statements, Scott reiterated to this newspaper that he supports statehood for Puerto Rico and that he will endorse any initiative regarding this issue to be submitted in Congress.
He also promised to work for the federal PROMESA Law to meet its goal of supporting the economic growth of Puerto Rico, and proposed the creation of commercial alliances between Florida and Puerto Rico to strengthen the Puerto Rican economy.
"Although I want the will of the Puerto Rican voters to be respected, I will work on behalf of the island to achieve statehood. I am also seeking for all the Puerto Rican families in Florida to live the American dream," he said.
In Democratic Senator Nelson´s electoral platform, who seeks to revalidate in his federal senatorial seat, there are specific proposals for Puerto Rico, such as the one that asks for the Federal Emergency Management Agency (FEMA) to be better prepared to respond to natural events and his commitment to support the status formula chosen by Puerto Ricans.
"Regarding statehood, I will be guided by the will of the Puerto Rican people, but if I had been treated as a second-class citizen, as Puerto Ricans have, I would want statehood," he said.
Andrew Gillum, who would become the first African-American governor if he wins the election, said he will support Puerto Rico in its reconstruction process and that he will ensure that the island's residents are treated justly and equitably like all Floridians.
"Puerto Ricans have fought in every US conflict since World War I, but residents in Puerto Rico do not have the same constitutional rights. Nor can they vote for President or Congress and they receive less federal funds for critical social programs," he said.
Ron DeSantis, a Republican candidate for governor of Florida, said he will enact initiatives to strengthen the links between the island and Florida and help in the recovery of Puerto Rico after the hurricane. In addition, he said he will expand technical education offerings in schools for those who don´t see a university degree as an option.
For families that choose to relocate in this state, he promised that he will make it easier for Puerto Rican children to have access to the best schools in Florida.
"My administration will make a commitment to ensure that we do everything possible so that the island recovers completely," he said.
Puerto Rican Bob Cortés, a Republican who hopes to retain his seat as District 30 representative, spoke of education proposals, specifically so that university students arriving from Puerto Rico can have the same tuition fees offered to residents of Florida. He has also launched ideas to promote the creation of jobs and business development of Puerto Ricans both on the island and in Florida.
"As a Puerto Rican who has lived what many go through when they arrive here, I understand more than anyone else the things that have to be done. I have done as lawmakers and I will continue to do so," he said.
Darren Soto, a congressman of Puerto Rican descent who seeks to be re-elected, proposes initiatives related to the recovery of the island after the cyclone and aims to ensure that the debt of Puerto Rico with its bondholders is reduced to boost the socioeconomic development of the island.
"The future of Puerto Rico has to be encouraged through investment and not under a mountain of debt or cutting pensions or essential benefits for Puerto Ricans," said Soto.
💬See 0 comments