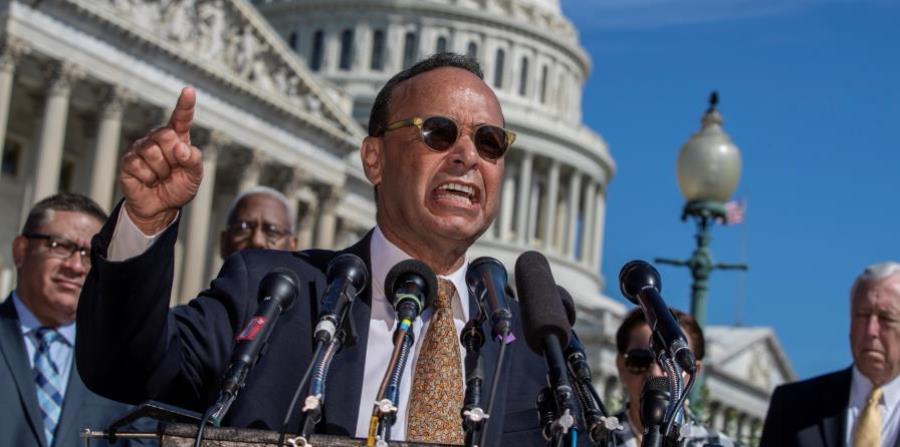 Washington - In May 2019, and due the efforts he wants to develop as a private citizen to mobilize Hispanic voters in general and Puerto Ricans in the United States in particular, Luis Gutiérrez will have his home and operations center in Puerto Rico.
"When going to work, whether in Florida or Pennsylvania, I will leave from San Juan airport and, when I finish, I will go back to Puerto Rico," said Congressman Gutiérrez in an interview with El Nuevo Día.
He left the possibility of becoming a Democrat presidential candidate behind once he completes his term representing Illinois 4th Congressional District in December. But the idea of creating a structure to mobilize Hispanic voters, with the purpose of pressing for key issues for the island and immigrants, begins to take shape.
His intention is to be linked as from 2019 - without pay - to the National Partnership for New Americans (NPNA) coalition, which brings together 37 pro-immigrant and refugee groups in 31 states.
For years, he spent good part of his time in Puerto Rico, where he has residences. He will keep his home in Chicago, where his daughters and grandson live. His address will be in Vega Alta.
He will focus on Florida, Pennsylvania and, to some extent, Ohio, where Hispanic voters in general and Puerto Ricans in particular are strong enough to decide who will be the next President. Donald Trump won Pennsylvania and Florida for less than 113,000 votes.
"Tens of thousands Puerto Ricans did not vote (in 2016) in Pennsylvania. Tens of thousands Puerto Ricans did not vote in Florida," stated Gutiérrez, in saying that it is key to mobilize Puerto Rican voters in the US, that not only think about "how their fellow on the island will survive but how to progress as well".
Gutiérrez will lose the right to vote for US president and the ability to elect representatives with full rights in Congress once he moves to the island. "But I will have greater capacity to transmit the crisis to the diaspora and why it is so necessary that this diaspora has the reconstruction of Puerto Rico as its main goal," he said, noting that only listening to people begging for electricity on the island offers a different perspective.
Gutiérrez will officially change his address after May, since he will help his daughter Jessica in her Chicago City Council campaign. Jessica Gutierrez is one of several candidates who challenge Puerto Rican councilman Ariel Reboyras for district 30 seat. The election is on February 26, 2019, and a possible second round would take place on April 2.
In December, Gutierrez said that, in six months, he would know if he should run for president to raise Puerto Rican and immigrants key issues during the 2020 campaign. He concluded that it would be more useful "to become an electoral organizer", instead ofbeing the movement´s center of attention.
"I wanted to do it, but it can dilute the message about Puerto Rico," he said, however – despite it could be a legal exercise – he does not see it possible in practical terms to promote a presidential candidacy from the island.
There is some irony in his permanent return to Puerto Rico. "When my parents took me to San Sebastián, at 15, my only thought was how to get out of Puerto Rico. I will be 65 in December, and all I can think now is how to return. It's part of the mystique of being Puerto Rican," he said.
Gutierrez said he will not mobilize voters in states such as Pennsylvania and Florida with the idea that he will re-invent the wheel or overshadow the work already done by Puerto Rican diaspora organizations and other Hispanic groups, but to call the attention on the fact that these efforts need to be connected.
While denouncing that Trump´s "zero tolerance" policy "snatches children from the arms of their mothers," he will seek that Latinos and candidates look at how the federal government treats Puerto Rico, an issue that has put the devastation caused by Hurricane Maria under the magnifying glass.
"I'm not going to say now how reconstruction should be done," he said, "since part of the process should be to listen to Puerto Ricans, from Puerto Rico".
He is convinced that the island will not get the reconstruction it needs with Trump in power.
However, he stressed the importance of lobbying in favor of the debt audit, eliminating cabotage rules and an "oversight board" that, in the middle of the crisis, contemplates "a fiscal plan that includes paying creditors", as well as putting in perspective that "we must end the colony for Puerto Rico to move forward".
💬See 0 comments