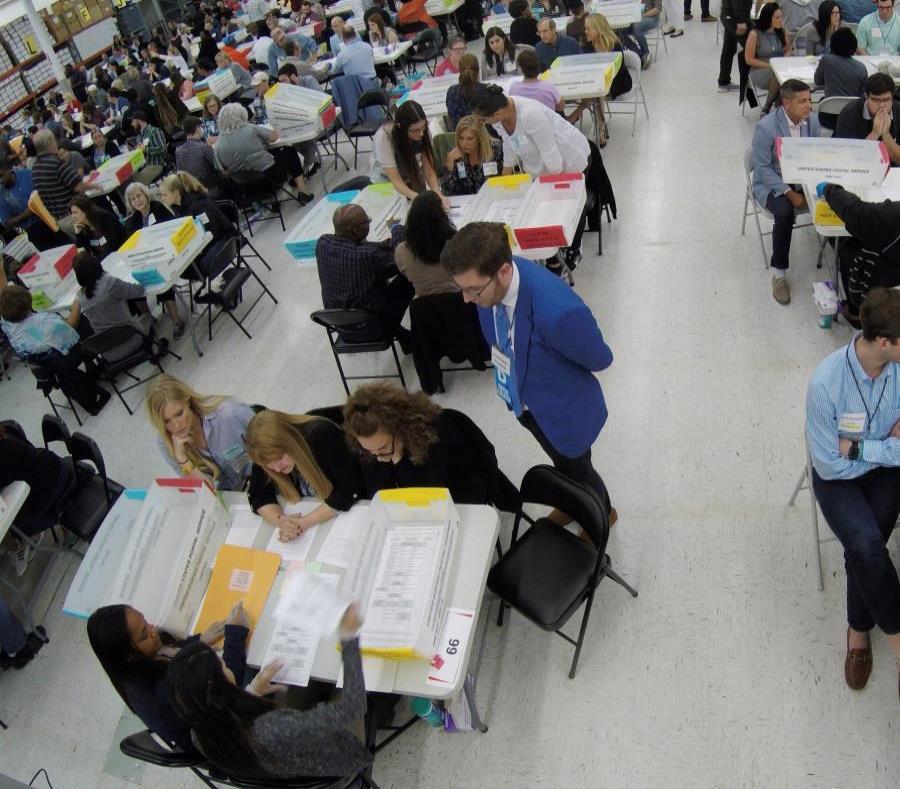 Orlando - Complaints about lost, misidentified ballots and confrontations and lawsuits among some candidates will make the last midterm elections in Florida go down in history as one of the most tumultuous elections that could have damaged public confidence in this democratic exercise.
Almost two weeks after the elections, Florida still does not formally have a governor or a federal senator and, although there are other candidates in this electoral limbo, these two are the most important.
"There is a precedent for this tumultuous election and it´s the 2000 presidential election (George Bush v Al Gore), when the recount ordered in Florida took more than a month. Beyond that, this is not a usual situation in Florida," said political analyst Jorge Bonilla, a lawyer from Manatí who lives in Central Florida.
Yesterday, things became a bit clearer regarding the race for the Florida governoship, after the machine recount kept Republican Ron DeSantis up front with 4,075,445 votes while Democrat Andrew Gillum had 4,041,762. A new hand recount will not be necessary, since the difference is no longer so small: 33,683 votes.
In fact, after the recount - which took five days - Gillum only added one a vote, according to the Florida Supervisor of Elections Office.
This Office has to certify these results next Tuesday, November 20. Gillum, on the other hand, who does not accept DeSantis victory, has until November 30 to challenge the results, explained Bonilla.
But this is not the case with the Senate race between the governor of Florida, Republican Rick Scott, and Democrat Bill Nelson. This race, which once remained somehow calm, overflowed with insults, accusations and lawsuits once the election ended on Tuesday night when no winner was declared since Scott had a slight advantage over Nelson.
A machine recount did not solve the matter either. The difference was even smaller and it was necessary to move on to the next step: a manual recount that started just yesterday. When the difference between the candidates is less than 0.5 percent, Florida law orders a machine recount. But, when that difference is less than 0.25 percent - as in this case - votes have to be manually reviewed.
The difference between Scott and Nelson was only 12,603 votes. Ballots with problems are analyzed in this hand recount. That is, those where votes are not clear or with inappropriate marks, unless a judge rules that all 8 million ballots are to be recounted, explained Bonilla, who is not sure about how long this manual recount will take.
"Results are already there and they are not going to change and the one that lost has to accept it, otherwise doubts will arise and we cannot allow the democratic process to be affected," said Luis Figueroa, president of PODER, the entity created that the government of Puerto Rico created in the United States to encourage the Puerto Rican vote.
After the elections, there were media reports on ballots that were abandoned in classrooms; photos of unauthorized vehicles carrying ballots, and complaints on counties that did not comply with the law that orders periodic reports with results.
"These things were not true, perhaps, because if they were, authorities would have already prosecuted and accused someone," said Figueroa.
But the truth is that all this created an atmosphere of confusion and disorder in a key state, whose results tend to influence the outcome of presidential elections. Broward and Palm City were the counties in the eye of the controversy..
"These are the counties where there are always problems, and what has happened there is far from what happens in other counties like Orange and Seminole, where there is always order and supervisors have even won awards," he indicated.
In Florida, the electoral process is headed by the Department of State, but each county election supervisor has some autonomy. In fact, there are 67 counties in Florida and each county can have different ballots since they elect their own officials and decide on uniques aspects of each jurisdiction.
Yesterday afternoon, Scott's campaign called Nelson to admit defeat. "But at this point, it seems like the only person who isn't aware that it's time for Bill Nelson to move on is Bill Nelson himself," said Scott said in a press release.
Nelson, for his part, did not issue any comment.
Meanwhile, Gillum posted on Twitter: "I'm looking forward to seeing every vote counted." With this message he reiterated his position not to accept DeSantis victory.
DeSantis has not gone into discussions, he said he had won since November 6 and began his transitional meetings. Yesterday, however, he issued a statement indicating that the campaign ended and now it is time for everyone in Florida to work together.
"And, to this end, I invite Mayor Gillum to join me in the days ahead in a conversation about the future of our great state. We have both traveled the state and met Floridians from all walks of life. Sharing these experiences will, I believe, help us unite our state and build toward unity on behalf of the people of Florida," DeSantis said in written statements.
💬See 0 comments