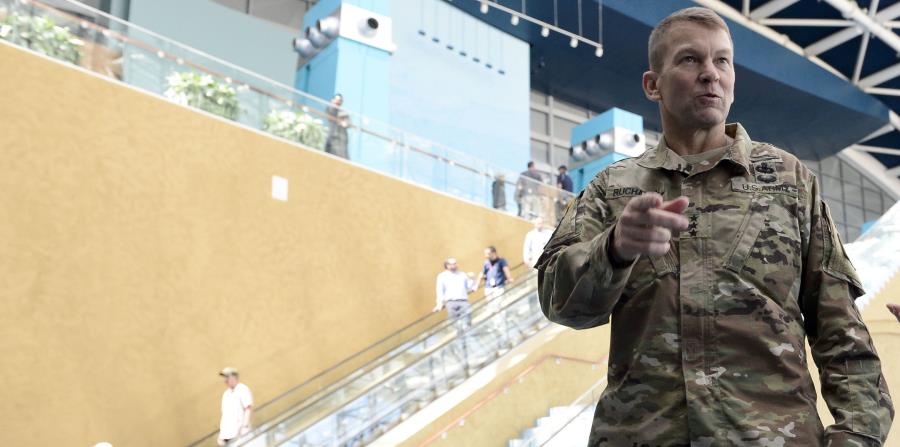 Six months after leaving the Island -still in the emergency phase- General Jeffrey S. Buchanan will return later this month to make an assessment that will let him know what Puerto Rico needs in order to be more prepared for the new hurricane season.
Buchanan seeks to avoid the chaos after Hurricane Maria.
Immediately and without having stepped on Puerto Rican soil, the general - who led military operations on the Island after the hurricane - said he is concerned about the fragility that, eight months after María, the Island still shows in areas such as the power grid, housing and telecommunications.
"Both Puerto Rico and the Virgin Islands have been focused, as they should be, on recovery efforts after Irma and María. But of course, I am concerned about what comes next. That is why I want to go and talk with emergency managers, coordination officers, and know first-hand what we can do before a storm affects them, in order to be more prepared," said Buchanan in a telephone interview, he has served in multiple emergencies, including Hurricane Irma in Florida and Hurricane Harvey in Texas.
Buchanan said that "everyone" should be involved in storm preparation efforts. That is why he spoke about the preparation efforts that the Federal Emergency Management Agency (FEMA) has already started, including water and food storage, electric generators and basic needs items.
"So I think that - in terms of our ability to handle emergencies – we are in a better position now than we were before. What really worries me is that the whole (power) grid is very fragile. There are many people (houses) with blue roofs and you know better than me about the condition of the power grid. Many people may have energy, but it is not reliable and it will not take long for it to fail. So the real concern is fragility. Of course, even a small storm can have significant impact," he said.
"(My concern) is really the fragility of the power grid, where people are living. Blue tarps
- as roofs - can work well 95 percent of the time, but with hurricane winds, they will not do much," he reiterated.
He asked if communications worked normally. "That is also fragility. These antennas are in towers and we saw what happened with strong winds," he said.
During his interview with El Nuevo Día, he acknowledged that, when he left the island, he still saw a steep path for all of PREPA´s customers to have the service restored.
"I knew it would be very difficult to repair the grid. That was always, from my perspective, the most difficult thing to repair because of the magnitude of the problem. I do not want to say 'I am not surprised'. I expected it to be repaired sooner, but you know what the reality is better than me," Buchanan said.
Meanwhile PREPA ensures that it is close to reach 100 percent of customers with power, mayors of the central and eastern areas of the Island demand action for thousands of families who still remain in the dark. It is now up to PREPA to complete restoration works remaining after the US Army Corps of Engineers mission completed its tasks last Friday without the government requesting an extension to FEMA.
Buchanan said that details about the Island´s condition will be known once he arrives on May 28. Days later, he will visit the Virgin Islands to do the same evaluation. Once he surveys the situation in Puerto Rico first hand, he would be able to answer if the Island is ready or not to face the new hurricane season that begins on June 1, he said.
He did not rule out bringing equipment before a hurricane hits the Island. "I am focused on increasing resilience by moving things before the storm," he said.
Buchanan said that one of his meetings will be with the Coast Guard, given the picture he found after the hurricane, as he recalled that ports and airports were inoperative for days, which hindered and delayed the arrival of supplies.
He added that he is aware of the criticisms that arose against the federal government due to slowness and little aid provided.
"While I was there (in Puerto Rico) -in military terms- literally I was provided everything I asked for and when I asked for it. There was a bit of frustration at first because we had to open the ports before bringing supplies. I could not do everything the first day, but they arrived quite fast and I got everything I asked for," he said.
He also said that he has kept in communication with Michael Byrnes, FEMA's operations coordinator for Puerto Rico, and with a defense coordinating officer who has visited the island on several occasions.
When leaving the Island last November, Buchanan said there was "a lot" left to do. However, he was satisfied with what his soldiers had achieved.
"As long as there are people in need, I want to help them, but - as you know - our mission was only in response to the emergency. We were in Puerto Rico longer than in other places, because in Texas we were a week and a half, and in Florida, a week. In Puerto Rico, (we were) almost two months," Buchanan said.
💬See 0 comments