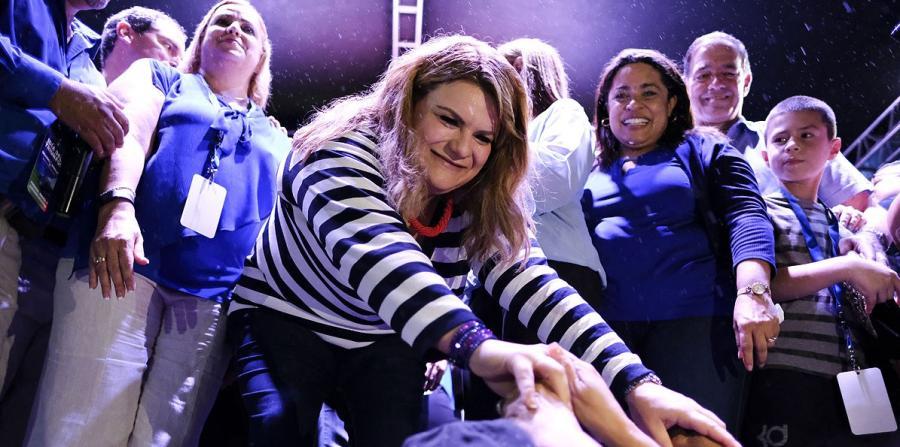 With 49% of the votes, yesterday Jenniffer González became the first woman elected to represent Puerto Rico in Washington DC as Resident Commissioner.
The New Progressive Party (NPP) candidate outpaced her closest rival, the Popular Democratic Party (PDP) candidate Héctor Ferrer, by two percentage points. This was a narrow and surprising margin, since the polls had anticipated a more overwhelming victory for the NPP candidate.
The candidates of the Puerto Rican Independence Party (PIP, by its Spanish acronym) and the Working People's Party (PPT, by its Spanish acronym)—Hugo Rodríguez Díaz and Mariana Nogales, respectively—together obtained less than 4% of overall votes.
González celebrated her triumph with Governor-elect Ricardo Rosselló, and assured that as Resident Commissioner she will work to relieve Puerto Rico's fiscal and economic crisis.
"I thank everyone and reaffirm my commitment with all Puerto Ricans to work to bring our Island out of the economic quagmire in which we have been left," stated González before the crowd of supporters in front of the New Progressive Party headquarters in Hato Rey.
"Today, this is for you, for each and every one of you, for those who voted for me and for those who did not vote for me. I will defend our people's interests in the federal capital. I will stand up for every woman by becoming the first female resident commissioner in Washington," she declared.
For his part, Ferrer emphasized on the minimal margin of votes that prevented him from becoming resident commissioner, and he took the opportunity to assure that this result—as well as the PDP's victory in 45 of the 78 municipalities—shows that his party has a future.
"Over the past month, the numbers placed us on the losing side by 10, 12 and 16%, but we lost by almost nothing. Sometimes, when you lose, you win," Ferrer added from the PDP headquarters, accompanied by gubernatorial candidate David Bernier.
En Route to Washington
González is now en route to a US Congress where—if all forecasts come true—the Republican Party majority, of which she is member, will prevail.
During this election's campaign, the NPP representative assured that if she were to receive the voters' support, she would go to the US capital to create a "crisis" (as she called it) that would force the resolution of the Island's political status.
To this end, the resident commissioner-elect, as well as Rosselló, promised to set in motion the Tennessee Plan, in reference to a mechanism used during the late 18th century to turn the former territory into a state.
To force this admission to the state federation, Tennessee summoned a constitutional assembly, approved a constitution for the proposed state, and elected its federal senators and representatives, all of this before Congress granted its incorporation as a state.
Aside from her promises regarding Puerto Rico's status, González assured during her campaign that, if she became commissioner, she would defend parity in the federal funds assigned to the Island by the US government.
💬See 0 comments