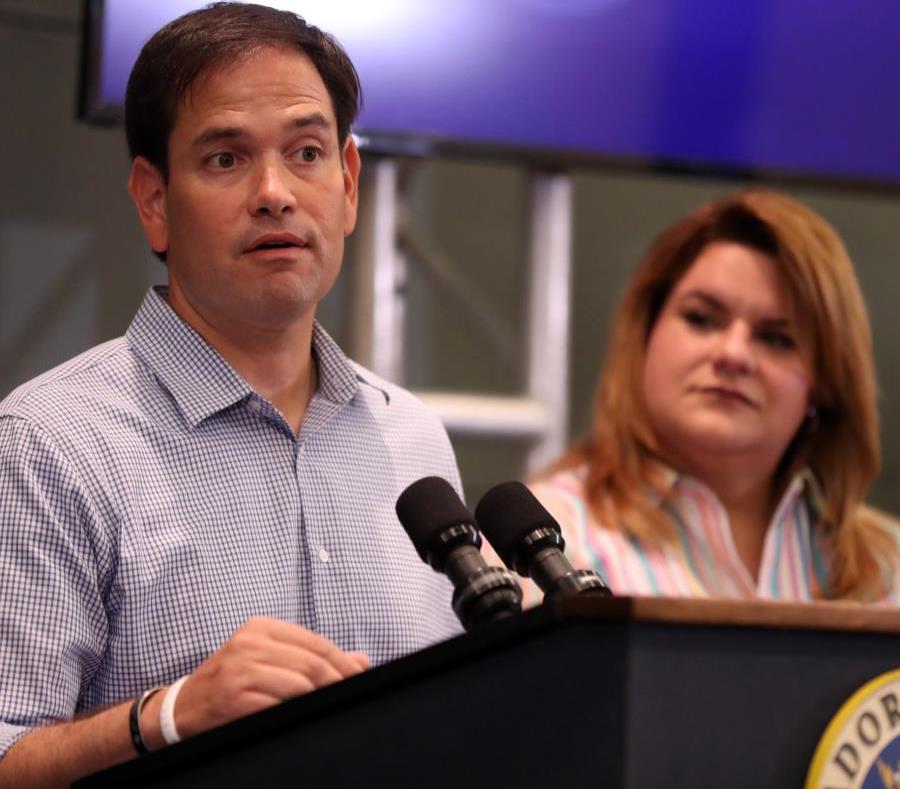 Washington - Onix Maldonado, the lobbyist who assists Hector Ferrer with the finances of the Popular Democratic Party (PPD) and helped bring together conservative groups for last July's dinner in Washington, has been an active donor to both that group and the New Progressive Party (PNP).
Not only did he contribute to Jenniffer González campaign for Resident Commissioner in 2016 after the defeat of former senator Angel Rosa - whom he endorsed in the PPD elections for that position against Ferrer – but, since 2013, has also donated to PNP candidates to the Legislature and to Leo Diaz Urbina to the mayorship of San Juan.
Most of the over $ 50,000 that he donated to Puerto Rican politicians since 2013, according to the Electoral Comptroller's information, went to PPD candidates ($ 39,199). But he contributed $ 11,725 to PNP campaigns.
Ferrer said that Maldonado is a Republican lobbyist who assists him with PPD's finances. He described him as a volunteer collaborator, the same term he uses to describe the work of lobbyist Luis Balbino Arroyo.
Maldonado and Arroyo are colleagues at the World Professionals Group based in San Juan, to which Elias Sanchez Sifonte - former representative of Governor Ricardo Rossello Nevares before the Oversight Board – was also linked.
At the federal level, Maldonado made donations to Commissioner Gonzalez, Republican Senator Marco Rubio and Puerto Rican Democratic congresswoman Nydia Velázquez.
In Puerto Rico, between 2013 and 2014, he contributed $ 5,050 to former governor Alejandro García Padilla electoral committee. He also donated $ 4,600 to the electoral committee of David Bernier, who was a PPD governor candidate.
But, in 2016, he made more donations to PNP ($ 10,725) than to PPD candidates ($ 5,800), according to data on the Office of the Comptroller's website.
"I do not know which party he belongs to," said the Popular spokesman in the Senate, Eduardo Bhatia, to whom Maldonado donated $ 2,000 in 2014.
When El Nuevo Día asked Bhatia on this issue in Chicago -during the US Democratic Party summer meeting- he said that it is not unusual for a lobbyist to make donations to different parties, but it is "highly questionable" for someone described as a PPD leadership "collaborator" to do so.
Bhatia is one of several members of the PPD Governing Board that was dissatisfied after the August 20 meeting where Ferrer´s explanations about his relationship with DCI Group, the public relations and lobbying company that coordinated the toughest campaign against the government of García Padilla; firstly in relation to a reimbursement of $ 229 million requested by the parent company of Doral bank, and then for his position in favor of restructuring the public debt.
Although the PPD will have primary elections on December 2 to choose a new leader, straightening things in the party "maytake longer," anticipated Bhatia.
Ferrer said that Maldonado was the one who took him to a dinner with conservative groups and two media companies on July 18 in Washington, a meeting where at least one of the representatives of conservative organizations would have been convened by DCI.
The PPD president admitted that he does not know who called, organized and paid for the dinner in which he expressed himself - along with Maldonado, Arroyo, Jose Alfredo Hernandez Mayoral and lawyer Carlos Dalmau- against Commissioner Gonzalez's pro-statehood bill.
Regarding PNP contributions, Maldonado donated to Senator Margarita Nolasco ($ 900), Senator Miguel Romero ($ 3,000), to House President, Carlos "Johnny" Méndez ($ 500), to Diaz Urbina ($ 1,125) and to representatives Jose "Pichy" Torres Zamora ($ 1,000) and Victor Pares ($ 1,000), among others.
Among PPD candidates, he donated Senator Jose Luis Dalmau ($ 2,000), senator Jose Nadal Power ($ 2,500) and representatives Luis Vega Ramos ($ 1,000) and Rafael "Tatito" Hernandez ($ 600). Donations to Dalmau, Vega Ramos and Hernandez were made in 2016. The contribution to Nadal Power was in 2015.
Maldonado coordinated Senator Rosa´s campaign during the elections for the candidacy to Resident Commissioner, which he lost to Ferrer. Maldonado donated the then senator Rosa about $ 4,900.
Senator Nolasco thinks that Maldonado contributes to these campaigns because they both have roots in Coamo. But, like Bhatia, she said that "I've never been able to find out" if the lobbyist -who has not been available to speak with El Nuevo Dia- is a member of the PNP.
💬See 0 comments