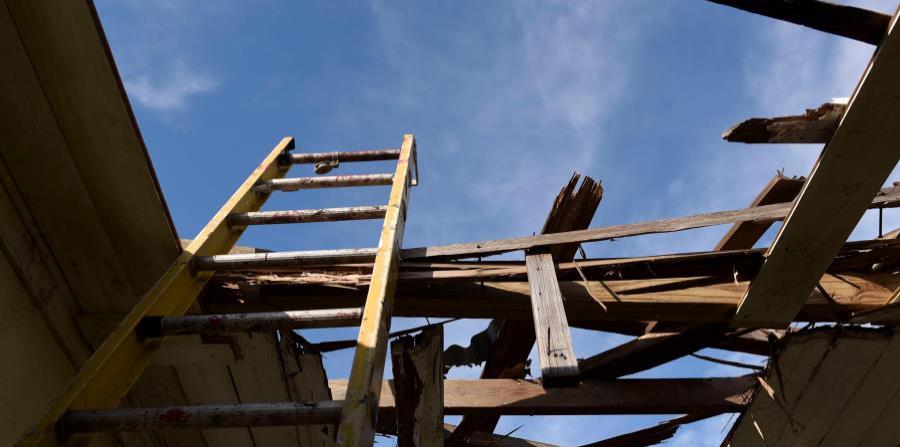 The Federal Emergency Management Agency (FEMA) has denied 79 percent of appeals for assistance requests submitted to the Individuals and Households Program that were initially denied to people affected by Hurricanes Irma and María in Puerto Rico.
Up until Friday, according to official figures, 34,332 of the 43,380 appeals submitted, were denied, a category that FEMA lists as "ineligible". The agency did not specify how many applications were denied from the total of 1,138,749.
According to the State Data Center of the University of Puerto Rico in Cayey, by January 2018, 1,091,708 applications had been submitted to FEMA. 61 percent were denied.
Almost 10 months after Hurricane Maria, volunteer brigades and health professionals who continue to visit affected communities have met people who exhibit signs of anxiety, fear, concern and despair regarding whether they will ever be able to recover their homes due to apparent inconsistencies in the access to economic aid, particularly those granted through FEMA.
"Most of them did not receive any aid or received an insufficient amount (compared to the damage to their property)," said lawyer Adi Martínez Román, executive director of the Access to Justice Fund Foundation, a non-profit organization created in 2013 that helps direct legal assistance to low-income people.
The Hurricane Maria Legal Assistance organization drafted a document on the Housing Action Plan regarding the federal funds of the Community Development Block Grant program (CDBG-DR). Specifically, for the long-term recovery of housing and infrastructure of communities affected by natural disasters. It details that only 194,126 cases were approved for housing repair or replacement assistance, among 1,067,618 applications submitted to FEMA.
"Lack of transparency in appeals for denial has been one the biggest problems," said Ariadna Godreau, coordinator of Hurricane Maria legal Assistance, noting that 62 percent of FEMA applications are estimated to have been denied or not answered.
Insufficient damage to receive aid and problems to prove ownership or identity of the person living in the affected property are some of the scenarios that, according to Godreau, FEMA alleges to deny the requests.
"One of the biggest problems regarding insufficient damage is that many times inspectors who oversaw properties were not from companies hired by FEMA and did not have the proper training. First, many (inspectors) spoke English (which implies a language barrier), some inspectors stayed only two or three minutes (on the property) and they did not even enter the houses," said the lawyer.
She added that, due to communication problems with the claimants, FEMA has also decided to close cases, however she warned that most of the obstacles have been due to ownership issues.
"FEMA says that more than 76,000 cases were denied because of that. We do not know if it was because they did not have ownership documents or because they did not get (proof of that)," Godreau said.
El Nuevo Día asked FEMA spokeswoman Delyris Aquino to speak with an official but it was not possible.
"The case of each claimant is different and unique, therefore, if they are eligible for FEMA assistance, the amount of it varies. If a claimant believes that the amount granted by FEMA is not enough to cover the losses, he can visit one of the Disaster Recovery Centers to appeal the decision or call 1-800-621-3362," said Aquino. She added that open cases or ongoing appeals will continue to be worked on, although the deadline to submit new requests for assistance was June 18.
Last Thursday, the US Department of Homeland Security released a report in which FEMA acknowledged that it was not prepared to deal with a catastrophe like the one caused by Hurricane María in Puerto Rico.
Insufficient funds
The home of Itzaira Quiñones and Agustín Santana, in the San Isidro community in Canóvanas, was one of the many houses seriously affected by the floods caused by Hurricane Maria.
"We lost everything inside, furniture, equipment, clothes, doors, everything," said Quinones, 29, who added that now the house has leaks.
FEMA answered their request with a $ 2,000 check, which Quiñones described as insufficient due to the damage in their house damages, which she could not estimate. After appealing the case, they received an additional $ 1,200.
"Those two checks were used only for furniture," lamented Quiñones, who pointed out that they do not have the property title of the home in which her husband was raised, but they submitted to FEMA an affidavit swearing her husband is the owner of the house.
Godreau is concerned about FEMA's requests of documents that are not consistent with the requirements to prove ownership of the properties. "For historical, cultural and economic reasons, many do not have property documents, but that does not mean that they are not the owners. Some do not have the deed and the request is denied, although they have been given the option of filling out an affidavit, which creates difficulties because in Puerto Rico there are great barriers to access to justice," she said.
Barranquitas, Lares, Yabucoa, Loíza and Vieques are some of the areas where the lawyer indicated there are many ownership issues.
Alejandro Figueroa, Deputy Executive Director of Puerto Rico Legal Services, said that this organization has worked on about 300 appeals to FEMA until this month.
"Many times the land is inherited from generation to generation and not necessarily registered in the Property Registry. Also, here in Puerto Rico registration is mandatory for Horizontal Property and for mortgages," he added.
Assistance for Ownership Documents
Through the Access to Justice Fund Foundation, funds are directed to organizations that provide legal services to promote access to justice. One of the most recent efforts, as Martínez Román explained, is to help people obtain their property documents.
"Many are very reluctant (to acquire the ownership title). We have called those who we have provided (legal) service, and some do not want to give information because they think it is a fraud or they just say they are not interested," said the lawyer, who urged people who have doubts about these calls to contact the foundation at 787-725-0117. She explained that this legal service is free.
Martínez Román stressed that obtaining ownership of the property is important as some organizations have filed a complaint for FEMA to reopen those cases with problems in proving ownership.
💬See 0 comments