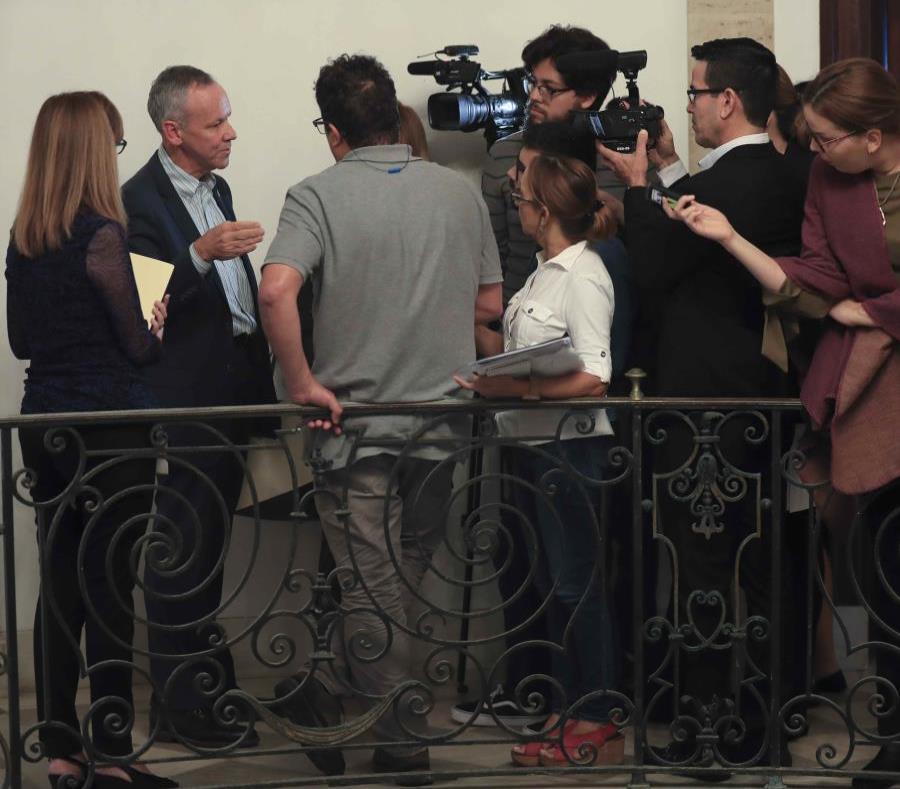 Despite the persistent impulse to reach – in a five-year period – a 60 percent natural gas-based energy production, José Ortiz, Executive Director of the Puerto Rico Electric Power Authority (PREPA), seemed to put an end to the Aguirre Offshore GasPort yesterday.
"I did not propose the Aguirre GasPort. I think it would be to ruin and destroy such a precious landscape that I would rather use for tourism development ... I would not build the Aguirre GasPort," said Ortiz at the end of the Senate's Special Committee on Energy Affairs hearing, where the public policy and regulatory framework that would rule the sale of PREPA´s assets was discussed.
During the hearing, Ortiz insisted that, in order to lower energy costs in the short term and be competitive, it is urgent to start replacing oil with natural gas.
In addition to converting San Juan generating units five and six to natural gas, he said that in November, they would be making requests for proposals for the Mayagüez plant conversion, which currently operates with diesel.
"The more renewable energy, the better, but within realistic bases," said Larry Seilhamer, chairman of the Special Committee on Energy Affairs.
When asked by the press, Ortiz ruled out the construction of the Aguirre Offshore GasPort and assured that the project is not necessary for the transition he is proposing.
"(The project) is very expensive. I believe that the Authority can not continue to be involved in capital investments of this magnitude. I do not see it happening," he insisted.
Two weeks ago, the Institute for Energy Economics and Financial Analysis (IEEFA) study group affirmed that the promotion of natural gas for electricity production by Puerto Rico and U.S. authorities is wrong and suspicious.
"If we are going to have fuel on the island while transitioning to renewable energy, that will be the fuel we use. Can it last 20 to 30 years? Yes," said PREPA´s executive on natural gas.
Ingrid Vila, representing the Cambio (Change) organization - that investigates and promotes development of sustainable policies for Puerto Rico - questioned the "new era of gas" which, she said, "perpetuates the environmental and social irresponsibility of the industrialized era."
Former Chief of Staff of Alejandro García Padilla questioned the implementation of the legislative exchange when PREPA´s management "is already making decisions that severely impact the future of energy, hampering it with significant investments in natural gas."
"Engineer Vila forces us to recognize that there are questions regarding the aim of this exercise," said Eduardo Bhatia, Popular spokesman in the Senate.
Over 40 organizations and instrumentalities participated in the public hearing.
They must be re-evaluated
Ortiz also proposed legislators to re-evaluate the subsidies that are being granted currently. He maintained that he prefers to invest in lowering energy rates than in continuing to provide these reliefs.
For fiscal years 2016, 2017 and 2018 the subsidies and credits reached $ 56, $ 53 and $ 42 million, respectively.
These figures do not include municipalities' consumption costs, street lighting and fixed rates for public housing that for fiscal year 2016 totaled $ 61, $ 100 and $ 30 million, respectively.
Ortiz said that subsidies granted to bedridden people should remain.
Angel Figueroa Jaramillo, president of the Electric and Irrigation Industry Workers Union (Utier, Spanish acronym), said that if this and other proposals had been applied over the years, the Authority would be in a better position to offer customers a more accessible price.
"Obviously, facing such a scenario, the person who arrives is in a better position to establish a different price at the time," said the union leader.
Another question brought to the public hearing was that the process was carried out without a piece of legislation to which deponents could respond.
💬See 0 comments