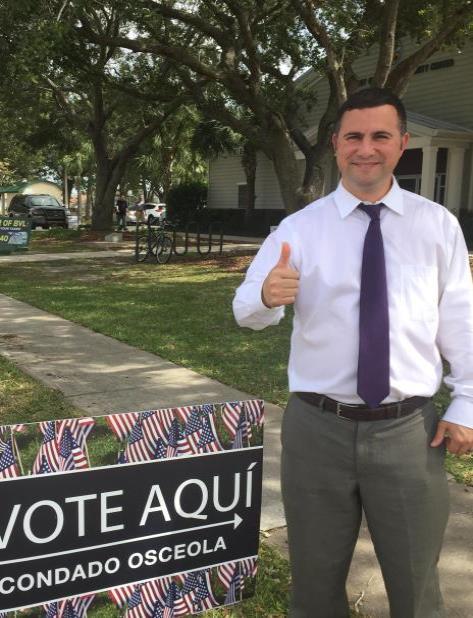 KISSIMMEE, Florida- When the last ballot is cast on November 8, Democratic State Senator Darren Soto—who aspires to become the first congressman of Puerto Rican descent elected by Florida—, predicts that he and his volunteers will have knocked on 50,000 doors of this state's 9th District, which is based in Kissimmee.
He is envisioned as a favorite in an electoral contest where one out of every five voters is Puerto Rican. Soto affirmed that in these last campaign days he has focused on participating in political events and Halloween parades, conducting interviews and continuing to knock on doors.
"I try to go where the people are," he said.
By Thursday, official voter turnout numbers in the 9th District indicated that a high number of Hispanics and a greater ratio of Democrats are going out to vote.
In a district in which there are 3% more Democrats than Republicans, by the end of last week they had a 10% advantage in terms of voter turnout.
According to official information, by that point, 44% of voters were Democrats. About 34% of those that had already voted in person or had cast their ballots by mail were Republicans, and 22% were independents.
In the 9th District, 30% of all constituents are Hispanic. Up until Thursday, 26% of voters were Hispanic.
"It's a good start," said Soto during an interview with El Nuevo Día.
Soto, who was born in New Jersey to a Puerto Rican father, is facing Republican Wayne Liebnitzky, a businessman and veteran.
The District's representative is Democrat Alan Grayson, who won for the first time when the district was created in 2010. Grayson—who leaves the seat after losing the Democratic primary for the US Senate—was elected in 2014 after defeating Republican nominee Carol Platt. At that time, he obtained 54% of the votes.
In 2012, more Hispanics and Puerto Ricans voted because the congressional elections coincided with the presidential elections. Grayson obtained 62.5% of the more than 274,000 votes.
Electoral redistribution before this election took away about 10% of Hispanic votes from the district.
Nonetheless, Soto is still a favorite to win.
Contrary to the primaries, in which he defeated four other Democrats, Soto has not placed any TV ads. He does not rule out placing radio ads during the last days of the campaign.
But, since the Democrat electoral campaign messages are mainly presented by presidential candidate Hillary Clinton, and because of their expensive nature, Soto focuses on sending propaganda to residences and establishing direct contact with voters.
In any case, the differences in fundraising results are enormous, according to data collected by the Federal Election Commission.
Soto—up until October 19—had raised $1,076,695. Liebnitzky had only raised $31,251.
ThePuerto Rican representative has stated that, as congressman, he wishes to be part of the Committee on Natural Resources of the US House of Representatives. From there, he will be able to deal with his District's environmental issues, and oversee the Oversight Board that has taken control of the Puerto Rican government's finances.
Proposals
He has also said to be in favor of new federal tax benefits that "will help corporations to stay in and relocate to Puerto Rico," of parity in federal health programs, and of granting total access to the Earned Income Tax Credit (EITC) and Child Tax Credit (CTC).
When in Congress—Soto insisted—, he will also back any clear determination that the Puerto Rican voters take in relation to their political future, as well as a constitutional amendment so the Island's residents are able to vote for the US president.
Last week, Liebnitzky—his opponent—said that he supported the idea of Puerto Rico becoming the 51st state of the US, as well as better access to the Medicaid program, and a new contributory mechanism similar to former Section 936 of the Federal Internal Revenue Code, in order to promote investment in the Island.
Leaders from both the Popular Democratic Party (PDP) and the New Progressive Party (NPP), endorse the candidacy presented by Soto, who has also been a state representative.
Clinton
Additionally, Senator Soto does not believe that the FBI's new revision of Clinton's official e-mails will have an important impact among his District's voters.
According to yesterday's Real Clear Politics election poll, Clinton and Republican Presidential Candidate Donald Trump were tied.
"In the Hispanic community people are paying attention to issues such as finding good jobs, healthcare, and environment. I haven't heard much about that," said Soto.
"What will be decisive is getting people to vote," he added, and stated that the mobilization will also determine whether Clinton will win the state of Florida, which Republican nominee Trump cannot lose—according to all main analyses—if he wants to have the opportunity to win the presidency.
"President Obama—remembered Soto—won the 2012 election by less than 1%. A sweeping victory for Clinton would be to win by a 2% advantage."
💬See 0 comments