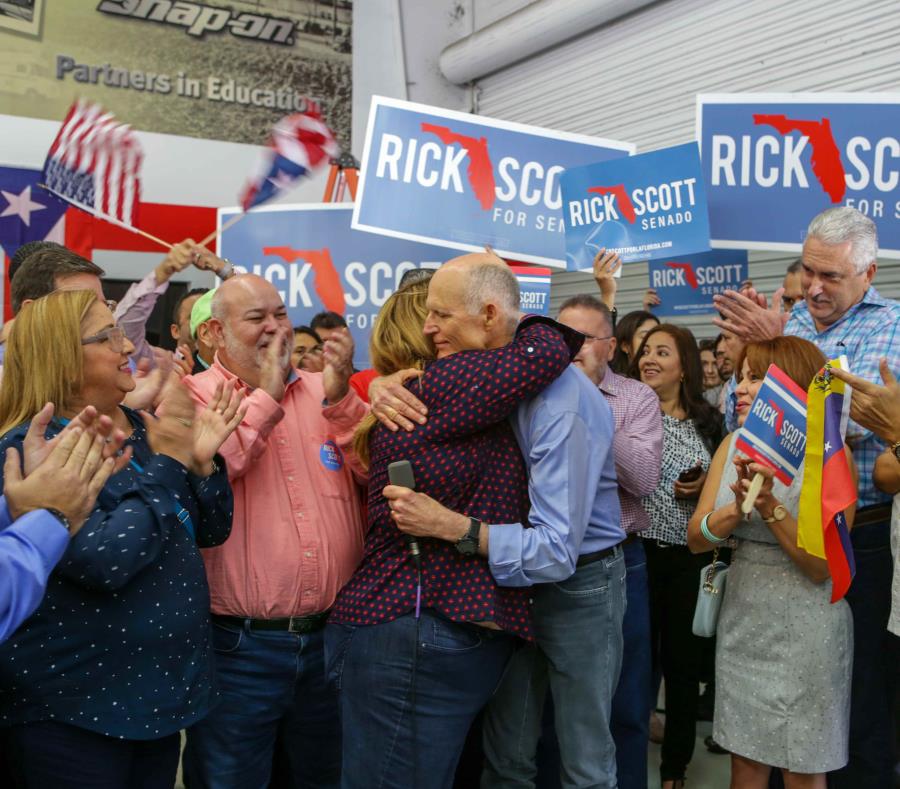 Orlando, Florida – Yesterday, at the close of his Hispanic campaign for the federal Senate, Governor Rick Scott was accompanied by a dozen Puerto Rico government officials, a fact that confirms the importance of the Puerto Rican vote for the governor of Florida.
Scott arrived at the facilities of the Puerto Rican automotive technical college Mech-Tech on a black bus, but behind him there was a noisy caravan of Puerto Ricans.
In a convertible Mercedes Benz, Jennifer González, Resident Commissioner in Washington, Jenniffer González, was waving like beauty queens do in their events. House president Carlos "Johnny" Méndez was next to her.
Behind them, Senate president, Thomas Rivera Schatz arrived in a black corvette, and he was followed, in other vehicles, by Puerto Rico Secretary of State, Luis G. Rivera Marín, representatives José "Quiquito" Meléndez, Eddie Charbornier, Lourdes Ramos and José Aponte Hernandez, as well as senators Nayda Venegas and Nelson Cruz.
Former Secretary of Justice José Fuentes Agostini was also there, as well as Republican Delegate Zoraida Fonalledas and Florida District 30 State Representative Bob Cortés, who is seeking his third term in office. "I think Puerto Ricans will cross party lines to vote for Scott," Cortés said.
Rivera Marín asked Puerto Ricans and Florida Hispanics in general to vote for Scott for the work done by his government after Hurricane María.
As governor, Scott set up an assistance center at the Orlando airport where representatives from various agencies assisted thousands of families who arrived in the Central Florida area seeking temporary or permanent refuge. He also allowed thousands of Puerto Rican children to be admitted to public schools even when they did not have their documents and, temporarily exempted licenses to some workers arriving in the state -such as dental assistants and refrigeration technicians, among others-.
"Scott is a non-traditional politician and I know he will make a difference in Washington," Rivera Marín said.
Retired coach Raymond Dalmau was also in the event.
For Rivera Schatz, Scott's work in favor of the Puerto Ricans was so important that even traditional Democrats, such as former governor Carlos Romero Barceló, have crossed party lines to support him. Last week, and during a visit to Miami as member of the Equality Commission, Romero Barceló endorsed the Republican governor.
Méndez, on the other hand, said that Puerto Ricans in Florida have the opportunity Puerto Ricans on the island do not have: to vote for a federal lawmaker. "Therefore, I ask you to go out and vote for Scott, who went to the island after the hurricane without anyone calling for him," he said.
"Now, we have the opportunity to vote for the person who led the efforts to help Puerto Rico and the Puerto Ricans who came to Florida seeking for help," said González.
Next to her, Scott was smiling, probably without understanding much of what the Puerto Rican legislators said in Spanish. However, when he took the microphone, he launched several phrases in Spanish: "I am very excited and grateful."
Then, in English, he expressed his gratitude for the Puerto Rican "jolgorio" (revelry) at the Mech-Tech Institute. He said that, eight years ago, when he began his political career, he did not have events like this because nobody knew him. He said he comes from a poor family, that his mother had to work long hours, like his father, who adopted him at an early age.
"When someone supports me as you have done, this means that I have to work hard for you and your families to prosper. Bill Nelson (his Democratic opponent) is only interested in his work. Nelson is a talker who only thinks about raising taxes and pleasing the government," said Scott, who acknowledged that he was accompanied by politicians from Puerto Rico to appeal to and approach Puerto Rican voters.
The event was also attended by representatives of the Venezuelan community in Central Florida.
Midterm elections are held this Tuesday and in addition to vote for senators and representatives, the nearly 13 million voters registered in Florida will vote for mayors, city commissioners, school board members, judges and sheriffs, among others.
On the other hand, and at an event called at 12:06 am yesterday, Democrats had activity near the same time that Scott was at his closing event. The event was led by the mayor of Tallahassee and Democratic candidate for governor, Andrew Gillum, who according to some polls may be beating Republican candidate Ron DeSantis.
💬See 0 comments